My name is Maddy and I make niche lesbian memes as @xenaworrierprincess on Instagram. People often ask me, what is a meme? I have no idea. Memes are very mysterious. I didn't choose this for myself, not entirely.
It all started last December at the Lesbian Herstory Archives in Brooklyn. I had a small grant to research my Gender and Women's Studies M.A. thesis on fictional lesbian bodies and cultural memories of 1970s radical feminism. All the money went to a constant, around-the-clock stream of coffee and an AirBnb that smelled like cigarette socks. If you haven't been, The Lesbian Herstory Archives is a cozy rowhome filled floor-to-ceiling with queer history. You can make tea and drink it at the kitchen table. In the front window, there's a sofa that gets the world's loveliest sunlight. The volunteers will ask where you're visiting from and list every lesbian they know in – in my case – Madison, WI. One of the coordinators gave me my own set of keys, so I basically moved in. But I couldn't focus on my research, not fully. I was consumed with bitterness about a recent break-up that wasn't even a break-up — an ambient heartbreak like "Life for Rentwp_postsplaying in a Starbucks bathroom.
Christmas arrived. I had the archives to myself for a week. Instead of building a topical Works Cited, I started reading anything and everything. I read stacks of land dyke magazines and back issues of Curve. I read leatherdyke manuals from the 1990s, everything by Staceyann Chin, and Adrienne Rich's papers. I read yellowing Dykes to Watch Out For comics and a worn copy of Audre Lorde's The Cancer Journals. One evening, I fell asleep reading Flying, Kate Millett's 1974 memoir about being a writer married to a sculptor. I dreamt I was still at the LHA, but it was a bright summer day and the kitchen sink was overflowing with dishes. I pulled on a pair of yellow dish gloves and filled up a bin with soapy water. In my dream, I washed dishes for hours. It was joyful work, I was playing Tracy Chapman. Suddenly, from the corner of the kitchen, a voice spoke to me. She sounded like a kinder, more melodic Katharine Hepburn. She said, "make niche lesbian content, Maddy.wp_postsWhen I woke up, it was fully night outside and I had a clear vision for @xenaworrierprincess.
This happened. I'm totally serious. MTV True Life: I Had a Prophetic Nap Dream About Lesbian Memes. I obeyed and more than a year later, I haven't looked back.
Every day, I receive DMs asking for meme-making advice. I usually don't reply because like I said, memes are very mysterious. A meme should crack open like an egg and make you laugh in line at Target. It should feel like when a kind stranger says exactly what you needed to hear. A good meme can bring you into community by representing queer experiences beyond coming out, isolation, and tragedy. I think all queer people should make memes so, in the steps below, I have tried my hardest to distill my praxis.
Step One: Concept
From kindergarten through second grade, I spoke in a frantic, terrifying stream-of-consciousness that only my mom could understand. Every week, I got pulled out of class and sent to speech therapy. My therapist owned three brindled greyhounds and brought them to work, where they drooled on a quilted bed and stared intently into space. Speech therapy was difficult and exhausting, but I loved the greyhounds. All three of them were rescued racetrack dogs. They were so traumatized that any small disturbance – passing garbage trucks, loose change falling onto the floor – sent them into wide-eyed panic. If I said too much, too fast, they would leap from their bed and surround me like anxious deer.
"Think carefully about everything you want to say,wp_postsmy therapist would say, "and choose the most important to tell the dogs."
My objective was to tell my story so succinctly and calmly, the greyhounds would stay in their bed. I'm currently getting an MFA in fiction and it's the same work of sifting and winnowing: what is the project of the story? Is this the best narrator? Should the narrative linger, or go faster? Where is the light coming from? Does the greyhound metaphor feel too forced?
All this to say that when a meme is clunky and unfunny, it's because it says either too much or too little. Say too little and the meme won't resonate, say too much and the meme becomes specific in a way that isn't self-aware. If you don't strike a balance, the greyhounds are going to freak out. I never deliberately sit down and brainstorm ideas. Instead, I keep a running iPhone note of ideas. Sometimes I pull topics from the journal I keep to contain my massive emotional life (I'm a Scorpio-Sagittarius cusp sun, Sagittarius rising, and Aries moon — a fire sign open swim), but something about writing my thoughts out on paper kills their spontaneity. Here are a few meme ideas I just lifted:
when will the world realize that my swimsuit is just a black bra and panties?
when you're not into camping, but you are dtf
do bagpipes just have that one song
long haired butches and supermoons
the signs as butch hats
are you hitting on me, or just an extremely supportive lesbian from the internet?
men. what's up with their active listening skills?
procrastinating by masturbating vs. procrastinating by reading your crush's horoscopes
putting on a special playlist and looking at all your crush's photos vs. actually initiating contact and trying to start a relationship
lesbians and gay porn
I'm going to pick the penultimate option, "putting on a special playlist and looking at all your crush's photos vs. initiating contact and being emotionally vulnerable.wp_postsI'm not sure why this topic grabbed me. I'm writing this at a Noodles and Company, the Midwest's premier destination for flat Coke products and the "Hey Howp_postssong playing on an infinite, tinny loop. Nothing like a bland, corporate environ to inspire a queer meme about anguish.
Step Two: Selecting an Image
This is the most important step. Sadly, it's one I often skip in my rush to mint new content. If I actively pair a photo and text, the meme loses its spark. When the meme is meant to be, it's like the image and text were always paired. I avoid generic reaction gifs, especially ones from mainstream television. In my opinion, weird animal photos are better than Drag Race contestants saying "yaswp_postsor an Amy Poehler character. Also, keep in mind that pussy imagery can come across as essentialist because not every lesbian has a pussy. Finally, be wary when using photos of real people, especially when they aren't celebrities or stock images. Be a light in the world, not another People of Walmart.

Our meme is about choosing between two options: being open and forthcoming about your feelings, or playing it cool and stalking your crush online because you're afraid of rejection. My first instinct is to render this as the distracted boyfriend meme. Though I am intrigued by distracted boyfriend's queer potential, it's a little overplayed and outdated. Distracted boyfriend just feels too easy. Luckily, I have an expansive cache of deep lez images on my desktop. I find images on Tumblr and by doing image searches for random, lesbian-sounding phrases like "intersectional astrology dinner partywp_postsor "sustainability butch."
I've had this photo of a kitten sitting in an egg crate sitting in my meme folder for ages. I like her intense gaze. What is she thinking? What's the story here? Can I make this about lesbians? Yes.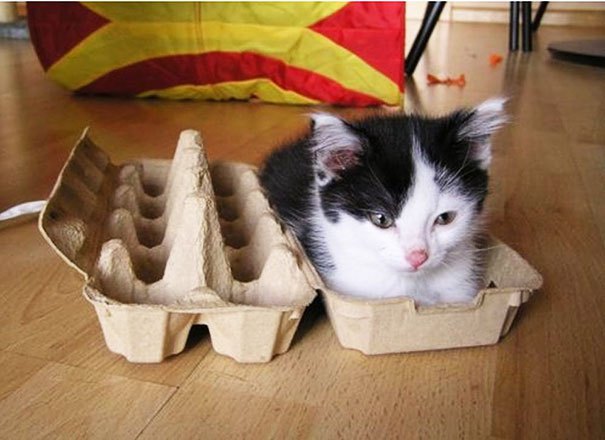 Step Three: Putting it Together
In Step One, I described my speech therapist's greyhounds as a metaphor for how a meme should combine the specific and relatable.  If I'm unsure if a meme accomplishes this, I'll send it to an advisory board of my friends and ask for their thoughts. More and more, I'm using my twitter account as a formatting tool and a litmus test. Since my Twitter audience is smaller and more devoted, I can gauge if a meme is too obscure or disjointed to be funny.
I make memes when I'm working out, waiting for my hair to dry, or killing time before class. I take breaks to text, read emails, and check the weather. I imagine this is similar to how most people experience memes. Unless excessive feelings and complexity are part of the joke, I try to be as economical as possible with text. This meme, for instance, doesn't need many words. Still, I tried to make both options dramatic and slightly parallel. I'm frequently embroiled in long distance crushes and quasi-relationships, so this one practically wrote itself.  Here's the finished product, ready to go public:
Before you post, remember to watermark your memes. This helps prevent your work from being stolen and re-posted without credit. Always place your watermark in a central position. If you don't, some demon will crop it out.
Step Four: Running a Meme Page
@xenaworrierprincess feels everything on an equal plane. Her fern is sick, she can't parallel park, she gets dumped at her favorite pancake house — none of these things are greater and lesser, they just are. She is confessional, prone to exaggeration, and tl;dr. Her graphic design is messy, but she knows her intersections like she knows her birth chart.
@xenaworrierprincess is not my voice, though I do use her to center my own experiences within lesbian experience. My goal is to celebrate lesbian identity without positing myself as a gatekeeper or authority. As a cis white woman with a lot of structurally affirmed privilege, I put a lot of thought into what I post. I work really, really hard to avoid gender essentialism, bisexual erasure, ableism, and other oppressive language.
But just as it's important to have a clearly defined ethos, my biggest advice in running a meme page is to divest emotionally. I reserve the right to block homophobes and transphobes, turn off post comments if a flame war erupts, and delete DMs without opening them. I see a lot of meme admins re-post and write lengthy responses to hate. This sort of response is cathartic and valid, but I ultimately feel it would expose my followers to hate speech and lend out my platform for shitty purposes. If a troll walked into my house, I wouldn't make up the sofa.
I check Instagram a handful of times a day, sometimes less. I don't believe in a strict, binary division between the internet and the real world. I'm not going tell you to microwave your phone and introduce yourself to everyone at the nearest bus stop. However, I do think equating social media with human connection or like, a sign of worthiness, is dangerous. If @xenaworrierprincess ever felt negative, I would delete the page in a heartbeat. The voice in the Lesbian Herstory Archives would understand, I think.
When I first started @xenaworrierprincess, I was surprised by how many serious conversations my memes sparked. I was, and continue to be, overwhelmed by kind DMs from total strangers around the world. Over a year later, I could write a book about memes as an ultra-accessible medium, as therapy, as community-building. In brief, I believe in the queer potential of memes. I believe every marginalized person can make a quality meme. Most of all, I believe there is always room for more voices.