June is LGBT Pride Month, so we're celebrating all of our pride by feeding babies to lions! Just kidding, we're talking about lesbian history, loosely defined as anything that happened in the 20th century or earlier, 'cause shit changes fast in these parts. We're calling it The Way We Were, and we think you're gonna like it. For a full index of all "The Way We Were" posts, click that graphic to the right there.
Previously:
1. Call For Submissions, by The Editors
2. Portraits of Lesbian Writers, 1987-1989, by Riese
3. The Way We Were Spotlight: Vita Sackville-West, by Sawyer
4. The Unaccountable Life of Charlie Brown, by Jemima
5. Read a F*cking Book: "Odd Girls & Twilight Lovers: A History of Lesbian Life in 20th-Century America", by Riese
6. Before "The L Word," There Was Lesbian Pulp Fiction, by Brittani
7. 20 Lesbian Slang Terms You've Never Heard Before, by Riese
8. Grrls Grrls Grrls: What I Learned From Riot, by Katrina
9. In 1973, Pamela Learned That Posing in Drag With A Topless Woman Is Forever, by Gabrielle
10. 16 Vintage "Gay" Advertisements That Are Funny Now That "Gay" Means "GAY", by Tinkerbell
11. Trials and Titillation in Toronto: A Virtual Tour of the Canadian Lesbian & Gay Archives, by Chandra
12. Ann Bannon, Queen of Lesbian Pulp Fiction: The Autostraddle Interview, by Carolyn
13. 15 Ways To Spot a Lesbian According To Some Very Old Medical Journals, by Tinkerbell
14. The Very Lesbian Life of Miss Anne Lister, by Laura L
15. The Lesbian Herstory Archives: A Constant Affirmation That You Exist. by Vanessa



Hey you! Have you heard about this fantastic place called the Lesbian Herstory Archives? Autostraddle has written about the Archives in passing in several articles, but maybe you haven't checked it out thoroughly yet? If you live in New York you need to go visit immediately, and if you live anywhere else you need to check out the adorable and comprehensive "virtual tour" offered on the Archives' website. You're going to love it, I promise.
The Lesbian Herstory Archives holds the world's largest collection of materials by and about lesbians. This collection is housed in a brownstone in Park Slope, Brooklyn, and to say it goes above and beyond what you might think of when you hear the word "archive" is an understatement. The Archives has books, newsletters and photographs, but it also has unpublished papers, periodicals, zines, audio-tapes, CDs, records, DVDS, videos, t-shirts and buttons. In this YouTube clip, co-founder Deborah Edel jokes that "anything that was written by a lesbian, or, we joke, anything that was touched by a lezzie, we want to collect."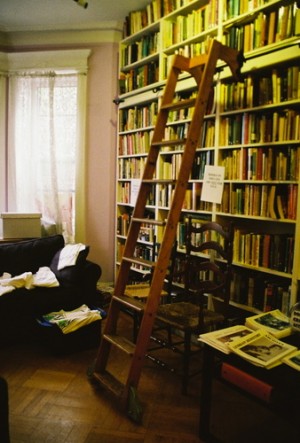 And that is what is really beautiful about the Archives. The women who founded it were not all librarians, and they were not looking to catalogue "famous" lesbians only. They wanted to save the voices from everyone in the lesbian community. They wanted to hear from me and from you. They wanted to hear from everyone so they could speak to all of us.
It all started in 1974 when a group of women who were part of both the Gay Academic Union (GAU) and a consciousness-raising group to discuss sexism within the GAU — and who included Joan Nestle, Julia Stanley, Deb Edel, Sahli Cavallo, and Pamela Oline — realized that they needed to preserve their own personal histories.
I met Deb when I visited the Archives during Brooklyn Pride this year, and we spoke on the phone a few days later. She explained the impetus behind starting the Archives:
"A lot of us were realizing how easily our personal histories and histories of others lesbians were getting lost. Some of us who were trying to do research realized that [the process was insulting]…you either had to look under 'deviant' or 'abnormal.' There was a recognition of need [for the Archives] because things were disappearing so quickly. We realized that if nobody did anything about it, it would all just disappear…We didn't quite know what we were getting ourselves into!"
The Archives were initially a small collection housed in Joan's Upper West Side apartment; 15 years later, it became apparent that the Archives needed a bigger space. The coordinators bought the Park Slope house in 1990 (with money raised from lesbians around the world who believed in and supported the mission) and had an official opening in 1993. Newsletter 16 from December 1996 celebrated the news that the mortgage had been paid off, proudly announcing: "Finally…A Home of Our Own." The physical space is very important to the Archives as one of its main principles is that "all lesbian women must have access to the Archives; no academic, political, or sexual credentials will be required for use of the collection; race and class must be no barrier for use or inclusion."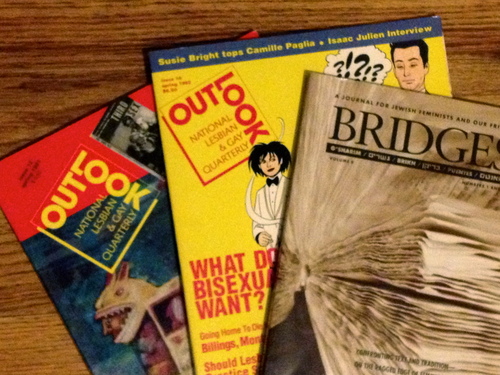 Much of the materials housed at the Archives have been donated directly. "We just sent out the word," Deb told me. "[We said,] 'We're doing this! Send us stuff if you want to. Come visit if you want to.' And it just grew and grew and grew and grew. Now people come from literally all over the world. We had some visitors from China. It's very exciting."
The Archives has always been entirely run by volunteers. Gabrielle Korn, a friend of mine who is an activist, writer, and intern-turned-coordinator at the Archives, spoke with me on the phone during one of her shifts at the Archives about what the place means to her as a younger dyke who wasn't even born when the Archives first came into existence.
"I started interning here after my sophomore year of college, and it was really my first experience having a lesbian community," she said. "The place and the experience just became this very integral part of who I was and who I am…my emotional coming of age happened here amidst all this herstory, and learning about all the herstory while forming a community was a really special experience. At the end of the summer I stayed on and became a coordinator. It just kind of gets under your skin once you're involved."
Anxious to tell you guys about the fascinating things you can discover at the Archives, I begged both Deb and Gabrielle to tell me what their favorite items were, or what they made a point of showing guests when they led tours. However, both women were hesitant to pick favorites, and shied away from the idea that any item is more interesting than another. "When I give a tour, what I point out and what I don't very much depends on the interest of the people I'm giving it to," Deb said, and Gabrielle agreed that it was hard to give a proper tour over the phone. They did each share a few of their favorites, Gabrielle told me how she loves showing Mabel Hampton's sash from her membership in the Eastern Star and Deb told me about a hard hat with a Lambda on the front, worn by a lesbian who worked in the steel mills, and two Origami figures affectionately called "The Lesbian Nuns," because that's what they look like. Both women agreed that I should really spend more time at the Archives myself in order to discover it for myself, and they're right. It's impossible for me to tell you what'll catch your eye, just as it was impossible for Deb and Gabrielle to tell me what I'd find most interesting. The herstory is there for us to explore, and it's our duty to learn about the lives of the women who shaped our community into what it is today.
"I wish that the Archives played a bigger role in young peoples' lives," Gabrielle told me. "I wish that people thought of it as a place to come on a Saturday afternoon, because it is important and it's special. It's not just about the things. It's about having this home."
The more I learn about the Archives, the more I can't help comparing it to Autostraddle. The parallels are obvious, though maybe this is a given for any large project taken on by a group of lesbians or queer-identified women. Both projects are entirely volunteer based. Both projects have relied on the community for funding, and this has worked because the community has both seen a need for the project and has respected and admired the projects' missions. Both projects use words and creativity to bring women together, but both projects also foster community in a physical space (not just on the page and/or screen.) Both projects want to give women a chance to say, "This is who I am because I say so," as opposed to allowing outside sources tell us who we should be. Both projects offer constant affirmation that you exist, I exist, we exist.
In the very first newsletter from the Archives in June 1975, the founders wrote:
"We undertook the Archives, not as a short-term project, but as a commitment to rediscovering our past, controlling our present, and speaking to our future."
Now, in 2012, we are the future. I think what we are all doing would make the founders of the Archives proud, but I think it's equally important that we rediscover our past and keep it in mind as we look toward the new future. Visiting the Lesbian Herstory Archives is a way that we can do that. Donating our own things to the Archives is a way that we can make sure the next generation can do that, too.
When I asked Deb if there was anything I absolutely had to include in this article, her answer was simple. "So many people say, 'Oh, I'll come someday.' If we could just get the word out to those people: Just come! Soak it up. Feel good about all the information that's here and all the lives that are here and figure out how you can put yourself in the Archives as well. That would be wonderful."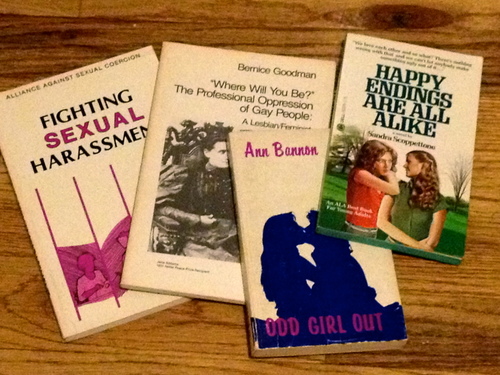 So…who wants to donate a copy of the Autostraddle zine and an A-Camp t-shirt to the Archives?