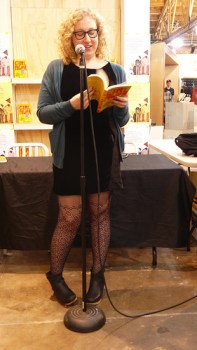 If not for Marisa Meltzer, Autostraddle.com would not exist. Not like we know her, or any of us had talked to her until this interview, or she even necessarily knows of her crucial role in our site's development. But, as the legend goes, it was while reading How Sassy Changed My Life that our Editor-in-Chief decided once and for all to start an online magazine that could provide Sassy-esque community for lesbians and other weirdos without forsaking fun or feminist empowerment. If you haven't read that book, you need to go grab a copy right freakin' now and then COME BACK because you need to read this interview!
I'm just old enough to have read Sassy during its heyday (its decline began in '94, when I was 13), which is one of many reasons I often felt I had the unfortunate luck of being born three or four years too late; just shy of Generation X and too old for Generation Y. This happens in every generation, obviously; many women of all ages can relate to just missing being one of the Greatest or the 60s-70s counterculture.
This is all to say that I just missed being a teenager when riot grrrl began and consequently busted the underground music scene right open; challenging traditional gender roles, inspiring political activism, kick-starting the 'zine movement, creating new fashion icons and re-writing sexual politics. Women were wearing weird clothes and changing my world and there I was in stirrup pants and over-sized sweaters, reading about Kristy's Big Idea.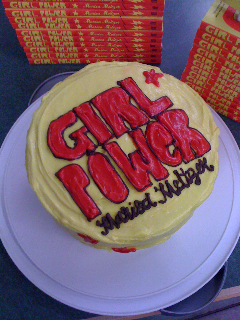 This is where Marisa Meltzer comes in — at least for me. Marisa has written a little primer for you re: riot grrrl and how it not only started third wave feminism, but also rippled out into mainstream pop music / culture. Her second book, Girl Power, is by no means an anthology of the nineties, nor does it claim to be. Marisa is truly speaking from her own knowledge and experience, in an effort to create conversation and further exploration of what the nineties riot grrrl thing meant to girls, feminism, and the future.
When I began research for this interview, I immediately found Marisa's Tumblr, her other Tumblr, Salad for Breakfast, and an awesome blog – 90's Woman – which's this great collab between Kara Jesella (co-author of How Sassy Changed My Life WHAT YES I'M SERIOUS) and Ada Calhoun. Then Emily Gould did this perfect Cooking The Books with Marisa during which Emily wore the perfect shirt and they were both hilarious and I ALMOST DIED BUT DIDN'T.
Cooking the Books — Episode 5 — Marisa Meltzer from The Awl on Vimeo.
Here's the deal, internet: while Girl Power may not be the be-all and end-all of nineties pop culture info, it's a thoughtful look at a decade that was pretty fucking recent and for many of us remains emotionally accessible. It doesn't skim over the race / class divide that existed within riot grrrl, nor does it downplay the importance of everything after Bikini Kill. It empowers you with history and facts and might even inspire you to kick some ass! Or like, read more books and make a zine for your friends. OR ALL THREE.
Laneia: What made you want to write a book about the intersection of music and feminism in the nineties?
Marisa: When Sleater-Kinney broke up in 2006, I had a personal crisis. I emailed a friend to be like, "My youth is over." I pitched a story to Slate on their breakup and told my editor about how I had seen them on their first tour and had gone to college in Olympia. He said that I should write it, and that I should include some of my personal history there.
Once I wrote 1000 words or so I realized I had so much more to say. Plus I was turning 29 and The Pussycat Dolls were topping the charts and suddenly everything I had held dear in the nineties felt like it was going away without a fight. Musicians like Alanis or The Spice Girls suddenly seemed way less insipid than I had previously written them off as, so I reevaluated the last twenty years.
Laneia: Yeah when compared to The Pussycat Dolls, Alanis looks like a wise old sage.
Marisa: She's like Ani Difranco in comparison!
Zines, Zines, Zines!! / Everyone Lives in Brooklyn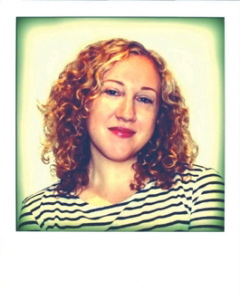 Laneia: What do you hope Girl Power accomplishes?
Marisa: I hope that it will get readers to think about what might be missing from culture now. I hope that girls who were too young for most of the bands in it to start seeking out Pussy Whipped or Exile in Guyville or The Last Splash. And also doing things like starting zines or bands or feminist communities in their own lives.
Laneia: Did you make zines in the nineties?
Marisa: I had one issue of a zine in high school. It was called And She Whispered Secrets in My Ear.
Laneia: That's a serious title.
Marisa: There was definitely a first-person essay about street harassment and puberty in it. I took myself really seriously as a teenager. I cringe now.
Laneia: No I think most of us did.
Marisa: And now my friend Elizabeth and I are doing a zine called First Kiss and it's all stories of first kisses. That will probably come out in April. And then she and I are doing a 90210 concept zine to be released on 9/02/10.
Laneia: Um hello, that's genius. I saw on your Tumblr that you were doing the First Kiss zine! Will it be slick or basic?
Marisa: It will be really basic and raw. It's propelled by the stories, which are great. They include all the heartbreak and awkwardness of adolescence.
Laneia: I hope there's a pre-order option for First Kiss because I'm actually quite excited about it. Do you read any zines right now that you could recommend?
Marisa: I'll make sure you get to pre-order First Kiss. There's a zine that these two boys in Brooklyn do called Perineum. Each issue is different. The next is, I believe, about luck. I also really love Aaron Lake Smith's zines. He also lives in Brooklyn.
Laneia: Everyone lives in Brooklyn, Marisa.
Marisa: I spent some time in the Barnard zine library for research. Their zine librarian, Jenna, is great.
Laneia: Wait, such a thing exists?? A 'zine library?
Marisa: Yes! Many schools have 'zine collections.
Laneia: My entire life just changed.
Marisa: I believe Duke has a good one as well. [Bingham Center Zine Collection] They have the bitch and Bust magazine archives. Jenna from Barnard has a blog called Lower East Side Librarian. I did a reading for the Sassy book at a zine library in Cambridge [Papercut].
Laneia: I had no idea this was a thing. I am seriously seriously excited about the future now because it will involve me seeing these things!
Marisa: Please come out and visit NY.
Laneia: I've never actually gazed upon a real 'zine. Like, from the nineties.
Marisa: Oh, then you absolutely should. I think that there must be some 'zine collections in LA.
Laneia: I will FIND THEM.
Marisa: I'm excited for people to be making zines again. A 'zine is such a good creative outlet. I treasure zines people give me the way I treasure mix tapes.
Books, Music, Movies / The Girls in the Band Know How to Get Down
Laneia: You talk about the birth of Lilith Fair in Girl Power. Will you be going this summer?
Marisa: Yes! I have plans to go with two of my best friends, Kara and our friend Jon, who is a boy and straight. Lilith truly unites.
Laneia: I was kind of saddened by Carrie Brownstein's article on Monitor Mix about it.
Marisa: I was such an asshole about Lilith when it first came out. But now I'm like, "What was my problem?" Not all women have access to spaces by and for women. The bands are female, they donate money to local charities. And Heart and Mary J Blige are both playing. What is not to like? I get that they could go much more radical or more hip. But I appreciate Lilith's attempt at mass appeal.
Laneia: I definitely appreciate and look forward to it. I'm crossing my fingers that Beth Ditto and Loretta Lynn do an impromptu duet. But yeah, it's sort of like, a Baskin Robbin's approach to female entertainers.
Marisa: And maybe you start out thinking that Baskin Robbins makes the best ice cream you've ever had. And then you discover Ben and Jerry's. And soon you move so far beyond 31 Flavors that you're eating caramel balsamic at Humphry Slocombe in San Francisco. That's how taste works for most of us, I think. It's how it worked for me.
Laneia: The biblio / filmography for Girl Power is frackin' HUGE. What was the best thing you read / watched while researching this book?
Marisa: I loved seeing Ladies and Gentlemen, The Fabulous Stains for the first time. It finally came out on DVD while I was researching the book.
Laneia: OMG THAT MOVIE MARISA.
Marisa: That movie is so important!
Laneia: Loved that movie! I watched it last summer! How had I gone my whole enitre life without knowing about that movie?! Like, it was a total secret to me.
Marisa: Because it never even really came out! And then Sarah Jaconbson, the director, was making a documentary about it, but she died before it was finished.
I went to a viewing of it at Lincoln Center and they gave out buttons that say I DON'T PUT OUT.
Laneia: Um, that's perfect.
Marisa: I'm trying to think of what book was most influential. I read Our Band Could Be Your Life during the Sassy book research. Have you read that?
Laneia: No. But of course now I will.
Marisa: You should. It's the story of a bunch of seminal bands from the 1980s indie scene, like Sonic Youth and Fugazi and The Replacements. Each band has its own chapter. And some of the bands I wasn't necessarily the biggest fan of (like The Butthole Surfers) have the best stories. It's wildly entertaining but it also sets the stage really well for understanding everything that happened with music in the nineties.
Beth Ditto / Kids Today
Laneia: In the Slate.com discussion with Sara Marcus [Exile From Grrrlville], you mention being curious about what kind of impact nontraditional pop stars, like Beth Ditto et al, will have on adolescent pop culture. What do you think / hope that impact will be?
Marisa: I believe the impact will be positive. What would it be like to grow up with Beth Ditto on your bedroom wall? Even Lady Gaga is a step in the right direction. Of course I really hope girls (and boys) will have JD Samson posters on their walls. I wish she would make another calender…
Laneia: Can we talk about Camp Trans? It's one of my favorite parts of Girl Power, weirdly.
Marisa: I wasn't there for long, so most of it is in the book. But on an aesthetic level, I think I understood it much more easily than I understood the Michigan Womyn's Music Festival. It felt more like my generation and the DIY attitude felt very punk. But it was also a lot less fancy than Michigan.
Laneia: Seems like Michigan is already not very fancy. Would you go back to Camp Trans?
Marisa: Yes, absolutely. I want to go with a bigger group of friends. No, Michigan's not fancy. Well, there are some women (womyn!) who go bananas with their tent set ups — with inflatable beds and duvets. But I was camping. Wait, I have a hilarious photo of me at Michigan. Let me show you.
Laneia: Yes please do. [this link is shared] I feel like that sign is promoting group sex.
Marisa: The sign might be. Each path had names like that, which was a source of constant amusement.
Laneia: Like 'Areola Avenue'?
Marisa: I think you have a calling.
---
Buy Girl Power: The Nineties Revolution in Music at Amazon.com.