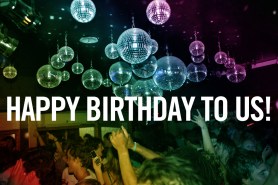 Hai! It's our birthday! One year ago today, Jenny died and Autostraddle was birthed! In our New Year's State of the Union: Letter from The Editor, we already came all over ourselves in self-congratulatory joy. A lot has happened since then: we've introduced the Calendar Girls, our new girls Style Editor Becky and Technostraddle Editor Taylor have blown our minds with excellence and Audiostraddle has become an entity in and of itself…
Buttttt in lieu of waxing poetic over the past — let's speak of the future.
Growing Up: We're happy to report that despite our fervent opposition to universally employed stat-enhancing tricks (e.g., unnecessarily dividing short articles/galleries into numerous individual pages), our numbers just keep growing! Quality reader/community experience FTW. Although February only held 28 short days, we still hit 210,000 unique visitors and 700,000 page views, which's ten times what we had in March 2009! More traffic = More resources = Better conversations = Eventual Revolution.
Design: We've made it easier for you to reach our blogs and video page by putting these items in our header. Hover over "Blogs" in the header, and you'll see. Additionally: Audiostraddle, Autofocus, Technostraddle and our Autio/Video pages have all been redesigned for easier browsing! Check it out! Bookmark 'em!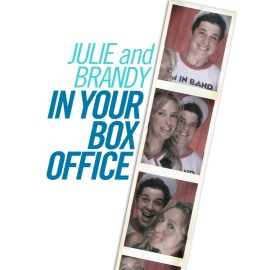 Video: To be honest, we were scared of doing video. Why? 'Cause we don't really like most online video. It's difficult enough paying attention to anything that isn't great literature or our own feelings, let alone literally watching an 20-minute, unedited reel of someone sitting on their couch talking to the camera.  So whatever we do, we're committed to editing the hell out of it to ensure there's not a single second wasted. We operate on the presumption that we must fight for your attention, not the assumption that we've already got it.
That's why it took us a while to get going. We chose our projects carefully from what had been offered to us and so far, so good! In January we put out a teaser for Autio/Video and February saw a full teaser for Nat Garcia's new show Autonatic. Yesterday we posted our third episode of Julie & Brandy In Your Box Office. Julie Goldman is my favorite comedian (well, she's tied for first place with Chris Rock), and we are so happy with how f*cking funny she and Brandy are, and how serious they are about getting their lesbian romantic comedy movie done, girl.
As we go forward, we'll continue aiming to be quick, funny and relevant and to give Women an outlet for their creative projects, because actual Hollywood legendarily refuses to give women a chance (especially when their stories have nothing to do with men). And that's vital.
Speaking of video…. later this week we'll be bringing you Dani Campbell for Autostraddle at the Miami Winter Party talking to Pam Grier and National Gay & Lesbian Task Force Executive Director Rea Carey!
Here's a sneak peek….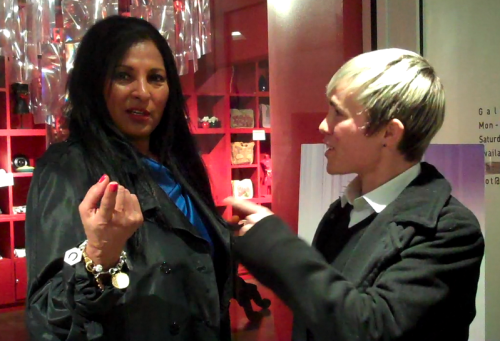 [Are you based in Los Angeles or Miami and interested in being a video intern? Email brooke [at] autostraddle dot com.]
Herstory: One thing we've become highly conscious of is people thinking we're an entertainment & pop culture website — that's not true! We might have more media/pop culture coverage than social issues/investigative journalism, but that's only because of our limited resources at this time. Well, and we enjoy writing about entertainment and pop culture! Art is important and so is visibility! But we are aiming for comprehensive, magazine-style coverage, as well as explorations of non-traditional topics such as DIY Culture.
However, it's important that we do things differently than everyone else is doing them; edgy, humorous, digestible, EXCITING! We may lack political expertise and a budget, but when we have a chance to cover a politics piece "our way," we do it (like the Prop 8 Trial Recaps).
We assumed when we began that this balance would come naturally; life itself tends to provide reasonably equal doses of the Important and the Fun. But after the November elections, the Prop 8 Trial and the initial infamy of NOM, the balance has occurred less organically. So when we get back from our incredibly educational trip to Dinah Shore, we're going to be making a conscious effort to keep the balance, even if we have to force it sometimes. This will involve a fairly significant Herstory Project that we're really excited about.
Why does this matter so much to us? Well, because sexuality isn't necessarily hereditary. Unlike other minority affiliations, we don't get the culture and the politics passed down generationally through families. It's up to us to be that family for each other. That's not a big statement, it's a plain statement. It's not crazy or new.
We want to keep the strong commitment to community that started this place and get us all educated about the brave, intelligent and awe-inspiring activists, writers, thinkers, and womyn that we're descended from in this crazy/beautiful family.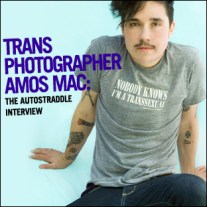 Still Looking for That Special Someone? This also means we're really looking for women with political expertise, political chops and a feminist background who want to do serious reporting — so shoot green [at] autostraddle dot com a resumè, three story ideas, and an explanation of why you have your finger on the pulse of something vital. You must have a unique voice and impeccable spelling, grammar and web-savvy. We're actually more interested in specific story pitches rather than general "I want to write for you tell me what to do" pitches. FYI.
Recently, we saw a story on Mediaite about how Top LGBT, Progressive Bloggers "Blog Swarmwp_postsOver Don't Ask, Don't Tell — apparently alll the Top LGBT bloggers were invited to this little event. Yup.  All of them! You know what that meant? A lot of guys… and Pam Spaulding. We love Pam Spaulding and I think she'd agree that we need more women out there in the field, ladies!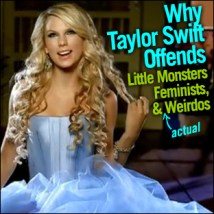 For Your Entertainment: Don't get me wrong, we don't want to have less entertainment and pop culture coverage — there are actually still a lot of arts and entertainment areas where we need way more coverage. But we'll only talk about stuff we like.
As queer entertainment/pop culture site AfterEllen says in its motto, "visibility matters," and speaking about entertainment/pop culture from a queer/feminist/WEIRDO perspective is vital. Bitch magazine ("a feminist response to pop culture") is one of my primary inspirations for Autostraddle. That will always have a place here. But, speaking of the aforementioned websites, we try SUPER hard to not do what anyone else is doing. Otherwise you'll compare us and that makes me insecure and also we are all sisters.
While we're on the subject, "pop" comes from "popular," but people have started saying it with a sneer. "Pop" sounds interchangeable with words like "brain-dead" and "pointless," or it's defined as something cutesy like soda pop or pop-rocks. But why shouldn't we concern ourselves with what the majority of people are paying attention to? It see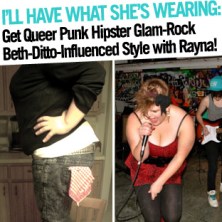 ms that's a pretty ripe target for inquiry and analysis, as well as being an ideal starting point for participation.
Sometimes "participation" means providing diabolical alternatives to what's currently popular or attempting to overtake and become popular yourself, at which point, obviously, people will begin to refer to you with a sneer. The infamous Taylor Swift article got us some really nasty comments and criticism, but it also had more people reading and talking about Autostraddle than ever before — people who wouldn't normally care what a bunch of lesbians on the Internet who haven't showered yet today think. When we cover pop culture, we're making our voices heard. Someone somewhere is reading our smart, feminist, and analytical response to the Mainstream Issue of The Day instead of Perez Hilton's, and we think that's worth something.
Regardless, all our media/culture coverage is grounded in a subversive, feminist, ironic approach — we assume all our readers are smart, and we think you can have intelligent conversations about stupid things, and these stupid things matter 'cause that's what the rest of the world is mindlessly consuming, like Twinkies. Furthermore, the more traffic we get, the more resources we'll have to cover less popular stories, weirdos!
Tip Us, Pitch Stories to Us:
"Pop culture" isn't the opposite of "politics," it's the opposite of unpopular culture. And that's vital. So our commitment to bringing you alt-culture's best musicians, artists, filmmakers, poets, dreamers, etc. remains, and we need writers who will seek out and cover those out-of-the-way things!
By that I don't mean that you should try to promote your girlfriend's band even if it sucks, or the self-published self-help/romance book your gay aunt wrote. But we are super interested in the good stuff. Even better than telling us about it is writing about it for us, tell us why it rocks. Use specific, full words.
Wanna give us a present?
Firstly, you should give us some money! True story: it's your generosity that has enabled us to do everything we've done. Without you we wouldn't have grown at all, and we'd have desk jobs and social lives instead of this. It's okay, my credit card has recently informed me that at this pace, I will pay off my bill in 2042! Anyhow enough about me — Amanda Palmer can tell you why supporting the arts is important in this "everything is free online!" era.
Secondarily, why don't you just buy yourself a book? Yup, that's right. We've picked eight books this month that we think you should read. It's important: The Essential Feminist Reader, Schoolgirls, The World Split Open, This Bridge Called my Back, Sister Outsider, How Sassy Changed my Life, bitchfest, The Girls Next Door and Pomosexuals. And any time we link to amazon, that means we get a percentage of your purchase through our affiliates account. Also today we have a Very Special Interview with Marisa Meltzer, co-author of How Sassy Changed My Life, a monumental book in the development of Autostraddle. She just wrote a new book called Girl Power and you should read about it.
We love getting your feedback because you know what's up. The future of queer, women-run media is kinda in your hands. Let us know what you f*cking want! But also? Trust us. We are not your first wife/husband. We are not Ilene Chaiken. Nitpicking & jumping to conclusions about us abandoning our overall mission statement because one post rubbed you the wrong way can be frustrating, to say the least, and well, often crippling.
Conversely, it's your love, support, compliments, emails and comments that keep us going. Your love = everything. Getting to know you has been fucking awesome.
Questions? Concerns? Share!
Thanks for supporting us! We hope there are many more birthdays to come. Tell your friends about us! Let's change the world!