After exhausting myself with the small task of churning out daily SXSW posts (it's not that hard — I know), here's this week's Fix!
Laura Marling
Singer-songwriter Laura Marling discusses the title track from her upcoming album I Speak Because I Can and gives an intimate acoustic performance of the song at The Guardian UK. Now, after hearing two tracks from her sophomore release, I'm thinking one thing and one thing only: Will this be a sophomore slump? I hope not. I was a big fan of her debut release, Alas, I Cannot Swim. Revisit Laura Marling's greatness with a live performance of "Ghosts" below — bonus points if you recognized Mumford & Sons as her backing band.
+
Lady Gaga
New stills from Gaga's "Telephone" video looking very Desperately Seeking Susan/Women Behind Bars. The video will debut Thursday.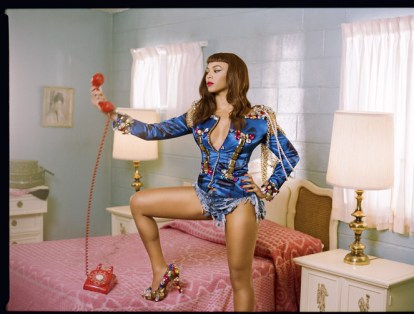 Mark Linkous of Sparklehorse
+
Mark Linkous of Sparklehorse took his own life this past Saturday, just days after the announcement that Dark Night of the Soul — a collaborative project with Danger Mouse, Sparklehorse, and David Lynch — would finally see physical release. Linkhous was a talented musician and multi-instrumentalist who struggled with personal demons throughout his life. He was 47. Remember Linkhous with his to "It's A Wonderful Life" by Sparklehorse below.

+
Nicki Minaj
Bisexual Nicki Minaj recently took part in a photoshoot for Right On! Mag. In it, she poses like a doll among dolls… or in her own words, "It's Barbie, bittttch!" Check out a behind-the-scenes look here.
+
Ted Leo + Pharmacists
My former favorite band (they lost me with 2007's Living With The Living) releases their new album The Brutalist Bricks today. You can listen to some of Ted Leo's new tracks on MySpace and read a review at Chromewaves in which Frank Yang calls it "loud, punchy and pogo-friendly with a couple moments of acoustic thoughtfulness to punctuate proceedings." Sounds right to me.
Remainders
A new video from She & Him, the cute band that Zooey Deschenel is in. It involves dancing in the library!
Johnny Weir talks abut his admiration for Lady Gaga, Adam Lambert and Christina Aguilera.
Hip-Hop Wired remembers the Notorious B.I.G, who was killed thirteen years ago today.
Kelis, who will be performing at Girlbar's Dinah Shore Weekend for Lesbians Who Like Other Lesbians, debuts a "new look."
SXSW
South by Southwest (SXSW), Austin's annual music festival, kicks off this Friday, March 12th. Audiostraddle will be posting SXSW spotlights in the days leading up to the festival. We've already featured Baltimore rapper Rye Rye and singer-songwriter Jenny Owen Youngs, so be on the lookout for what comes next.