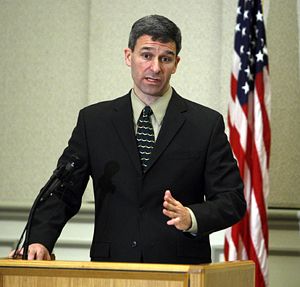 SCHOOL FOR SCOUNDRELS:
People are pissed about the Virginia Attorney General Ken Cuccinelli's memo to state universities to back off their policies about discrimination based on sexual orientation. "On Thursday, Cuccinelli wrote in a letter that Virginia's public universities could not adopt policies that prohibit discrimination based on sexual orientation "absent specific authorization from the General Assembly." All of Virginia's largest state schools have adopted such language."
Now, students across the state are mobilizing by organizing rallies, starting Facebook protest groups, and getting a movement going. Virginia Democrats in the General Assembly called on the governor to denounce Cuccinelli. Some officials also pointed out that getting rid of anti-discrimination measures would hurt the Virginia university system because it would drive away top students and faculty. I wouldn't pay much attention to the other side's arguments, unless you want to be upset. (@washingtonpost)
The comments on The Flat Hat's article on the memo (The College of William & Mary's school newspaper) vary, as comments often do, from supportive ("As an alum and a law professor, I'm outraged") to antagonistic ("Obama has set the tone; winners get all of their way and do not have to accomodate the other 48% of the people.") However, no comment quite sums up the situation like this one:

But it's not just college students who are pissed about this measure. Writes John A. Farrell in the US News:
When the Republicans in Virginia staged a comeback last fall, they did so by persuading independent voters that the GOP had given up its desire to police our bedrooms, and would focus instead on pragmatic solutions for serious issues, like the dearth of jobs, the cost of education and the surplus of traffic. Here was the model for a Republican resurgence in 2010, the wise guys in Washington said.
And yet as soon as they get into Office, the first thing they do is police bedrooms! Or dorm rooms, rather.
CREATIONISM
"Agence France-Press report estimates that some 40 percent of the United States believe in creationism, which holds that the Earth was created by God only several thousand years ago." Yeah that seems somehow untrue. But regardless, over at "Liberty University," all the kids are coming out to study creationism! Admittedly, creationism is a lot more fun than genetics, because there are more stories! And magic! And special powers! And guess who founded the school THAT'S RIGHT JERRY FALLWELL. Basically what we have here is kids trying to get an easy A, like all those stupid f*cks in my creative writing workshop, which I had to quit lest my eyes never return from being rolled all the way back into my skull.
CUSTODY:
Yet another depressing story about gay parental rights has popped up in Michigan. The Detroit Free Press took a deeper look at the court case, in which Renee Harmon is suing for joint custody of her three children with Tammy Davis. Harmon and Davis were together for 19 years and broke up in 2008. Since then, Davis has had custody of their three kids (the couple had decided Davis should carry the children because she was younger).
Now, Harmon has said she will take the case to the Michigan Supreme Court if she has to. The current adoption and custody laws in Michigan prohibit unmarried couples from adopting and give few rights to non-biological parents. (@freep)
GAY MARRIAGE:
D.C. got married did you see it? (@queerty)
WESTBORO:
The U.S. Supreme Court has agreed to hear a case about whether the Westboro Baptist Church protestors, who regularly picket the funerals of soldiers, are protected by the right to free speech. The parents of one such soldier are bringing the case, saying Fred Phelps and his congregation inflicted emotional pain on the bereaved family.
I'm super glad the Court is going to talk about this. I'm so tired of Phelps and his neon shade of hate. I wonder if the whole troop will show up at the trial and what signs will they bring? Maybe in the decision, the Court could force those people to either shut down their web site or get a real webmaster. Or take a logic class at a local college or something. Just a few suggestions! (@afp)
CATHOLICISM:
Look, some good news about Catholicism and gay marriage! The group Catholics for Marriage Equality has just launched a web site. These people seem to get it. And by "it" I mean the difference between the church and the state.
Pam pretty much says it all: This is exactly the messaging that is needed to counteract the hateful, bigoted and ignorant behavior of the leadership of the Catholic Church, which has taken a hardline stance that is arguably more damaging to the civil rights of LGBTs than the Mormon Church (there are 5.5 million in the U.S.). (@pamshouseblend)
CENSUS:
U.S. Census forms start going out to households in a week or so. Here's an FAQ about filling out the form if you're gay, queer, or trans. (@justout)
DADT:
A recent 9th Circuit Court of Appeals ruling could have some effects on how the military discharges gay service members under Don't Ask Don't Tell, while it's still around. The 9th U.S. Circuit Court of Appeals has ruled that, for a gay service member's discharge to be constitutional, the military must demonstrate the firing promotes "cohesion or discipline in the unit" in all Western States. Because this only applies to the 9th Circuit, that could mean the military will need different standards for dismissal on different bases. (@kpic)