Once upon a time I went to Trader Joe's and bought Spindrift for the first time, perhaps because they were out of whatever I truly desired or maybe I was stressed out about how the boxes of sparkling beverages are not accessible until you've already been permitted to advance from the everybody-begins-here socially distanced line into a focused-on-a-specific-cashier socially distanced line, and if the line they're trying to get you to stand in is before that sparkling beverages area, you have to be like "I just need to grab a thing" because the line guy is stressed out like… why are you walking past the line I just assigned you?
Anyhow the moral of the story is that I like it better than LaCroix and have partially transitioned to it entirely. However, my alleged friends think it's bad. I think they're wrong. They also have mixed feelings regarding LaCroix so there is a lot going on here. This is a conversation we had in the group chat maybe a month ago I think, but I have transcribed it for you. I am interested in your feedback, thoughts and feelings on this topic. Please share them in the comments. Please note that dramatics are strongly encouraged.
---
Lucy: can we all agree that even if you like la croix it's still bad
like objectively it's bad
it tastes like lotion water
Gretchen: i like it but only the first five sips
L: what are you actually enjoying tho
James: i think i drink it in about 5 sips
G: i'm enjoying the idea of a taste ok
L: because my hunch is that you're enjoying sort of pretending it's soda
and then when it gets slightly less than chilled you remember it's water
G: no no no no
Allison: spindrift is good?
G: Ughghhhhh
NOOOOOOOOOOO
J: no
NO
Spindrift is disgusting
G: Spring Drift is so gross
L: Nothing in this category is good, as we understand the word "good"
J: inedible
G: Rinse [editor's note: my friends call me rinse instead of riese] loves it I hate it a lot
J: I know it was in Rinse's fridge
I drank one
And it was like drinking the color yellow
G: i love a la croix and i love a soda and i am not trying to pretend they are comparable and sprinfhdrift tastes like licking a puddle
J: Spindrift is actively horrible to my taste buds
it tastes like someone put a squirt of those fake plastic lemon juice things into a cup of pennies and rain water
and then carbonated it
G: does it taste like biting into a citrus from my cirtrereis tree
Riese: spindrift tates like lacroix one day dreams of becoming
J: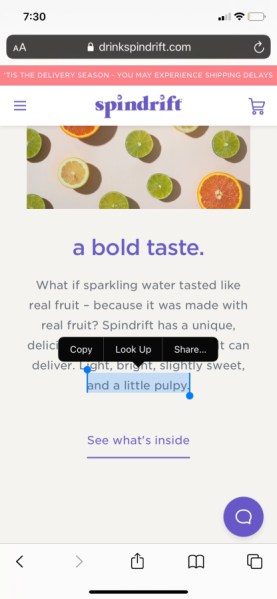 just how i like my drinks
a little pulpy
R: It's not a little pulpy
G: Exactly the splash of pulp is disgusting
R: Little puppy
J: What's funny
L: Yeah the spindrift I had tasted like a kids vitamin
G: It is a little puddlprly
J: Is that it's not a little pulpy
R: lil pull-ups
G: it's a lot of pblegth
R: a lot of pferfect
J: they have no idea what it tastes like i assume
L: Pluppy
R: i'm drinking a spindrift right now like a Queen
J: Which flavor
Which dog breed are you drinking
R: Raspberry lime
G: It's kinda like if you drank a water with one splash of pulpy oj or strawberry or something
R: you know what i love
is plain seltzer water mixed with orange juice, served with butter popcorn and a classic cinema
G: i love how supportive we all are of each other's intere… oh