There's so many big issues with episode 608 — Did Shane break up with Jenny and how'd that go? How could Max's body be carrying this pregnancy to term? WHO KILLED JENNY? — that it seems particularly taxing to nitpick the smaller issues while recapping it. But because every single scene is so jam-packed with these nitpickable problems, technical errors, logistical disasters and blatant inconsistencies — ignoring them is maddening … and writing about them is exhausting. It's making me crazier than Jenny could ever be … and so I must vent.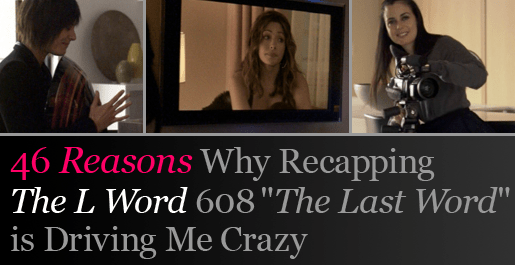 It's like trying to describe a crazy dream to a friend — "Okay, and then my ex-girlfriend suddenly became my Cousin Sara, but her Mom was now MY Mom, and we were eating strawberries in this hotel I stayed at once, when I was like eight, but I was suddenly allergic to strawberries, then it was raining even though it had just been Christmas?" I thought it might help me to list these issues. Get it out of my system. I'm not even touching on the bigger stuff here — the personality retcons, the shaky dialogue, the conversations and break-ups we didn't see but should've — this list is just the facts ma'am. [For example, Bette not wanting a job anymore is out of character, and Shane not responding when Molly mentions the letter/jacket is VERY unlikely — but I'll save that for the recap.]
46 Indisputable Technical Issues in Episode 608
Things that do not abide by even the most extreme, melodramatic or heightened televisioned version of reality
Things that contradict actions in prior episodes
Inconsistencies within the episode itself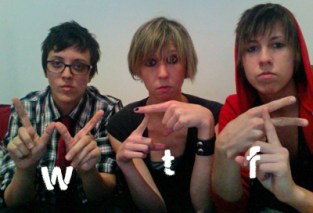 1. Shane is talking shit about a murder victim in the police station and sharing all the reasons she was frustrated with said victim and showing no sadness or grief — it's a murder investigation, no one would ever ever ever do that.
2. In fact, everyone's talking about their feelings & personal lives in the police station. This information is not only unrelated to what happened with Jenny and inappropriate in this setting but …
3. … it's incriminating. Also incriminating = lack of grief across the board.
4. Jamie, Tasha and Alice have chosen to hold a very private personal conversation at The Planet. Since no-one involved is dangerous and all their friends work at The Planet, they'd never select this location for this conversation.
5. People are sending in tapes from all over the world to Jenny for a 'farewell to bette & tina video' — why would you want to say goodbye to Bette & Tina when you've already left and therefore their move will make them no closer to or more far away from you than before?
6. Time frame is completely unclear — the Kelly thing is still an issue, yet the house has been completely renovated. Bette & Tina are ready to move and Jenny has harvested tapes from all over the world — yet Nikki is apparently still upset about the dance marathon and hasn't had a chance to speak to Jenny about it yet.
7. Max shaved his facial hair in his last episode in a symbolic "embracing the pregnancy" scene … but now he's re-grown a mustache.
8. Bette compares Max to a used car — a very derogatory and bigoted statement — and Kit doesn't question this.
9. Alice asks why Shane is so "honor bound" when clearly she isn't — she cheated on Jenny last week (or whenever?).
10. Alice wants to show Shane the treatment on her computer, but Alice gave a handwritten document to Jenny. [I noticed it at the time 'cause I thought it was weird that she hand-wrote a treatment]
11. Anyhow! The night that Jenny was supposed to have read the treatment, she was having sex with Shane, so that's all been confusing from day one — it's unclear if Jenny ever read it, it seemed during her convo with Alice that she hadn't, and that at most she stole the premise, which is still an issue, but it's not the same thing as stealing the script as Alice says she did in this convo with Shane.
12. Dylan tests Helena's trust by lifting her three inches off the floor and pulling a knife to her throat — which is so incredibly bizarre and beside the point that I'm going to declare it impossible.
13. Jenny has already started editing the movie with Final Cut before Shane buys it for her — you can see the program on her computer when she's editing Helena, Phyllis and Joyce footage.
14. Where is the editing suite in this studio she got for Shane? Why did she purchase all this expensive editing equipment but apparently not Final Cut (yet)? All we saw was a darkroom and the stage for shooting photos.
15. Helena is filmed with Dylan giving a toast reluctantly — says video isn't her thing — but then when Jenny is editing there's suddenly all this personal footage where Helena talks about how she feels about Bette w/r/t her mother [inappropriate for a goodbye video, for one thing].
16. Sunset & Kit are together but we never saw them make up, now Sunset is Kit's "man" and Bette has no reaction to her sister finally finding a happy relationship, as if it's just been going on all this time.
17. Suddenly Bette finds men icky and doesn't want them in her master bathroom — as if a drag queen wouldn't know how to keep a bathroom clean.
18. Jenny asks if Shane wants to see Carmen dancing on the video — but when we see the video, Carmen isn't dancing in it.
19. Bette says she might not have a job when they move to NYC, but in the last episode she said she would be working remotely for the gallery from New York.
20. If Dylan knew about Nikki, why DID she storm out of the baby shower like that and go to the "bus station"? Why did she wait to return to Helena?  And then how did this fit in to the situation with her "sublet" that she apparently lost? There is no possible story that could reasonably explain all those events.
21. Helena blames Jenny for her inability to trust Dylan, but Dylan's the one who stormed out of the party and pretended not to know anything about the test before the party.
22. Shane picks out a large bowl that would be incredibly cumbersome and difficult to pack as a random gift for two women moving cross-country. Furthermore, Bette's an art expert with specific decorating desires, you wouldn't buy an artistic object for people who are so particular about their artistic objects.
23. Jenny shows Kit a video she shot on her iPhone — but when we saw her make the "video" it made a picture-snapping noise, she was not taking a video.
24a. the video does not explicitly show Bette & Kelly having sex, it's clear there are other ways to look at it, yet Kit reacts as if it's blatantly incriminating.
24b. iphones do not shoot video
25. If Shane knew enough about the attic to know it was a place to look for something that was missing, then Jenny would know better than to hide the negative there.
26. Jenny says the video is three hours long, but we see everyone's initial reaction to every person included in the video, and we are told that everyone in the video only had to talk very briefly — so what's the three hours?
27. If Jenny knew where Carmen was and could get in touch with her to make a video, why has she been relegated to the vortex all this time? Similarly, how does the story we were given regarding Marina's disappearance provide an avenue for Jenny to get her to make a video?
28. Why is Ivan saying he's going to get married with a No on 8 sign in the background but Bette & Tina's scene with Marcie, in which they talk about their feelings on getting married, has been re-dubbed to adjust for Prop 8 passing?
29. When Tina sees the negative, she doesn't call Aaron or tell Bette —
30. Between the time we see Jenny & Bette talking and Jenny's death, people are walking all over the house but yet there is never any splash or otherwise strange things happening — a noise of any kind, or anyone looking remotely ruffled — to imply a death has occurred.
31. Nikki is hiding in the bushes — she's a major movie star, how the hell did she get out of her palace and into the bushes and to the police station without TMZ on her ass?
32. No one looks shaken or otherwise as if they could've just killed someone — I think we're all forgetting how unusual it is to murder another person, if these characters are the ones we know & love, they'd be immediately transformed —
33. Yet they seemingly do not assume it is a suicide because they volunteer to go down to the station and say "none of us know what happened out there" —
34. Though they're all aware the railing was broken, and logically would probs assume Jenny had fallen —
35. And there's no way it could've been a conspiracy between all of them, 'cause they were all sitting watching a video like all was well just before Alice found Jenny's body —
36. Shane & Bette are both wet, but we don't know why they would be [I'm aware they went in the pool, I heard the splash — but them jumping in to get her doesn't fit with what happens next — if they'd had their hands on her or removed her from the pool, they'd be upset and they'd be immediately fingerprinted and etc — and Shane's jeans aren't wet, just her hair and possibly her shirt [see through, hard to tell].
37. No blood in the pool, so she must have died of drowning or been strangled underwater or it'd be suicide — if it is suicide, then why are all the girls volunteering to be suspects, and if it isn't, then why isn't anyone wet [before her body is found] or shaken [before her body is found]?
38. When asked if there was drugs & alcohol at the party, the officer responds, "Just a few glasses of wine" — in fact, an entire mini-bar was outside by the pool and Alice and Helena alone have already had a few drinks apiece.
39. A body is wheeled into the ambulance that looks different from the one wheeled away from the pool — when did it go through the room like in Episode 1?
40. Max, who was not that mad at Jenny and had asked they stop the video so she could watch it and who told the detectives that Jenny changed his life, is not crying.
41. Shane, who was best friends with Jenny for four years and was her girlfriend until a few hours ago, and who is aware that Jenny has psychological problems and who has been understanding of said problems in the past, is not crying.
42. Bette & Tina, who are both human beings, are not crying.
43. Alice & Helena — also human beings (also drunk) who've had serious relationship issues in the past 24 hours that have made them both very sad and have now seen a dead body in the pool — are also not crying, do not even look mildly upset.
44. Nikki, who was in love with Jenny and upset enough about Shane to come over, is not upset about it at any point. Also as a movie star, obvs she would have a lawyer right there.
45. Shane tells the officers they are all very tight and they all look out for each other — but they just allowed their friend to drop dead.
46. "Thanks for six great seasons" — when only 2.5 seasons were actually great. ETA: In addition to fio's explanation of why every single thing that happened between "29" and "30" is problematic, y'all have alerted me to the following issues.
47. Jenny looked incredibly serene, dry and clean on that gurney. (Leah)
48. A medical examiner/cornoer/cop would not wheel a dead body through a house with the corpse exposed. (Leah)
49. There's no reason for everyone to take separate cars to the police station. (ejw)
50. Although they've all been drinking, they all drive to the POLICE STATION. (amanda)
51. No one lawyered up — a former TV star, two business owners, a high profile gallery owner, a movie executive, a former soldier and future cop and Shane (who's habitually had bad encounters with the police and would never trust them enough to speak freely). Helena has money and they've all got Joyce on speed dial, so wtf? (rebyj)
52. Angelica called Sunset "Daddy" though she'd only known him for a week, and the gender mix-up astounds the parents moreso than the fact that they just met, as it's not mentioned. (Lisa)
53. Bette says she wants to marry Tina when they get to New York, but you can't get married in New York.
54. Bette obviously jumped into the pool, and had to change out of her wet clothes before going to the station. You're trying to tell me her false eyelashes didn't come off? Or, if they did, that she'd take the time to reapply them? (PatC)
55. Nikki was hiding in the bushes when the police arrived — wouldn't she have already seen the dead body floating in the pool and therefore cried for help/been upset/ not talked crazy when she got into the room? Unless she killed Jenny, which is unlikely considering the state of her hair and clothing. (Bridget)
Okay, now I feel better and can go back to the recap.