Welcome to Masc/Femme, a new series in which fashionable queers show how to style a single clothing item in multiple gender-affirming ways. This month, AC Dumlao of @menswearselfcare teaches us about the versatility of a bold button-down.
My Style
To describe my "style" and by extension, my experience of being trans non-binary, I use the term "genderfull." I feel full — overflowing with gender! — and have the intense urge to express myself through my clothes, accessories, hair, and makeup. I've evolved from rejecting stereotypically "feminine" things like lip color, nail polish, and jewelry to embracing wearing whatever I want, in any combination that I want, because these things both do not have a gender and are brimming with gender: they're genderfull.
My Centerpiece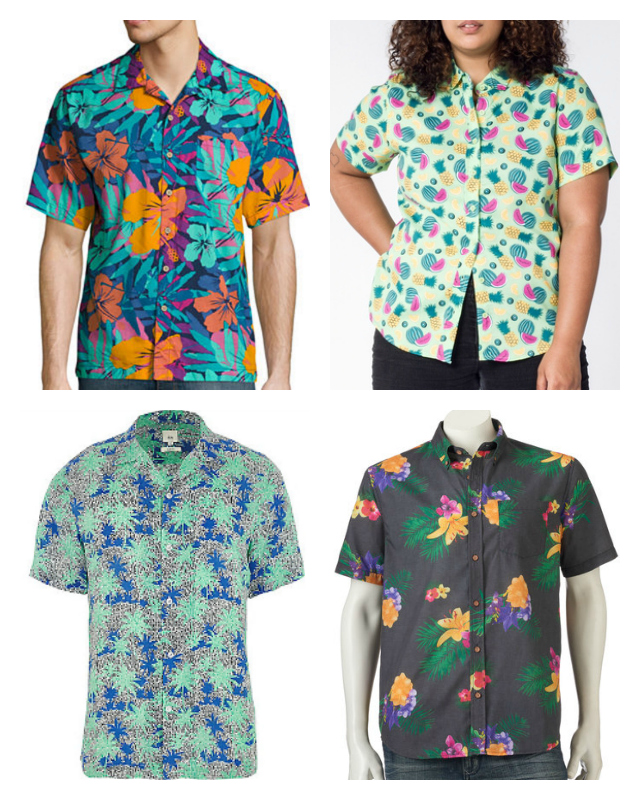 1. Hibiscus Shirt 2. Fruit Print Shirt 3. Palm Tree Print Shirt 4. Black Floral Shirt
I love classic silhouettes, geometric accessories, and bold prints, like on the item I've chosen to style my two outfits around: a bright short-sleeved button-down shirt. Mine is vintage from NYC's No Relation, but here are a few options for you.
My "Masc" Look
I feel pretty dang powerful in this outfit! Having my top button buttoned feels like armor. I seek out short-sleeved button downs because, as a shorter person (I'm 5'2″), long-sleeved "men's" shirts are too long for me, and I can't always make it to the tailor; in chillier times, it's easy to layer with a cardigan, blazer, or leather jacket.
I'm also wearing my favorite high-waisted jeans (similar jeans up to size 30 here) and heeled Chelsea boots (similar style here) to complete the look. This is an outfit I can wear to work then out to drinks, while still looking and feeling like my authentic self.
My "Femme" Look
The femme in me comes out at night — I want a bold lip (I use Absolute New York's Velvet Lippie in Mojito), I want to show skin, and I want to dance! For just the right night outfit, I unbuttoned my shirt and paired with Adidas Neo sneakers, a strappy black sports bra (straight sizes here, and plus sizes here), and high-waisted shorts (similar style here). I will never give up the high waist. At 26, I'm having my queer/trans adolescence, and this outfit is the embodiment of that: sexy, silly, and a little bit devilish.
Finding my style has been healing. In a scary time in the U.S. as a queer trans non-binary brown child of immigrants with mental illness, a lot of my world is out of my control. Picking out my outfit for work or play gives me back a measure of control, which in turn gives me confidence and peace of mind.