This Dragon Prince review was written during the 2023 WGA and SAG-AFTRA strikes. Without the labor of the writers and actors who are currently on strike, tv series like this one would not be possible, and Autostraddle is grateful for the artists who do this work. This Dragon Prince review contains spoilers.
---
One of my all-time favorite action-adventure tropes is when there's a very level-headed, stoic, calm and collected lady-hero — who goes absolutely feral when her girlfriend is in danger. Praise the fantasy gods; it happened on this season of The Dragon Prince, and I nearly swooned right into the sea! You will remember, of course, that last season, Netflix's beloved animated series gave us an epic enemies-to-lover storyline between Sunfire Elf Queen Janai and Deaf Standing Battalion general Amaya. They're still engaged, and they keep smooching on each other, and pressing their foreheads together, and holding hands, and caressing each other's cheeks and chins. Buff lesbian warrior-mages who are tough with everyone else but soft with each other. You know, the kind of thing that makes you want to scream into a pillow.
But! There's still evil afoot! Janai's brother Karim is pushing the Sunfire Elves closer and closer to a civil war, especially when he KIDNAPS HIS OWN SISTER with the help of sociopathic Kim'dael, an ancient Moonshadow Elf. When Amaya returns home and finds her fiancee, the Queen, missing, we get an animated Hitchcock effect as Amaya gets woozy and falls to her knees in grief. She says, through her interpreter, that Janai is strong and will be okay, but she is absolutely sick with worry. So, it makes perfect sense that she goes flying into Karim and Kim'dael's camp, sword slashing and crashing, to rescue her girl. When Kim'dael kisses Janai on the head while restraining her in a chokehold, Amaya's eyes narrow with such ferocious outrage, it's a miracle Kim'dael doesn't drop dead on the spot from sheer terror. Your honor, they are in LOVE.
For a single horrifying minute, between episodes seven and eight, I was convinced the series was going to kill off Janai — but, luckily, they know what's good for them and Amaya rescues her without either of them spilling a single drop of blood. Afterward, they cuddle and comfort each other and hope for the day they can go back to arguing about which flowers to have at their wedding, without having to worry about the world ending.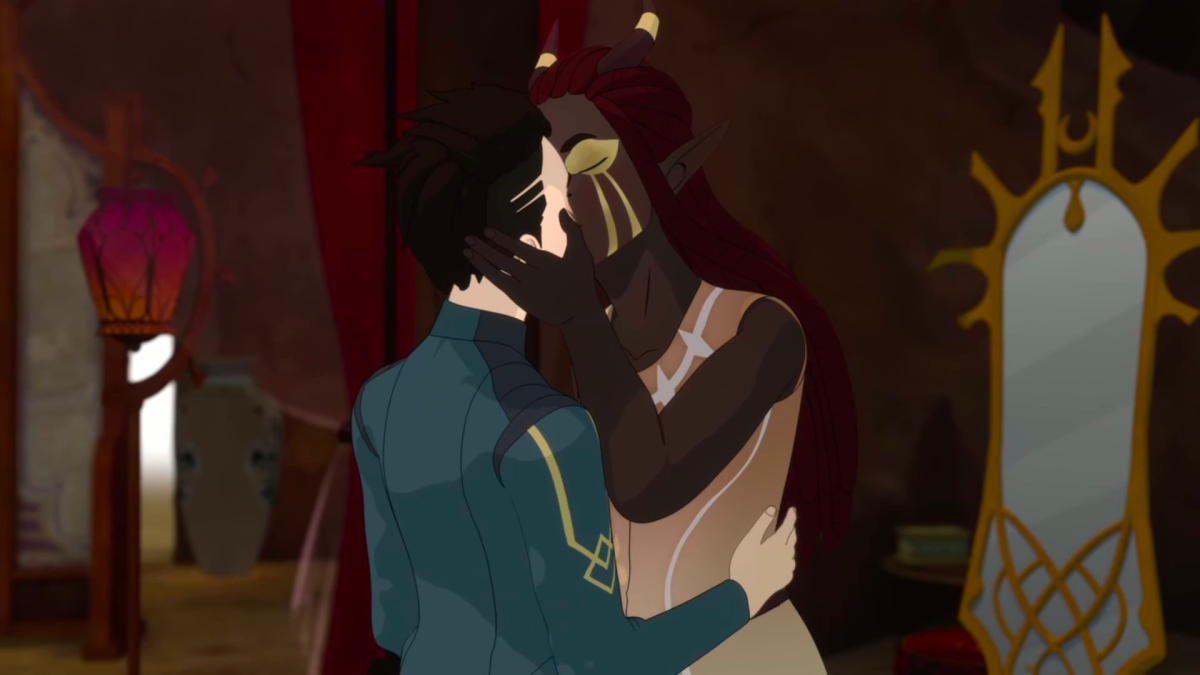 It is incredibly rare to see this kind of relationship outside of queer D&D games. A Black elf queen. A disabled human warrior. Keeping each other safe. Making each other better. Opening their arms and hearts to each other's customs while also staying true to their own heritage and cultures. Saving the world together by day, sleeping in bed together by night. Honestly, if you take all the fantastical elements out of it, it'd be rare to see this kind of lesbian couple anywhere on TV. They're together. It's them against the world.
If these two don't get a truly historic magical wedding in season six, I am going to riot. For now, though, I'm going to start this whole season over and enjoy every single caress. And also the adorable little jelly-jam creatures we meet this season! I don't want one as bad as I want a Janai/Amaya Happily Ever After — but I do want one!