How many of y'all are joining Natalie in the middle of the night to watch every single World Cup match on TV? I know it's more than a few of you! Well, also this week Sa'iyda and Drew reviewed Egghead & Twinkie, The Mattachine Family, Silver Haze, Chasing Chasing Amy, and T Blockers from Outfest. Kayla wrote about Riverdale's Patricia Highsmith Parody, The Cost of Pepper. She also reviewed The Afterparty and the latest Jenna Lyons developments on Real Housewives of New York. Valerie Anne unraveled the mystery of The Crowded Room's queerness. I recapped Miranda's first gay Valentine's Day on And Just Like That and super-duper loved the Star Trek: Strange New Worlds' Lower Decks crossover. Carmen watched Tubi's Hoochie Daddies and is still not exactly sure what she saw. And Drew made a list of what she's most looking forward to at the Toronto International Film Festival.
Here's what else!
---
grown-ish 605: "Right My Wrongs"
Last week's encounter with Drea seems to have made an impression on our girl, Zaara. Why? I'm not entirely sure — even Zaara herself called out Drea's bitchy behavior — but I'm also not a freshman in college. Once upon a time I too was inexplicably drawn to attractive assholes who treated me badly…so I can't blame Zaara too much. This feels like a queer right of passage.
For now, though, Zaara's just insta-stalking Drea and, as she scrolls, she discovers that her stalkee will be at a downtown gallery's Streetwear Exhibit that night. She uses the promise of pupusas to convince Kiela to accompany her so just in case she does run into Drea, she's not that obvious. But as soon as Kiela spots Drea across the gallery floor, she realizes that she's the unwitting wing-woman. Kiela calls out Zaara's thirst and and Zaara admits that she's got a crush on Annika's Influencer Island bae.
"When I'm around her, I feel something…I feel something I've never felt before," Zaara admits. But just when I think she's going to say something sweet about being in love for the first time, Zaara adds, "I feel…uncool."
Kiela pledges to be a good wing-woman for the night and she lives up to her end of the bargain. When Drea approaches, Kiela assures her — however awkwardly — that coming to the streetwear event was her idea and, more importantly, at the first possible opportunity, she leaves Zaara and Drea to enjoy the exhibit on their own. Drea calls Zaara weird — which is technically an insult but sounds like a compliment when Drea says it — and invites Zaara to accompany her as she works the room. Once they've made their rounds, they share a drink together and Zaara asks if Drea's bothered by her insta-stalking. Drea admits that she wishes Zaara had just followed her on IG and asked to meet-up instead.
Before they can get further, the curator of the exhibit interrupts and lavishes them both with praise over their styling and low-key invites them to model the streetwear. She gifts them with photos the event photographer already took of them and Zaara's taken aback by how much she likes them. It's just another day at the office for Drea, though: she's just happy to collect her check but this time, as a bonus, she got to meet someone really cool.
---
Nancy Drew Episode 409: "The Memory of the Stolen Soul"
This week we open with Nancy and Nick in the forest. Nick spots Nancy's bag of shells, including one with a romantic note on it. Nancy admits that she's enjoying how…uncomplicated it is between her and Tristan. But also she'd like to get back to Sineater business please and thank you. Thanks to Bess, they have a theory on how to defeat it and know that it will be most vulnerable under the Black Moon in two nights, so they get to work.
Speaking of Bess, it's time for her court date and Addy shows up to support her. When Bess asks why Addy's mom stopped texting her, Addy admits they weren't thrilled when they heard about the charges. She assures her that Bess can charm them again once this whole mess is behind them.
When Nancy and Nick return to the town hall mirror and try to find out what the first sin is that it erased, they end up seeing the Horseshoe Bay founders birth the Sineater instead.
Nancy heads to the courthouse to support Bess, where the charges against Bess are dropped…and new charges are brought up. Including endangering children. The plea they offer would require Bess to give up the Historical Society entirely, and what's worse, make announcements to the town that are wholly untrue.
While doing research about the founders and a mural in the town house, the Drew Crew learns that Addy's parents were the ones who originally defaced it, because they heard that there was a ghostly imprint behind it that told the truth of what the founders did to their ancestors.
Addy's parents tell them how the Horseshoe Bay settlers kidnapped a bunch of native children and erased their crimes, passing land that wasn't theirs down to their descendents and pretending their sordid past never happened. Addy speaks her ancestors' story into a jar that distills the essence of truth into liquid, and Nancy takes that to use as a poison against the Sineater.
When the time comes, Bess takes the stand and rejects the plea deal. She says the supernatural is not a threat to children; the lies we turned into history are the true threat, and she won't stand for it. She blows powder at the mural and reveals the truth of the kidnapped Indigenous children. The town's first of many forgotten sins.
After her speech, Bess is found not guilty of child endangerment, but still has the Historical Society taken away; and somehow it goes to the head of the Hateful Haters group.
Bess is sad, but Addy's mom is sending her flamingo memes again, and she still did the right thing. George tells her that she only lost a building; she'll always be a Keeper.
Addy comes over and says she quit her job at the bank because she wants to be on the town council and fight for truth and equity and reparations.
The Drew Crew splits up on the night of the Black Moon to do their assigned tasks, and Nancy's is to kill a Sineater. But while she's on the hunt, Nick realizes that the people they had on their murderboard as Sineater victims were actually Sineaters themselves, in a reincarnation plot. Nick tries to warn Nancy that the Sineater is a person but he's too late, she's already shot the Sineater with her poison arrow, and watches Tristan's shell note fall out of its lifeless hand.
---
Written by Nic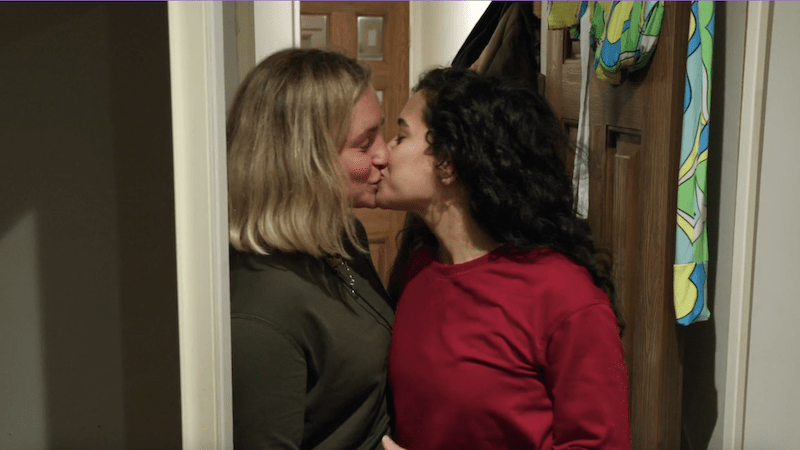 The 90 Day Fiancé: Before the 90 Days powers that be are really keeping the sapphic fed this season because we got a bunch of Statler/Dempsey footage again this week! Once they're back at the hotel and Statler stops talking about Dempsey's ass, they exchange gifts; Dempsey got Statler a set of dead insects from Thailand which she is lit about, and Statler got Dempsey a metal ant whose limbs can be posed, which Dempsey is less lit about. At least Statler acknowledges that she probably got Dempsey a gift that she herself would want as opposed to what Dempsey would want. As they get ready for bed, they continue to talk about how awkward they feel, and in Dempsey's solo interview, she insists they're not having sex that night.
Cut to the next morning and guess what, they had sex! Apparently their first kiss was so bad and awkward (I kind of love how open they were about that), but once they figured it out, one thing led to another and they decided to have sex. Dempsey very obviously is uncomfortable talking about sex, meanwhile Statler is kind of like a teenage boy about it, and at first the editing made it seem a bit one-sided, but thankfully Dempsey expressed how glad she was that it happened and how she felt it brought them closer together, even though she felt insecure about her lack of experience compared with Statler's.
After their full English breakfast in bed, they head to Dempsey's farm, a cool 2 hour drive from Manchester. On the way, they're holding hands and calling each other "darlingwp_postsand it's all VERY cute! Dempsey's a little stressed because she hasn't been home since before her Thailand trip and thus hasn't had a chance to sage her caravan (which I've learned is basically a nice trailer) to get out any stuck energies before Statler's arrival. She's not the only one stressed though, because Statler expresses some worry over the fact that Dempsey hasn't told her dad (her supposed "best friend") about her relationship with Statler, and if that means she's not serious about them. Now, to be fair homie, you haven't told Dempsey that you plan to MOVE HERE if things go well, so I don't know… maybe cut her some slack for wanting to get to know you better first?
They get to the caravan and the inside is super cute and cozy! Dempsey did a great job decorating and getting it all set up, except if either of them needs to poop, they're going to need to go across the way to where Dempsey works since the plumbing isn't totally hooked up yet. They take it mostly in stride though, and relax on the couch before turning in for the night. Statler's worried about whether she could live here long-term because despite the awkwardness, Dempsey could be the love of her life. Statler, girl, I beg you, TALK TO YOUR GIRLFRIEND BEFORE MAKING BIG LIFE DECISIONS.