Women's World Cup gay players feature image photos: SAEED KHAN/AFP via Getty Images // Erin Chang/ISI Photos/Getty Images // James Williamson – AMA/Getty Images
The 2023 FIFA Women's World Cup is finally here! It kicks off on July 20th with co-hosts Australia (against Ireland) and New Zealand (against Norway)! And you, of course, are wondering if there are any Women's World Cup gay players. Friends, yes! In fact, this just might be the most openly queer sporting event in history — which is saying something, as you know, if you've been following our WNBA coverage this year.
And not just players; there are so many LGBTQ storylines to follow. It's Megan Rapinoe's (United States) final World Cup. It's 37-year-old Marta's (Brazil) sixth World Cup, and her last, and she continues to recover from an ACL tear she suffered in a NWSL Challenge Cup match. After becoming the first first Australian player to score a hat trick at a World Cup tournament in 2019, and becoming a household name among soccer fans and queer humans, Sam Kerr is looking to lead the co-host Matildas to a World Cup title. Canada, which boasts five queer players and coaches, is in an equal pay fight with its governing body, much like the one the USWNT battled for years. Also, Matilda Sam Kerr and USWNT star Kristie Mewis are probably the most famous couple of this World Cup, thanks in part to THEY'RE LESBIANS, STACEY.
The 2023 World Cup goes from July 20th through August 20th. It'll be held in ten stadiums and nine cities, split almost evenly between Australia and New Zealand. The time difference is mind-bending: From the US east coast, Melbourne is 14 hours ahead and Auckland is 16 hours ahead. From the US west coast, Melbourne is 17 hours ahead and Auckland is 19 hours ahead, so: basically fully a whole day the future. In the United States, the World Cup will air on FOX, FS1, FOXSports dot com, and the FOX Sports App.
And now, onto the Women's World Cup gay players! They're listed below, sorted first by their World Cup Group and then by their country. As always, if we've missed anyone, please let us know in the comments!
---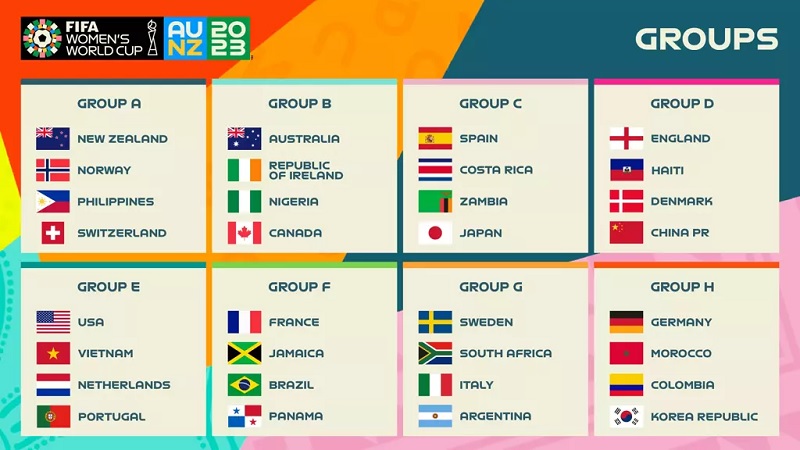 GROUP A
New Zealand
Michaela Foster
Annalie Longo
Ria Percival
Hannah Wilkinson
---
Norway
Frida Maanum
Maren Mjelde
Guro Reiten
Anja Sønstevold
Ingrid Syrstad Engen
---
Philippines
Tahnai Annis
---
Switzerland
Ramona Bachmann
Head Coach Inka Grings
Alisha Lehmann
Noelle Maritz
Lia Wälti
---
GROUP B
Australia
Mackenzie Arnold
Ellie Carpenter
Alex Chidiac
Caitlin Foord
Katrina Gorry
Alanna Kennedy
Sam Kerr
Teagan Micah
Hayley Raso
Kyah Simon
Emily van Egmond
Cortnee Vine
Tameka Yallop
---
Republic of Ireland
Isibeal Atkinson
Diane Caldwell
Megan Connolly
Sinead Farrelly
Ruesha Littlejohn
Katie McCabe
Grace Moloney
Áine O'Gorman
Louise Quinn
Lucy Quinn
---
Canada
Kadeisha Buchanan
Head Coach Bev Priestman
Quinn
Kailen Sheridan
Shelina Zadorsky
No gays we know (yet?): Nigeria
---
GROUP C
Spain
Teresa Abelleira
Ivana Andrés
Irene Paredes
Alba Redondo
---
Costa Rica
María Paula Elizondo
Gabriela Guillén
No gays we know (yet?): Zambia, Japan
---
GROUP D
England
Lucy Bronze
Jess Carter
Rachel Daly
Bethany England
Lauren Hemp
Jordan Nobbs
---
Denmark
Pernille Harder
Janni Thomsen
No gays we know (yet?): Haiti, China PR
---
Group E
United States
Kristie Mewis
Kelley O'Hara
Megan Rapinoe
---
Netherlands
Kerstin Casparij
Daniëlle van de Donk
Stefanie van der Gragt
Merel van Dongen
Sherida Spitse
Jacintha Weimar
Lynn Wilms
---
Portugal
Dolores Silva
No gays we know (yet?): Vietnam
---
Group F
France
Pauline Peyraud-Magnin
Constance Picaud
---
Brazil
Adriana
Andressa
Bárbara
Debinha
Kathellen
Lauren
Letícia Izidoro
Marta
Head Coach Pia Sundhage
Tamires
---
Jamaica
Becky Spencer
No gays we know (yet?): Panama
---
Group G
Sweden
Filippa Angeldahl
Hanna Bennison
Nathalie Björn
Magdalena Eriksson
Jennifer Falk
Lina Hurtig
Caroline Seger
Linda Sembrant
---
South Africa
Thembi Kgatlana
Kaylin Swart
---
Italy
Lisa Boattin
Manuela Giugliano
Elena Linari
---
Argentina
Lorena Benítez
Vanina Correa
Julieta Cruz
Yamila Rodríguez
Vanesa Santana
---
Group H
Germany
Ann-Katrin Berger
Sara Doorsoun
Svenja Huth
Lena Oberdorf
Felicitas Rauch
Lea Schüller
Head Coach Martina Voss-Tecklenburg
---
Morocco
Rosella Ayane
---
Colombia
Linda Caicedo


Daniela Montoya
Leicy Santos
No gays we know (yet?): South Korea