Feature image via Zhizhao Wu/Getty Images and Sam Kerr's Instagram
Friends, I will be the first to admit that despite a fondness for Gritty memes, I know very little about sports. What I do know a lot about is girls kissing each other, and that's what we're here to talk about!
While eagle-eyed sports fans have theorized that Team USA's Kristie Mewis and Team Australia's Sam Kerr were dating — or at least flirting heavily on the internet — very little information was publicly available until BASICALLY RIGHT NOW. In a very detailed thread, a Twitter user named Ayla took the time to break down every flame react and or emoji that could have possibly transpired in public between Mewis and Kerr.
Most of it consists of light roasting, which I always appreciate.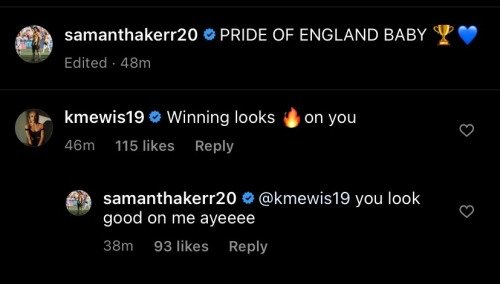 Isn't it nice when two gals from different teams are such close friends? I for one applaud any and all examples of sportsmanship.
On Thursday of last week, their national teams faced off against each other in the bronze medal match at the Tokyo Olympics, and Team USA emerged victorious. After the game, photographers snapped Mewis and Kerr gently consoling each other on the field, like gal pals so often do:
Sorry last one, but I'm thinking fans from both sides may appreciate these shots of Kristie Mewis and Sam Kerr: pic.twitter.com/KJomCGNluo

— Meredith Cash (@mercash22) August 5, 2021
And that is where Stacey comes in!!! Stacey believes in the power of friendship and I think that's great. However, my darling Stacey sorta missed the boat on this one, which is how we ended up here.
They're lesbians Stacey

— Nope (@prefervoldemort) August 5, 2021
For what it's worth, Kerr and Mewis came out officially via Instagram a couple of days later, captioning a kissing photo with a red heart in an absolutely maddening missed opportunity to simply caption the photo, "They're lesbians, Stacey."
Is "They're lesbians Stacey" the new "no its becky" or have I been on the internet too long?
And then as though this could not get any more meta:
So am I what the big deal!!

— Stacey Cabe (@Cabe1Stacey) August 5, 2021
For the record, here is our hero Stacey bravely holding wild animals.
From Coyote puppies to Gators…I love my job!! pic.twitter.com/8epNCcyVrL

— Stacey Cabe (@Cabe1Stacey) August 9, 2021
Long story short, these soccer players are gay, Stacey is gay, it's nice to be nice to your friends and I think I understand sports now.