This Survival of the Thickest review was written during the 2023 WGA and SAG-AFTRA strikes. Without the labor of the writers and actors who are currently on strike, TV series like this one would not be possible, and Autostraddle is grateful for the artists who do this work. This review contains some spoilers.
---
There's a galaxy of fashion girl boss comedies, with Sex and the City The OriginalTM and The Devil Wears Prada as their North Star, and I fall for them nearly every time. By that measure, it's easy to compare Survival of the Thickest to The Bold Type or Emily in Paris (I find the latter to be unwatchable), even though in my opinion, Michelle Buteau easily blasts them both out of the sky when it comes to having something original to say. It's also a refreshing shift from Shrill, Andy Bryant's 2019 Hulu series adapted from Lindy West's memoir of the same name, which — for as much as it was lauded for its size-inclusivity — didn't quite land for me with the same frank and joyful punch of Michelle Buteau lifting a glass in toast to "big titties and freckles."
And as a fellow fat Black girl with some big ol' titties? To quote Janelle Monáe, that's champagne shit. I salute her.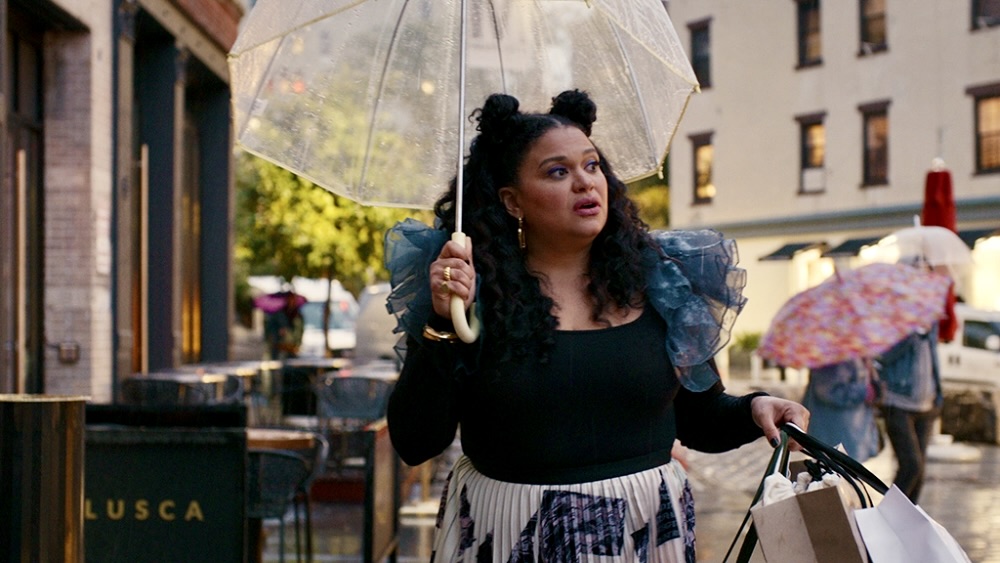 Survival of the Thickest is loosely inspired by Buteau's 2020 essay collection, where she writes about growing up in New Jersey (Mavis Beaumont, her namesake in the show, also hails from the same place) as a fat Black girl and her relationship misadventures as an young adult in New York, along with pursing fertility care and considering motherhood, all pretty typical millennial coming-of-age fodder. In the series, adapted by Buteau and Danielle Sanchez-Witzel, Mavis is a 38-year-old fashion assistant-turned-stylist who's forced to start over again after walking in on her boyfriend of five years, Jaque (Taylor Selé), having sex with her skinnier lookalike.
Mavis sets up in a small and slightly dingy Crown Heights, Brooklyn fourth floor walk-up apartment, an eccentric roommate, and a new lease on life. With the help of her friends Kahlil (Tone Bell) and Marley (Tasha Smith), Mavis picks the pieces of herself back up. After styling some queens at her local drag bar CC Bloom's (yes, CC Bloom as in Beaches… that's gay), the bar owner Peppermint (yes, thee Peppermint, first runner up of RuPaul's Drag Race season nine and the first openly trans woman contestant, my all-around favorite queen) suggests that Mavis gets some work styling Natasha (Garcelle Beauvais), a former 90s supermodel who has struggled accepting her current size.
Mavis hilariously wrestles the corset out of Natasha's cold clenched wrists, and before you know it has styled her like a GAWD for her ex-husband's funeral, a moment that ends with Natasha dramatically and exquisitely dropping his favorite item — a strap-on — into the casket alongside him. Caught on IG Live by Peppermint, Natasha and Mavis both go viral, catapulting the next stage of her career.
From there, the plot goes as expected. A woman bravely takes on New York with her trusty best friends by her side, a variety of men to sleep with, and an exceptional wardrobe to pick from. Everything is saturated with poppy, bright, and rich pinks, fuchsias, and purples that feel directly lifted from the aughts — which I say as a compliment, this is my genre of choice. Costume designer Keia Bounds stomped both her feet into Mavis' looks; she's every bit the Carrie Bradshaw I dreamed to be when I coveted those famous pink DVD sets and couldn't quite figure out how to make my body work into the clothes.
With the return of And Just Like That, there's a lot of discussion lately around SATC and the heyday of Patricia Field's fashion — she's one many try to emulate and few succeed. She also mostly dresses thin white women who are already benefiting from the privilege of certain standards of beauty. As much as anything else, upholding those same standards is also her legacy. Bounds wins because she steps out of the shadow of what's expected. Every inch of Michelle Buteau's frame is draped with keen love and a sharp eye, and it shows.
This rings true in every part of Survival of the Thickest — fat Black girls are worthy of the care, affection, warmth and humor that come with being the heroine of our own love stories. Until now, Michelle Buteau's most often been regulated to sassy Black sidekicks (see: Ali Wong's Always Be My Maybe, Jennifer Lopez's Marry Me). Even in those roles, she never lost the humanity in her characters, which always made them shine. Though I would have loved to see Mavis have the kind of on-screen sex that's enjoyed by her thin peers (both Khalil and Marley are each given at least one), it's still a breath of fresh air to see a fat woman whose body isn't the butt of the joke, which far too often happens even in projects where we are meant to be the "lead."
After being cheated on, Mavis laments to Kahlil, "If someone cheats on Halle Berry, they're like, 'Oh my God, how that man cheat on Halle Berry?' But if someone cheats on me, a thick girl with problem areas? They're like, 'Oh yeah, I get it."
In return, Khalil tells her that's a "silly-ass narrative.wp_postsIt's not — silly, I mean. It's not. It's a very real lived reality that far too many of us know all too well. Like me, Michelle Buteau wears a size 18/20, and there are other fat people who feel the brunt of this even more than we do. But Khalil sets a narrative standard for Survival of the Thickest moving forward. Mavis will be her own Halle Berry, and we will be lucky to watch her.
It's pretty clear that I loved Survival of the Thickest, which makes talking about the ways it approached its queerness particularly difficult.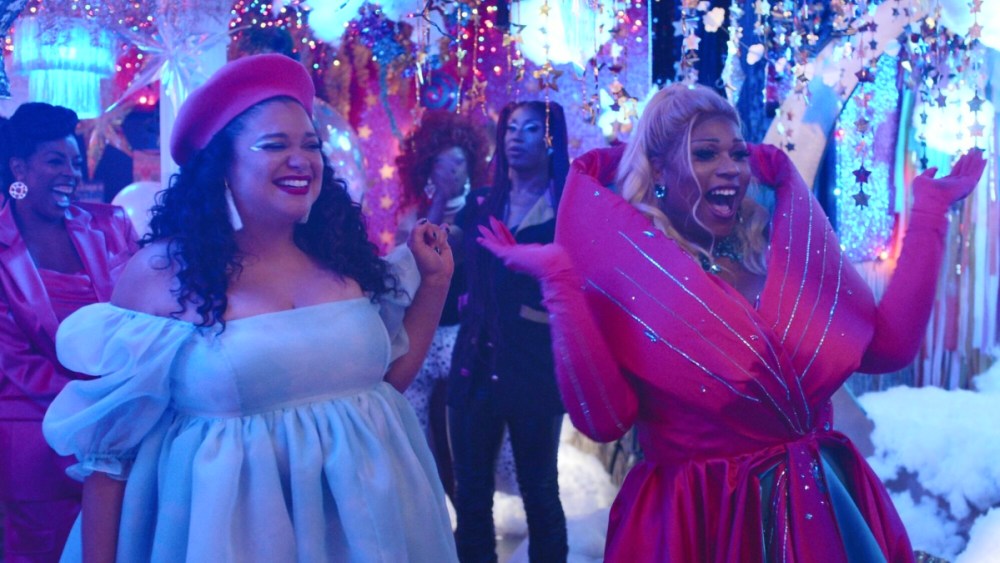 On one hand, the refreshing frankness that's provided around size diversity also continues through all the queer surroundings of the show; Mavis is a straight woman (that we know of) but the world she inhabits is decidedly not.
Yes, there are the queens at CC Bloom's — including Peppermint, who more than once while watching made me wish that RuPaul would retire tomorrow so that we could rebuild Drag Race in her image. There's also the strap-on at the funeral and a lesbian dog wedding (don't ask). There's this very sweet bit that whenever a new character's hypothetical love interest is introduced there is a pronoun check, and it lands every single time. The entire show ends around a queer prom (though I won't get into specifics, so as not to ruin all the fun!). You cannot honestly talk about fashion without also talking about the queer Black and brown people setting the trends to make the art form what it is. One of the most damaging outcomes of those 00s romantic comedies that I keep paying homage to in this review is that they purposefully whitewashed and erased Black queer contributions right in front of our faces, over and over again. Survival of the Thickest sets out to change that.
Aesthetically, spiritually even, this show is gay as hell.
And yet, there's Marley.
As Marley, Tasha Smith immediately gives the air of someone cut in the power queer cloth of one Bette Porter. She's a fiercely loyal, if not bossy, friend with perfect tailored suits and even though her bisexuality is not introduced until later in the series, it won't necessarily feel like a surprise once it shows up. A fling with her trainer leads to a hook up with that trainer's girlfriend and — realizing that, unlike all her previous times having sex with women, this was the first time when there wasn't the presence of a man to "make it OKwp_posts— Marley makes an appointment with her therapist.
Her therapist, who's also a Black woman, provides some sage advice about what languages of queerness may (or may not) have been provided to a Black woman in her forties, like Marley, when she was growing up. There's no judgement in her challenge that Marley set aside time to think about what her queerness may look like away from men. It's the kind of scene that I could've written a thousand words on, Black women seeing each other for who we are and pushing for our best selves in the comfort of one another, away from the world.
Unfortunately, this is also where Survival of the Thickest abruptly drops the ball. After her therapy appointment, we don't see Marley for another two episodes — a significant chunk of time for a series that's only eight half-hour episodes total. When she finally reappears there is a rushed (and barely discussed) queer love story for her that takes place on the sidelines of an otherwise truly great show.
Survival of the Thickest soars. It really does. It's the kind of show I have been craving for so long, a fantastic rom-com that's built for summer nights and fantasies of love. It quite nearly sticks the landing, so maybe it's unfair to have also wished it had done even more. I know I'll watch Survival of the Thickest again (I've already binged it twice), but each time I'm going to want for Marley to have her due.
Maybe in season two.