These recaps were written during the 2023 WGA and SAG-AFTRA strikes. Without the labor of the writers and actors who are currently on strike, tv series like these would not be possible, and Autostraddle is grateful for the artists who do this work.
---
Happy World Cup, friends! Happy double strike! We know you're watching that big gay festival, but other TV too! And so Heather recapped And Just Like That, Riese made you a Glee quiz, Carmen reviewed Survival of the Thickest, and Kayla's got some thoughts and feelings on Jenna Lyons joining the Real Housewives of New York. Also movies! And not just Barbie, but Sa'iyda and Drew are at Outfest and have so far written reviews of Your Love, The Fabulous Ones and Asog, My Animal, T Blockers, and Playland. And, of course, Critical Role. Nic and Valerie are here for you!
---
Written by Nic!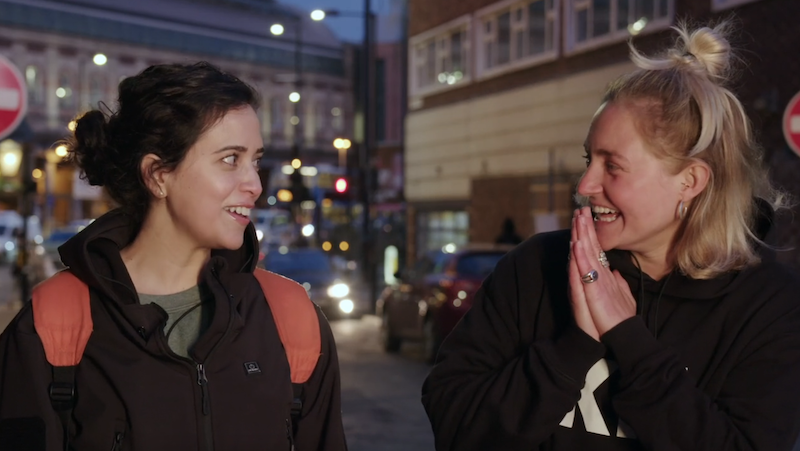 Previously on 90 Day Fiancé: Before the 90 Days, we met Statler who's a queer neurospicy 33 year old woman from Texas who was flying to England to meet her 28 year old girlfriend Dempsey for the first time. Through multiple solo interviews, we learn from Statler about her ADHD, her love of sex (including in a church while church was happening!), and just how quirky and weird she self-describes herself to be. Statler talks about being adopted and feeling like a disappointment to her parents when compared with her seemingly perfect brothers; a feeling that only increased when she came out. Eventually Statler settled into her queerness, but wasn't finding the love she craved so she decided to expand her location settings to England.
Statler and Dempsey have been dating for 7 months, and Dempsey has zero idea that if they hit it off, Statler plans to uHaul in a BIG way by moving to England to be with her. Surely, that'll go fine, yeah?
This week, Statler lands in England to the news that Dempsey's connecting flight back to the UK from Thailand (where she was on a family vacation) has been delayed, so she'll be spending her first night in England alone. Statler described already being anxious because their communication has been very sporadic lately and she's worried that Dempsey changed her mind about their relationship. Classic overthinking! So she heads solo to the hotel she booked for them in Manchester, but instead of a relaxing evening, Statler is up sick all night with what she later finds out is a parasite. Not gonna lie, they gloss over this fact so quickly and like, I've never had a parasite so maybe it's not a huge deal, but I'm concerned for her?!
When Statler and Dempsey finally meet it is the most awkward and cringey yet relatable moment I've ever seen on this franchise (and I watch ALL of the spin-offs). They're both so anxious, Statler is dropping monotone one-liners while Dempsey is blushing and giggling non-stop. They do the thing where they talk about just how awkward they are which makes it even more awkward. In their duo interview, Statler asks Dempsey if she can check out her butt in person which should feel gross but it's so obviously just Statler releasing nervous energy that I wasn't too put off by it. There always has to be conflict in this franchise though, and next week it looks like that will come in the form of Dempsey's too-small-for-two-people apartment. I was already all-in on this season, but these disaster queers are what my reality TV dreams are made of.
---
Nancy Drew Episode 408: "The Crooked Bannister"
This week opens with Nancy fleeing Town Hall with Ryan, having broken in to search for the Black Door, to no avail. After leaving one dad, she answers a call from her other dad, who asks her to invite people over tonight for a celebration of life, since it's been a year since Nancy's mom died. Which means that somehow, the events of all four of these seasons have all taken place over the course of a year. A YEAR. The lives they've led!
Nancy tries to rally the Drew Crew but everyone is busy. George has a study date, Nick has a city council meeting, and Bess has to help some brothers cursed with hearing the dead. While they're all talking, Bess fiddles with an artifact Ryan brought for her and it blasts them all unconscious. When they wake up, they find themselves in another one of my favorite sci-fi tropes: body swap!! They're really pulling out all the stops this season.
Bess is in Nick's body, Nick is in George's body, George is in Bess's body, and Nancy swapped with Ace. And I know this wouldn't have served the plot as well, and I know Nancy and Ace are endgame, and I'm okay with that, I am, but I'm just saying, if Ace was in Nancy's body, and Nancy was in Bess's body, that would have nice for me, personally.
ANYWAY, Nancy and Ace learn that The Yacht Club used to be a town hall, so that's where they head next. They find a banister to nowhere but get kicked out before they can explore it.
Ryan brings back the second half of the artifact and swaps their bodies back, so Ace and Nancy go back to the Yacht Club at night to break in, in their own bodies this time. And sure enough, the banister leads to a secret basement filled with all kinds of creepy things. Nancy finds a mirror with a spooky poem on it and READS IT OUT LOUD (rookie mistake) which turns the mirror into a…Black Door. The figurehead hanging from the ceiling starts to scream so Nancy swipes some papers and books and runs. And from those documents they learn that the monster they've been hunting is called the Sin Eater.
When Nancy reunites with her friends, she admits that it's the one year anniversary of her mother dying, and says that the reason sometimes she keeps them at arm's length is because she loves them and she knows she wouldn't survive another loss in her family right now. They share the found family sentiment right back and give her a big group hug. Then they all gather at the Drew house to celebrate Nancy's mom instead of mourning her, participating in one of her favorite traditions: cake fight!
Up next for the Drew Crew: Nick wants to help Bess create a secret historical society, and they have to find out [cue MARINA music] how to kill a Sin Eater.
---
grown-ish 604: "Pretty Mess"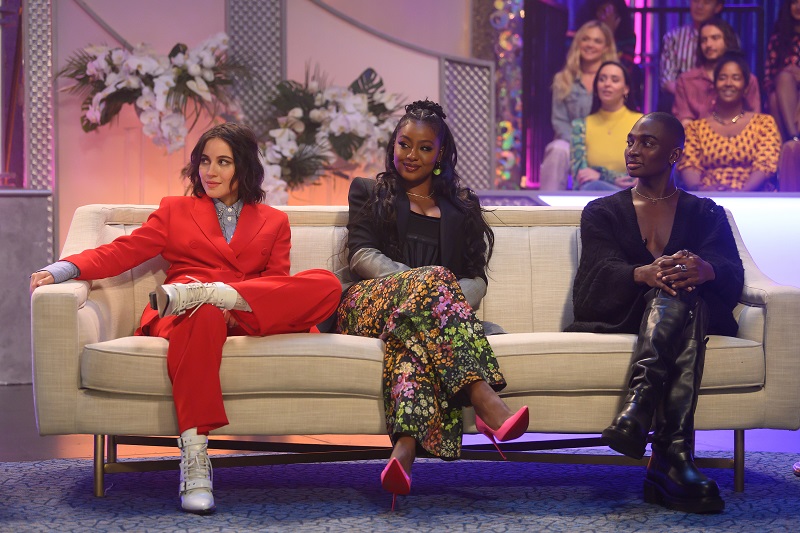 In the previous iteration of this show, Nomi Segal comes to Cal U as a closeted bisexual. She is brash and confident in every other facet of her life but when it came to relationships, she eschewed them and hid them from her family. But by the time she graduated, Nomi evolved and learned to bring her whole self to the world…both for herself and her daughter. You could tell a similar story about nearly everyone from that first generation — Zoey, Ana, Jazz, Sky, Vivek — because that's what college does: it changes you in ways that you'd never expect. I mention that because, at least thus far, this iteration of grown-ish has opted not to treat college that way.
For a moment, I thought this week might signal a shift in grown-ish's tendencies. During the summer, Annika was part of a reality show called "Influencer Island" and this week, the cast is getting back together for a reunion. Apparently, while on the island, Annika got cozy with one of her castmates…one of her female castmates (Drea, played by nonbinary actor, Wilder Yari). This sends her current boyfriend, Andre, deep into this feelings. He takes his worry that his "queen is out here getting scissored by some influential influencer" to Zaara.
"Scissoring is not the primary lesbian sexual position," Zaara retort. A preliminary examination of the evidence leads Zaara to tell Andre, "if she's not two-timing you, then she's two-timing America as a world-class queerbaiter." I sigh in frustration: the show had a chance to showcase some growth or evolution in Annika, but nope, she's exactly who she's been since we met her. The episode still engages in an "interesting" conversation around queerbaiting but they had a chance to do so much more.
Zaara promises to investigate further and approaches Drea at the reunion taping to suss out her sexuality. It felt a bit like a callback to the "mission to ascertain the disposition and intent of one Miss Lara Perkins"…and Zaara's the Shane. But instead of enticing her with figs, Zaara offers Drea a choice: tickets to a Sparks game or a Meghan Trainor concert? Drea dismisses both choices outright, leaving Zaara frustrated.
A fan in the reunion crowd is a little more direct, asking Annika and Drea directly, "are you gay, queer, bi, pan, or just straight and straight-up lying bitches?" At least for Annika, it's the latter, she played into the hype to boost her influencer career but she recognizes now that it hurts people (including Andre). But it's not all for naught: Zaara approaches Drea again after the show to question whether or not she's gay.
"Why do you care so much?" Drea asks, before answering her own question: "It's 'cause you think I'm hot. See you around, Zaara."
And it's clear that we're going to see her again.