This T Blockers review was written during the 2023 WGA and SAG-AFTRA strikes. Without the labor of the writers and actors who are currently on strike, movies like this one would not be possible, and Autostraddle is grateful for the artists who do this work. This review contains very mild spoilers.
Outfest is taking place in Los Angeles between July 13 and Jul 23. Drew Gregory and Sa'iyda Shabazz will be bringing you all kinds of reviews. If you're interested in attending, virtually or in person, check out Outfest's full schedule. 
---
In Alice Maio Mackay's T Blockers, transphobia is spreading like a contagion. Literally. Every friend, every date, is one infected worm, one infected bite, away from being a bigoted monster.
Pulling from Invasion of the Body Snatchers, zombies, rape/revenge movies, and indie hangout comedies, Mackay's film is a hodgepodge of genres coming together to tell a story about being a teen trans girl in 2023.
Most of the press around the movie has emphasized that Mackay is only 18, an impressive age for a filmmaker already on her third feature. But the real gift of Mackay's access to resources and ingenuity is that it reveals how rarely trans teenagers are allowed to speak for themselves. I've seen a lot of movies and TV shows about "trans youthwp_posts— and even more news stories and discourse — but it's so much more meaningful to have a story told by someone who is actually living that experience. Mackay's point of view doesn't just allow an inside look at being a trans teenager — it allows an inside look at a trans teenager who is as concerned with her identity as an indie filmmaker as she is with her gender. The uniqueness of voice is in every scene. This isn't just a film made by an 18 year old trans girl. It's a film made by Alice Maio Mackay.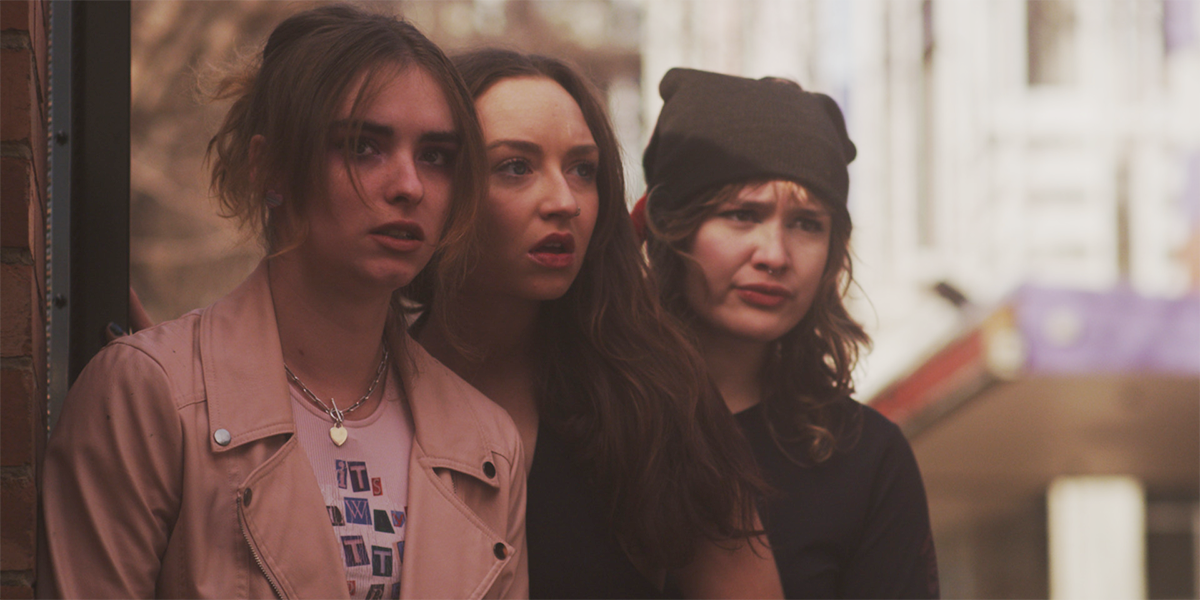 T Blockers is about a young trans girl named Sophie (Lauren Last) who splits her time between indie filmmaking, getting fucked up with her friend Spencer (Lewi Dawson), working at a movie theatre, and navigating the treacherous dating world. When a horror film from the 90s made by a trans filmmaker who died by suicide is rediscovered, it acts as a roadmap for Sophie and her friends as they begin to battle a worm parasite that spreads bigotry.
While the plotting and world building can at times feel rushed and muddled, the film takes its time to develop its characters and relationships. The genre elements are obviously important to the film, but it's really the smaller moments that make the whole thing work. A scene between Sophie and her brother, any moment with Sophie and Spencer, Sophie's burgeoning romance with a guy named Kris — these dynamics are low-key and honest in a way we rarely get in trans cinema of any genre.
Given Mackay's low budget, the craft on display is as impressive as the character development. The film knows when to lean into its B-movie roots and when to add an air of polish. A subplot involving an older cis male producer seems to reveal why Mackay is working with what she has rather than waiting for more. It gives her freedom. She and her collaborators don't have to answer to executives and that allows them the ability to pull from whatever reference points they want to tell a queer and trans story true to their experiences.
But I'm still so excited for what Mackay does next if and when she's able to secure more resources without compromising her voice. The last ten minutes of the movie tie the film's disjointed parts together and present Mackay as an artist with total control over what she wants to say and how she wants to say it.
Not all queer and trans teenagers will agree on what kind of art they want to see or what kind of art they want to make. But given the assimilated presentation of queerness in so much recent film and television, Mackay's film stands out as bold and honest. Sometimes trans teenagers are called slurs. Sometimes they cope by doing a bunch of coke with their best friend. And sometimes they create a world where they can bash those bigots' brains in again and again and again.