Autostraddle Anonymous Sex Toy Review #3:
Lelo, Got Me On my Knees Laylow
Today we will be discussing toys manafactured by Lelo, which is a very very fancy company where everything looks like something Dr. Beverly Crusher would probably invent in a sex microwave.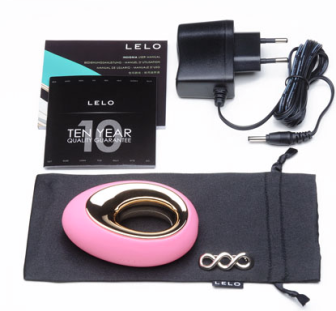 Description: Alia is an elegantly playful intimate massager, where gorgeous simplicity inspires a host of exciting possibilities. Entirely couple-friendly and a beautiful gift idea, her smooth outer shell glides over the skin, as near-silent vibrations draw from the powerful motor housed within. Made with the smoothest body-safe silicone with an ABS core, Alia is completely waterproof and boasts a signature 3-button interface that controls vibration intensity through 6 variable modes. Fully-rechargeable to offer no less than 4 hours of pleasure, Alia arrives in LELO's award-winning packaging complete with charger, satin storage pouch, INSIGNIA brooch and a full 1-year warranty.
Review: There's something erotic about plugging this thing in to the charger! The ladies of Glamour Magazine say it's the most beautiful vibrator ever. This is definitely a good one to give as a gift because the packaging is really seductive and fancy.
Plug it in, plug it in.
It took a while to figure out how precisely to hold this sucker until you actually start to use it, at which point it becomes remarkably intuitive. The grip makes it easy to hold it against yourself with one hand, like holding it down from the middle, while pressing buttons with the other, but one-handed is also easy.
It remembers the last speed for each setting, so you can have one setting on blast and then switch to the next and it can be light. You can program it according to your preferences and then build momentum. The random setting mimics getting head pretty well and combined with my own dirty thoughts, enabled a very good time.
Bonus — super quiet, super smooth. I never thought I'd say this about anything besides Tegan & Sara tickets or a new pair of shoes, but it's definitely worth $119.
+
+
Description: Immerse yourself in the radiant glow of LELO's Flickering Touch Massage Candle. Made from all natural soy wax, shea butter and apricot kernel oil, the lightly scented wax melts into an exquisite pool of luxurious massage oil. The silky formula is specially designed to nourish and moisturize your skin with natural vitamin E, while the subtle fragrance excites your senses for the pleasures that lie ahead. With a burn-time of up to 36 hours and three seductive scents to choose from, there is sure to be a Flickering Touch Massage Candle to suit your every mood.
Review:
me: "I don't smell anything romantic yet."
her: "SMELL THIS!" [exposes armpit] "THIS IS ROMANCE."
What the fuck is a snow pear? I'd eat one of them fruits if I knew, because this smells real good. You're supposed to light this candle and then it melts into massage oil, and then you blow out the candle and wait 30 seconds, then "pour" the oil into your hands and massage away. We lit the candle and then had sex, and then blew it out and poured it onto my hands. The oil is actually thicker than usual massage oil but not greasy like lotion, if they sold it in a bottle I would buy it. It'sa  surprisingly perfect consistency and nobody's gotten any pimples so far. However it WILL get on your bedsheets, so watch out!
We always have candles and massage oil around because that's the Sapphic thing to do, but if you never have either of these things around, this sucker's a pretty sweet deal.
We came up with the perfect scenario for this which in our humble opinions would be a good add-on to Autostraddle's 8 Ways to Get A Girl to Sleep Over bit. You have a girl over and you light the candle and then when she says it smells good you can say, "Actually you know what's really cool about this is that it melts into massage oil," then you tell her that you're a massage therapist basically and it actually is better than normal massage oil, then say "Wanna see?" and then she rolls over and she has to take off her shirt and so do you so that you don't get wax all over everything and then you have to take off your shirt so it won't get on your clothes. There you go — LAID for thirty bucks, which is cheaper than an escort.