by Laneia & Riese, doodles by Taylor, except that one by Stef
If you're a girl who likes girls, you probably want a girl to sleep over sometimes, right? But isn't life wild? I mean aren't things just so hard to control? Like, there's nothing you can do about that haircut or your personality, but here are eight things that are completely within your control that anyone — ANYONE! — can do to increase your chances of getting a sleepover!
1
Live near where others work/play/school/fly
The quickest way to seduce a woman? "And I live like ten minutes from campus, so you can sleep in!" Or, "It's only a hop, skip and a jump to Midtown from Morningside Heights!" If you've got a lady on your radar, proximity-to-airport is a good way to get her in your pants the night before an early flight. And it's really easy to get people who live far away into your bed.
Bonus: If the two of you ever get together for reals like as GIRLFRIENDS, your place will always be the preferred crash-spot due to your optimal location.
2
Don't provide any seating in your bedroom
This forces people to sit on your full-size bed, which gets them used to the idea of being in your bed. When it's time to sleep over, staying in it won't seem like such a big deal. After all, they've been on your bed for hours. What's eight more?
3
NO PETS or, if Mr. Piddles is your only friend, Stock Up on Zyrtec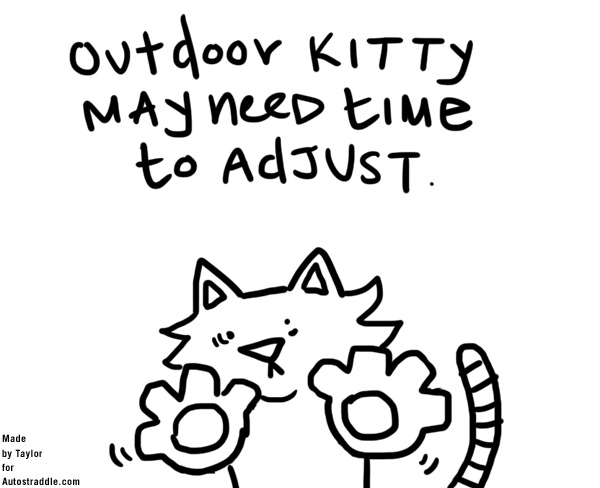 Look, your cat is really cute and obviously we love kittens, hello, and your dog is ADORBS, but! I think I speak for a lot of allergic-to-cat people when I say that there is no way in Hizzel I'm sleeping over at your place if your surfaces reveal excessive cat hair. If you insist upon keeping said cat, please choose your furnishings wisely, clean often, and keep allergy meds at the ready.
4
Keep one bottle of mildly respectable, widely-consumed
liquor or wine at all times
Why stay out and spend money when you could bring the party home, right? This doesn't need to be expensive, but the bottle of wine should be unopened, for crying out loud.
5
Have ingredients for at least one filling snack
One word: quesadillas.
6
Forget About Pajamas
If she wants to clothe herself before bed, she'll be choosing between baggy shorts or little shorts and tank tops or t-shirts. You can be creative here. Maybe all you have is this really thin white t-shirt or this even thinner white tank top? OH WELL I GUESS SHE'LL HAVE TO WEAR ONE OR THE OTHER.
7
Stock up on contact solution
If I had a penny for every time I heard the "I can't, I need to take out my contacts" excuse or, consequentially, the next-day phone call of pain ("MY EYES ARE BURNING RED DEATH FROM LEAVING MY CONTACTS IN OVERNIGHT!" which sounds to me like "I will always associate sleeping with you with the day everyone thought I was crying."), I'd be able to pay Visa for the glasses I'm wearing right now.
We don't know the exact numbers but we're guessing approximately 50% of all lesbians need to take out their contacts/didn't bring their glasses. Always have it around and you can snap back to that lame-o excuse with, "Oh my ex/roommate/ex-roommate wears/wore contacts so I have some contact solution at home, actually."
8
Extra Toothbrush

Girls like to have clean mouths, but if you have a stockpile of extra toothbrushes, you're going to give the wrong impression. Keep ONE unopened toothbrush, ideally stored toward the back of a cabinet / drawer. Claim you received it from your mom last Christmas / Hanukkah / Other Special Day.


You got any tips?