Feature Image via Shutterstock.com
Lizz's Team Pick:
If you would have asked me yesterday why I write best in a coffee shop I would have told you it was because of, well, the coffee. Maybe I would have said it was being away from the distractions of home or even the timeless combo of a chocolate chip cookie and a cute barista. Well, as it turns out, it's probably the ambient noise.
With that in mind, the awesome new site Coffitivity provides all the ambiance of coffee shop with none of the coffee or, you know, "leaving the house." That's right, you just hit play, close your eyes and there you are in the middle of a coffee shop downtown. The clank of the plates, the muffled conversation across the room, the occasional dropped latte. It's all there. You can save your money, pour yourself a cup of tea in your living room and still reap all the benefits of the hustle and bustle of your favorite cafe.


From Coffitivity:
Research shows it's pretty hard to be creative in a quiet space. And a loud workplace can be frustrating and distracting. But, the mix of calm and commotion in an environment like a coffee house is proven to be just what you need to get those creative juices flowing. Our team has delivered the vibe of a coffee shop right to your desktop, which means when your workspace just isn't quite cutting it, we've got you covered.

The research Coffitivity is referring to:
Using background noise that is commonly present in consumers' lives (in this case, ambient noise in a roadside restaurant), we show that while a moderate level of background noise enhances creativity relative to a low noise level, a rather high level of noise impairs creativity.
At first I thought this all sounded silly. I mean, the sounds of a coffee shop to get me motivated? But I have to be honest, I used it while writing this very article and it really works! I feel like I could finally start my memoir!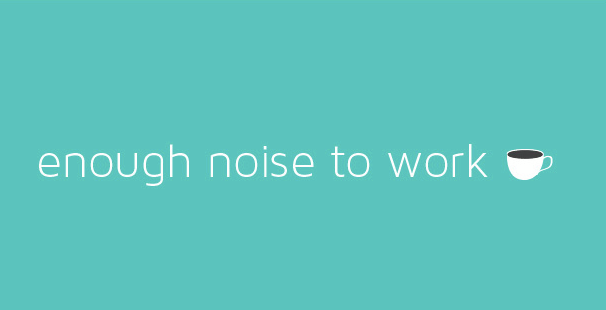 Coffitivity is still in beta, but at this stage in the game it does everything I need it to. You can check out Coffitivity's Facebook page or follow Coffitivity on Twitter for updates and announcement about their upcoming IOS/Mac app.
Now all I need to do is bake a few cookies and bribe my roommate into dressing up as a barista!