Welcome to the fourth of four fantastic recaps of our experience at A-Camp 3.0, which took place 2.5 hours outside of Los Angeles at Alpine Meadows Camp atop a mountain in Angelus Oaks, California, from May 23rd-27th, 2013. These recamps serve to ease our collective separation anxiety, enable us to wax nostalgic over times gone by and provide prospective campers with a brilliant glimpse into the A-Camp Experience.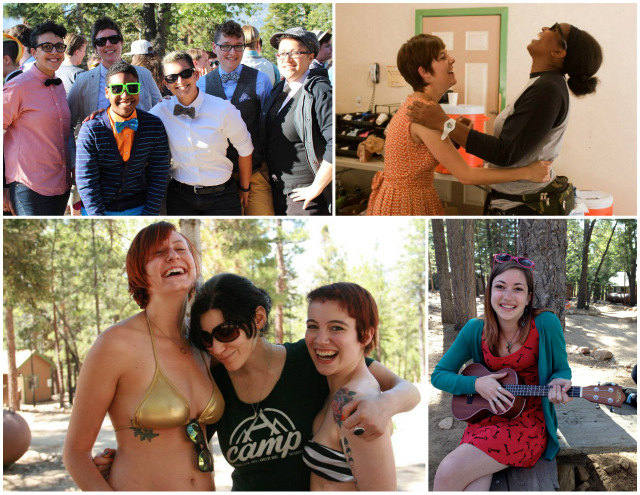 A-Camp was the genesis of an idea Riese had at 3AM in July 2010: the concept was to take the spirit of the website into three glorious dimensions and create an affordable vacation for queers for whom other lesbian-marketed vacations aren't a perfect fit.  In April 2012, we did it for the first time— along with 160 campers and 35 staff members, we rented out a summer camp in its off-season and enjoyed a transformative weekend of fun, friendship, panels, workshops, classes, sports, entertainment, events and so forth. It was probably the most awesome experience of our life and we knew from there it would only get bigger and better — and it did, in September 2012!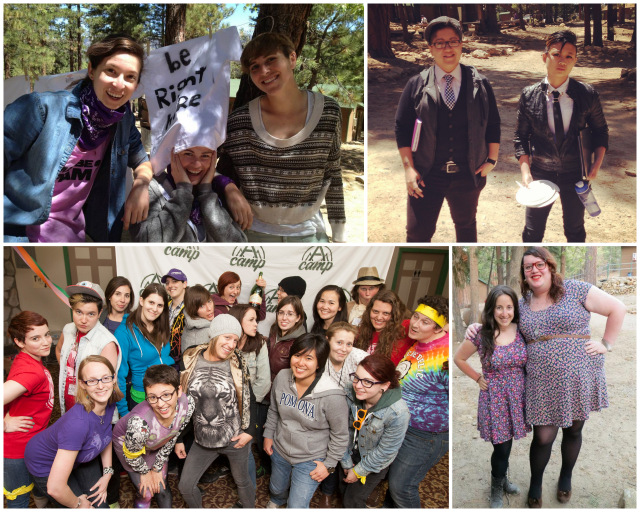 Which brings us to May 2013, when our largest-ever group of campers arrived on the mountain, and were greeted by dedicated counselors and treated to four days of kickass programming. Swagger 101! Comedy Improv! Yoga! DIY Body Scrubs! Hop-Hop Dance! Kink Panel! Know Your Whiskey Tasting! Recess Games! Drag King Workshop! Femme Luncheon! Lilith Fair! Julie Goldman & Brandy Howard! Deanne Smith! Somer Bingham! The cast of Unicorn Plan-It! Calendar Girls! Team Autostraddle! Most importantly: EACH OTHER! And So. Much. More.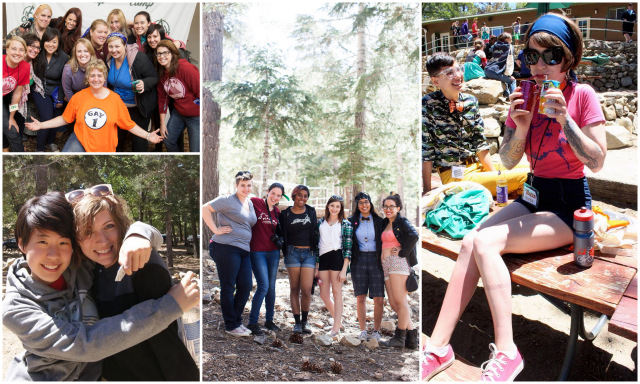 In the past, these recamps have been exhaustive recollections of every minute of A-Camp, but this time we're tightening it up a bit. See, A-Camp is whatever you want it to be — and it's something different for everybody. You all have your own stories in your hearts and brains and cameras and in the notebook paper pieces in your back pockets and this is our story of what goes on behind-the-scenes and also in the front of our brains to make this whole she-bang come together with relative grace. Are you ready? I don't think you're ready. (Also, we miss you!)
---
Sunday, May 26th: Day Four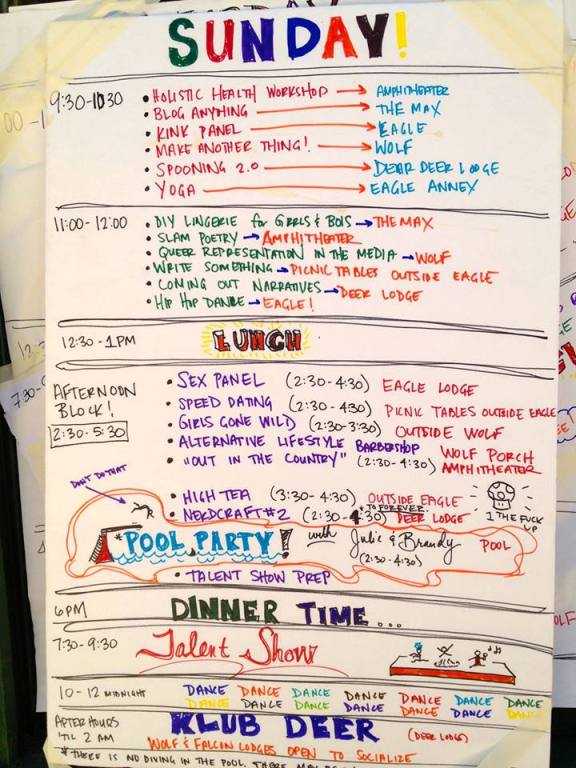 Early Morning: Sunrise Eagle Cafe // Morning Stretch With Feelings (Mary) // PAJAMA BREAKFAST
Block A: Holistic Health Workshop (Jess) // Blog Anything (Riese & Laneia) // Kink Panel (Daniela, Nic, Ali, Kay) // Make Another Thing (Hansen) // Spooning 2.0 (Stef & Katrina) // Yoga (Devyn)
Block B: DIY Lingerie For Grrrls & Bois (Lizz & Hansen) // Slam Poetry (Gabby) // Queer Representation in Media Panel (Haviland, Croce, Brittani, Somer, Julia, Carly, Deanne Smith) // Write Something (Rachel) // Coming Out Narratives (Sarah Evan) // Hip-Hop Dance (Devyn)
Vanessa, Contributing Editor & Blackhearts Counselor: Even though I attended A-Camp 1.0 last year as a camper, I didn't manage to find any time to go on a hike and really explore the mountain. I remember feeling envious of everyone's nature-filled photos post-camp last year, so this time around I swore to myself that I'd get some photographic evidence of myself being surrounded by trees (because obviously the number one reason to go on a hike is to take photos that will get a lot of likes on Instagram…jk…or am I?!) Anyway, I went on not one but two hikes this time! The mountain is so gorgeous! There are so many trees! Why doesn't Brooklyn look like this?! The first hike was during pre-camp and Jill taught me all about life in the country, and the second hike was on Sunday and I went with my girlfriend, Julia, and a few other campers. I loved both hikes but the second hike was a lot longer and a lot more feelings-filled, and it was also really nice to get some time with my girlfriend (hi Rae!).
Carrie, Community Managerette & Tiger Beat Counselor: Helping Daniela get dressed for The Kink Panel was a highlight. Vanessa and Lizz might fight me on this, but the occasion seemed to call for fishnet stockings over a floral print skirt.
Daniela, Intern & Starjammers Counselor: This was the first time we had a separate, focused panel on kink at camp and I learned so much just by sitting next to Ali, Kay and Nic. Ali moderated that thing like a boss, and we all got to prove kink looks like whatever you want it to look, as long as you keep it safe, sane and consensual. Pretty awesome stuff to sit, think and chat about on a Sunday morning in a mountain full of queermos.
Stef, Contributor & Bombshells Counselor:  We weren't exactly sure how the powers that be let us have a Spooning Workshop to begin with, nevermind a second one, and we didn't want to rehash September camp's curriculum if we could help it. We walked in a bit nervous, unsure of everything except our innate ability to cuddle like champions. Once we got in there though, some higher power took over, and we began answering questions, holding demonstrations, and problem-solving like the accredited snuggling gurus we always knew we could be. We can't tell you everything that happened – as always, you need to actually attend the workshop to learn its secrets – but I can tell you that everybody walked out of there with all the tools they needed to spoon each other with affection, dignity and respect.
Lizz, Contributing Editor & Starjammer Counselor: I can't believe how many campers showed up for DIY Underwear For Grrrls & Bois. We made the cutest "dyke" underwear and, much like nerdcraft, it was nice to have some downtime and just chat with people. Plus, I got to see how talented all the campers are! They made some seriously sexy stuff.
Gabby, Writer & Foxfire Counselor: Big shout outs to Ashley Catherine for co-hosting the Slam Poetry Workshop. I just want to thank everyone for giving of themselves and diving deep into their most vulnerable places and sharing their words with us. We led a workshop based on Reneé Watson's "I Am Not" line poem that's centered on the idea of how we are perceived versus who/how we really are. Together we created line poems and performed them. A group of campers even got together and performed their piece at the talent show. It was amazing.
Jill, Wild Things Counselor: I went to Gabby's poetry thing thinking I would just listen to some rad poetry. But wait! It was a workshop?!?! That meant I had to get involved and participate and shit. But that worked out fine because I wrote a poem and felt some feelings. I was impressed with the poetic talents of all the campers who read the poems that they composed on the fly during the workshop. Some of those lines cut right to the bone.
Laneia, Executive Editor & Runaways Counselor: It was almost an unspoken thing that we'd do a live Blog Anything, and we both knew what it would look like: a pile of queers writing in notebooks with Fiona Apple playing softly in the background. Bliss, right? We put together some super brilliant prompts that I can't recall now — I think one was to write about an experience on public transportation — that were totally optional. I'm not sure anyone used them.
This might sound weird, like I don't trust y'all or something, but I was kind of shocked that it worked. No one wanted to talk or get a second opinion on a clunky sentence — they all just wrote with their little heads down, and seemed to enjoy it.
I think with each camp, Riese and I will slowly keep adding things that allow us to just sit in a room with campers and quietly listen to emotionally intense '90s/'00s women on her computer.
Vanessa: My favorite thing in the world is meeting you guys. I'm not exaggerating. It's why I write Stradder On The Street. It's why I joke that I want to interview every single queer women in the world but it's not really a joke because I actually do. It's why I was the most excited to run Straddler On The Mountain and have people submit to the column in person. Admittedly, things could have gone a bit smoother. I'm not sure that every camper knew that I was just trying to garner submissions, and I think some people avoided the activity because they thought I might put them on the spot and try to interview them right away. What happened in actuality was that I made a bunch of shy yet enthusiastic announcements in the dining hall letting campers know that I'd be outside Wolf during certain times and asked/begged for submissions, and then I sat outside Wolf and waited for y'all to come to me. While I did not reach my goal of 100+ submissions, I did get 53, which means we're all set through summer 2014! And that's not counting the cuties who have emailed me since coming home saying, "I meant to submit on the mountain but I forgot/got lost/was making out with a hot girl at the pool party and just couldn't leave, but anyway can I do it now!" But the numbers actually don't matter. All I want when I do Straddler interviews is to connect with our readers, and I got to do that SO MUCH during my Straddler On The Mountain sessions at camp. So thank you to everyone who submitted. And, uh, if you still want to submit…no pressure, obviously…but if you want to…email me at vanessa [at] auto straddle [dot] com! Thanks!
Cara, Contributing Editor & Bombshells Counselor: The Bombshells Birthday/General Celebration Dance was amazing. My cabin earned their name like woah. Plus they made each other tiny birthday cakes and smuggled them into camp. My love knows no bounds.
Rachel, Senior Editor & Slayers Counselor: It's incredibly difficult to describe, but Somer's campaign for Best New Intern of 2013 was one of my favorite parts of camp and also my life in general. I hope someone videotaped her campaign speech at Sunday's dinner, because I want to treasure it in my heart forever.
Robin, Photographer & A-Camp Co-Director : Intern Somer is one of my favorite moments of camp. Mostly the moment I saw the hair creations she was making. What a treasure.
Riese, CEO/Editor-in-Chief & Runaways Counselor: I had no idea what was going on with the Intern Somer campaign until she got up at lunch and delivered a dead-serious campaign speech that would've probably given Kerry a leg up in '04 regarding her achievements thus far as a self-appointed intern at A-Camp.
Marni, Contributor & A-Camp Co-Director: Our new talent this camp was beyond. Deanne Smith was finally able to join us after my efforts for the previous two camps were squashed by her exhaustive, globe-trotting comedy schedule, and she killed. Just KILLED. Her set was the hardest I've laughed in forever. And Somer Bingham, whom I'd only met once before camp, brought such an amazing, enthusiastic energy to everything she did. When she wasn't on a panel or jamming at Lilith, she was making weirdo sculptures out of Katrina's barbershop hair refuse, and campaigning to be Autostraddle's new intern (complete with a vote and concession speech). They weren't just "talent," they were real team members, and it was an honour to have them.
Mary, Calendar Girl & Little Rascals Counselor: Sharing a bathroom with DeAnne Smith was really special. She used my hairspray, you guys!
Lizz: It was such a pleasure to hang out with our new intern, Somer. Intern Somer started helping out right from the start, but I think she really came into her own when she started making all the schedules. I just don't know how I will survive without her to write out my day.
Pages: 1 2 3 4 5See entire article on one page