In July 2010, I woke up at 3am and wrote "CAMP – THIS WILL BE OUR THING" on a notepad I keep by my bed for nocturnal moments of genius. I can't remember precisely what thoughts I was thinking before I thought the thought about camp, but I remember all the thoughts we've had since as the project has expanded and become a team effort.
 ++
What Would Autostraddle Look Like in 3-D?
Here's the idea: a few hundred of you, 20 of us, and a beautiful group retreat site in the mountains. We've cherry picked the things we like about other queer women's events and vacations — hilarious comedy, diverse panels, the occasional dance party and the chance to revel in one another's awesomeness — added heaps of our own original ideas, and found a way to serve it to you for a fraction of what those other events cost.
It's an opportunity for you to discover new things about yourself, enhance your relationships within the international queer community, make new friends forever, support Autostraddle, and, you know — get away from your laptop for three days!
+
A-Camp: A Place Where You Can Be Yourself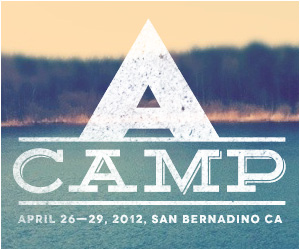 We feel like there's a void out there for awesome queer women who desperately wanna meet each other and experience the magic of communing with like minds, but aren't into beer-soaked pool parties and can't swing cruises to the Bahamas. Our original idea was to hold Camp a few times a year, for 4-7 days each time, in different locations, but that seemed like a huge thing to dive into, thus . . .
The First Ever A-Camp Weekend was born!! It's a pilot run that gives all of us a chance to determine the website's future!
+
Details:
When: Thursday April 26th – Sunday April 29th, 2012
Where: Alpine Meadows Retreat Center in Angelus Oaks, California. It's 1.5 hours from Palm Springs, 2 hours from Los Angeles, 2.5 hours from San Diego, 4 hours from Las Vegas, 5 hours from Phoenix and 8 hours from San Francisco. We'll be running shuttles from LAX to the campsite all day on April 26th and shuttles back to LAX on April 29th.
Lodging: You'll be having the bestest biggest surprise slumber party of your life in fully insulated, carpeted & heated cabins with private bathroom/showers/baths and generously-sized bunk beds.
Cost: $300
Your Cost Includes:
* 3 nights lodging
* 3 meals a day and snacks (with vegan, vegetarian, gluten-free and kosher options)
* Full access to a variety of daytime programming situations, including typical camp stuff like crafts and sports as well as workshops and panels with AS Teamasters
* World-Class Night-time Entertainment: The entire event will be MC'ed by world's funniest duo, Julie Goldman and Brandy Howard
* Gift bag with exclusive Camp-Only Autostraddle T-shirt you can sell on ebay in ~4 years
Also:
* Memories that will last a lifetime, probably longer
* Staff dedicated to all of your feelings or lack thereof
* Be an active part of the group that determines the future of A-Camp
Who: You guys! You guys are really gonna like each other! All ages welcome/encouraged! ALSO:
Also — Camp TeaMasters will be Robin & Marni/bcw, and your "counselors" and workshop leaders presently include, confirmed: comediennes/actresses/writers Julie Goldman & Brandy Howard, actress/singer Haviland Stillwell, actress/producer Sarah Croce, actress/writer Ashley Reed, Internet Superstar Chef Hannah Hart of My Drunk Kitchen, Stylist Sara Medd, DJ/filmmaker Carlytron, Fashion Icon Fitforafemme and world famous photographer Robin Roemer as well as Riese, Laneia, Crystal, Annika, Taylor, Katrina, Emily, Whitney, Intern Hot Laura, Alex, Lizz, Brittani, Bren, Gabby, Jess S., Intern Grace, Carmen, Kelsey and Stef.
In addition to having life-changing conversations around a campfire with some of the coolest girls you'll ever meet, you'll have tons of activities, workshops, groups and panel discussions to choose from every day.
We're here, you're queer, it's family.
We'll roll out information and take requests regarding programming over the next several weeks, but rest assured there will be so many fun things to do if you wanna do stuff, like:
 Lesbian Feminist Jeopardy
Writing workshops with Rachel & Riese
Basketball! Hiking! Arts & Crafts! Cooking! Yoga! Speed-Dating!
Photography with Robin
High Ropes Course, Climbing Tower and Zip Line
Unicorn Plan-It Hollywood Show
Queer Women of Color Panel
 Formspring LIVE! with Riese, Laneia, Rachel, Crystal, Taylor, Lizz and Alex
The diversity in our programming will reflect the diversity of our content — shit that makes you laugh, shit that makes you think, and shit that makes you wanna change the world.
YES I'M IN. WHAT DO I DO?
1. Put down a $50 deposit and/or put down the entire $300 to secure your spot ASAP. There's limited space, and we expect this'll fill up quickly. Deposits are non-refundable, but they are transferrable. (This also makes a great last minute Valentine's Day present!)
2. You'll provide us with some basic information while making your deposit or payment this week. In two weeks, you'll be asked for a lot more information about things like your t-shirt size, flight times and bunking needs/concerns/requests (cabins sleep between 6 and 20 people). Then all kinds of updates will keep happening until you arrive!
3. Start making travel arrangements!
If you're flying, we recommend flying into LAX, because we will be running shuttles from there, but arrangements could also be made from the Palm Springs or Ontario airport, depending on demand. We will request flight information from you before camp begins.
If you are flying and will need transportation, please  fly in on Thursday April 26th before 6pm and book your return flight for Sunday, April 29th (we recommend flying out after noon, but can make other arrangements if necessary)
If you're driving, then sweet! If you're looking to carpool or caravan, you can coordinate with other campers via the ASS Camp group or Facebook Page (both will go up this week.)
4. You'll also have access to the event website after making your payment, and can enjoy updates there.
FAQ:
Q: But I'm really socially awkward! What if I go there alone and don't make any friends?!
A: Oh girl, we ALL feel you, which's why we're committed to 100% social comfort. I can tell you who doesn't make that claim and her name is Dinah Shore. Firstly, Autostraddlers are the most amazing, kind, inclusive people in the world and Secondly, we'll be prepared for Shystraddlers and the team will be prepped on how to ensure nobody will feel weird or awkward at camp. This is our top priority. You have my promise and honestly I rarely promise things. We got this shit on eight kinds of lock.
Q: I'm really super poor but I want to go so bad!
A: Firstly, this is a once-in-a-lifetime Utopia-esque situation, I recommend getting your emergency funds out. But we get that hard times are here for some of you, and that's why we've set up a "pay it later" system. Let us know when you put down your deposit that you'll need to pay via installment plan. No fees, no gimmicks, no credit checks. We'll work with you to get you there. That's just how much we want you to come.
Q: Is there Wi-Fi?
A: NOPE! I know it's scary!
Q: Will there be any free time?
A: Yup! I mean you don't have to do anything you don't want to do. Go read by the river or go videotape your friend hiding in a tree like a monkey or just lie on the grass or in your bed. You can do whatever you wanna do, you're a grown-up!
Q: Are there extra charges for any activities?
A: Yes, there is a $15 fee for those requiring transportation to/from LAX, $20 fee for the Ropes Course or Climbing Tower, $25 for a private voice lesson with Haviland and $10 for a private writing tutorial with Riese.
Q: Do you need any more speakers/activity leaders?
A: If you're either famous, internet-famous or have a strong background in queer activism/social justice issues and experience talking to groups about that, we could use some more of both of those kinds of people. Hit us up – robin [at] autostraddle [dot] com & autostraddle.merch [at] gmail [dot] com.
Q: Me and all my friends want to go together, can we stay in the same cabin?
A: Yes.
Q: I got so inspired by your State of the Union yesterday that I donated my last 50 bucks!
A: Shoot us an email and we'll work out a transfer.
+
You guys, this is the closest thing you'll ever get to magic.
Register Now. You Don't Wanna Miss This.