I'll never forget what she said:
"I feel like throwing up."
It was the first time I'd told her how I felt about her. Her queasiness hadn't been because of me or my disclosure, but from the prospect of coming out for a second time, to intensely homophobic parents who had rejected her first relationship.
You would think Hawaii  — the first state in the union whose Supreme Court ruled that excluded homosexuals from the right to marry could be unconstitutional — would harbor less homophobia than the mainland. But we've suffered an influx of colonization, and Christian Right groups who set up shop specifically to undermine the movement for marriage equality. Hawaii, of all places, can claim a historical and cultural support for same-sex marriage, yet there is so much internalized racism and homophobia pervading Hawaiian families to a cultural breaking point, that no one seems to remember the inclusive practices of our Original People: the Kanaka Maoli.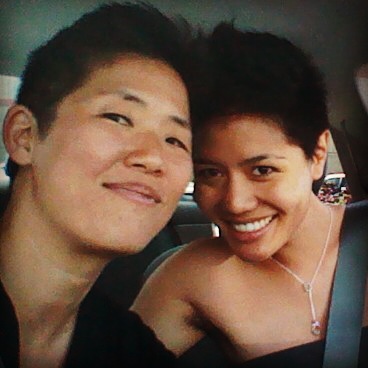 The four weeks following my admission weren't exactly easy.  That awful rejection from her parents had been enough to drive her back into the closet in order to maintain ties with her family.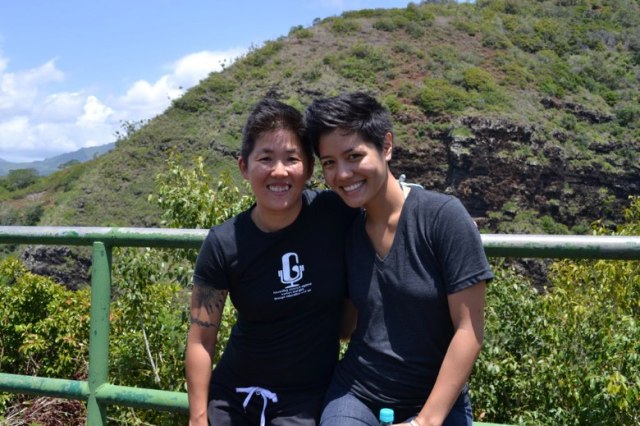 But what we had become was unavoidable. Our friendship had shifted into romance after a date with a dozen pink roses and me confessing, "I just want to be with you… All the time."
Enter U-Haul.
I want to love my partner until the day she dies, and hope that Heaven has a place for our love to continue. We both identify as Christian lesbian feminists, and that may seem a bit out of place in conventional society but then again, so was Jesus. I undoubtedly believe that this feeling is something God wants to bless.
I want us to keep hoping, loving, and lobbying for that right that God has given us to be free, equal, and happy — even against all odds and with the threat of rejection looming over us.
I will express my God-given rights not to let the constructs of hetero-sexists prevent me from freely expressing my love to the woman who changed my life forever — the woman God led me to find at the perfect time: a Kanaka Maoli, an activist, an economist, a daughter, a sister, the love of my life an and avid Autostraddle reader.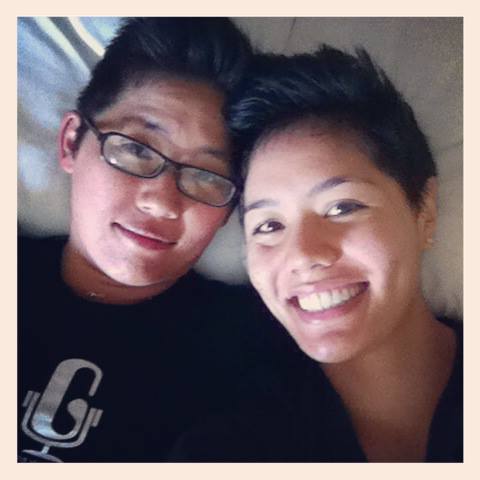 Ciera Ku'uleimomi Cummings, will you marry me?

(I got the barf bag ready.)
---
 She said YES!!!
https://www.youtube.com/watch?feature=player_embedded&v=4V56IoeCs44
I just wanted to thank you and your team for being a part of this special moment. When I started reading Autostraddle a couple of years ago, I was a closeted baby dyke who had just moved back to Hawai'i from the Bay Area and was in desperate need of queer community. I never would have thought I'd be a part of the first AS proposal!
Kathy mentioned that she wanted to propose this way because I was an avid reader, but it's also important to add that she chose Autostraddle because she knew the AS community would be overwhelmingly and outwardly supportive of us. I haven't spoken to my parents (or my grandma, from the first photo) in months because they don't approve of our "lifestyle," so I'm not sure if they'll be at our wedding. Every comment and +1 from an AS reader feels like a hug, and I can't properly express how grateful I am for that.
There was some crying this Sunday, but it was the good kind. And after we cried, we went to church and held hands. We'll be walking down the aisle of that same church just as soon as we can get our state legislators on board.
Me ka mahalo piha ia 'oukou (With whole-hearted gratitude to all of you),
Ciera
---
Kathryn is a Hawaii-based activist and policy-change-maker for issues regarding women's rights and anti human trafficking. Since 2005, she has helped introduce and pass several laws including the first state legislation in the nation making the selling of sex-tours a felony offense, reforms to the Hawaii prostitution laws, and the state's first labor trafficking law. Kathryn is the founder of Girl Fest Hawaii, the state's longest-running multimedia festival. In 2013, she's been lobbying local lawmakers to support Marriage Equality, arguing that homophobia — especially from the faith-based community — is not only spiritually wounding, but a form of severe child abuse contributing to youth homelessness, youth drug abuse, teen suicide, and vulnerability to sexual exploitation. She is on the Twitter machine at @KathrynXian
Ring from One Stone Shop, using ethically sourced gemstones, conflict free diamonds and 100% recycled metals.