Hi Straddlers! I hope you are all enjoying the dog days of summer so far. I have been to known to complain about the heat this time of year, which is odd for a Floridian, I know. I swear it feels a million times hotter when you are surrounded by concrete and buildings with no lakes to jump into. One thing I'm not complaining about is all the time I have spent in my kitchen lately. The farmers' market is so full of goodies this time of year. I have been experimenting with making my own elixirs, infusions, syrups, tinctures, tea blends, and all kinds of kitchen potions. I guess I fancy myself a bit of a witch sometimes. It keeps me busy while I dream of autumn as the sun continues to beat down with apocalyptic might. I've also been enjoying my last couple weeks of being 23. I've been working on not feeling like my life is flying by and trying to remember that I have so much time to achieve all the things that I want. The past couple of weeks have been full of surprises. Last minute house guests who don't stay nearly as long as I would like them to. Copious amounts of pie eating. Picnics and cotton candy clouds. Trying to achieve ultimate cheese plate perfection. Little make-up and lots of back sweat. Yep, this summer has been a sweet one so far.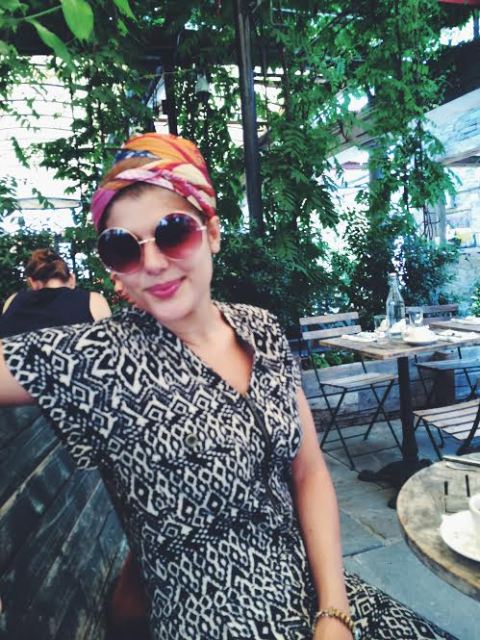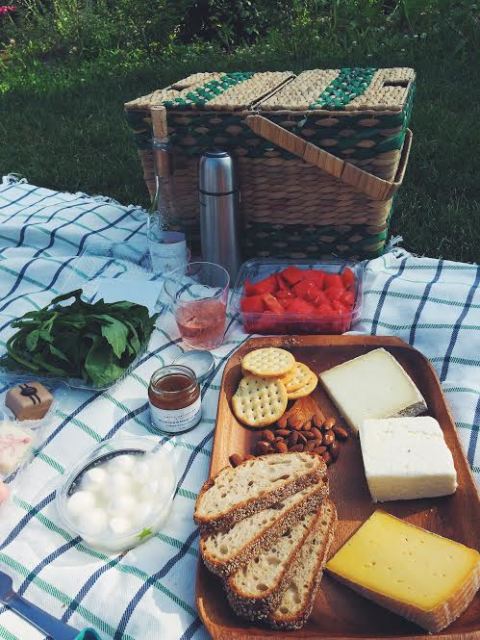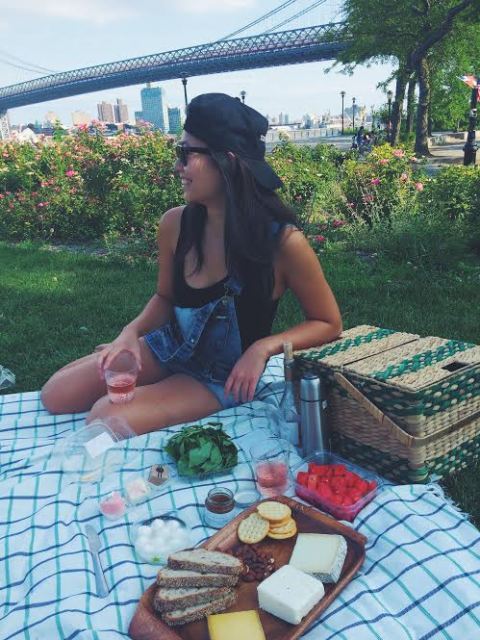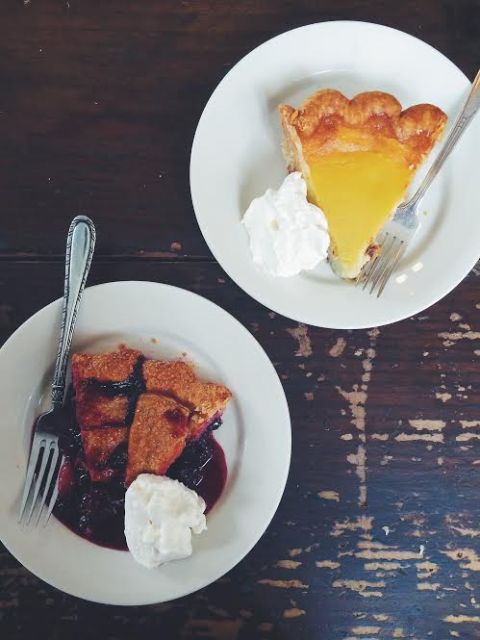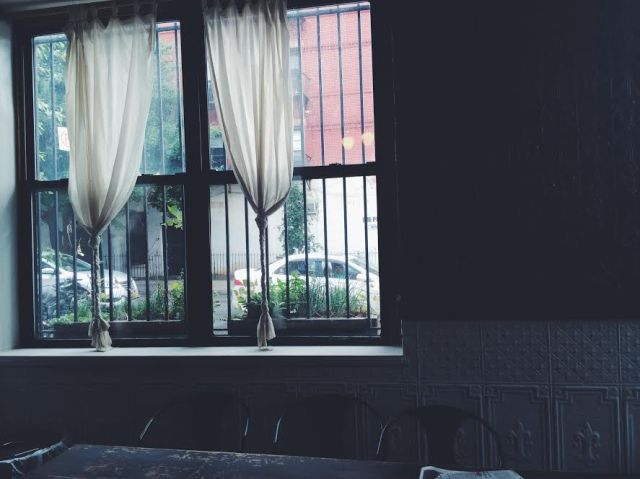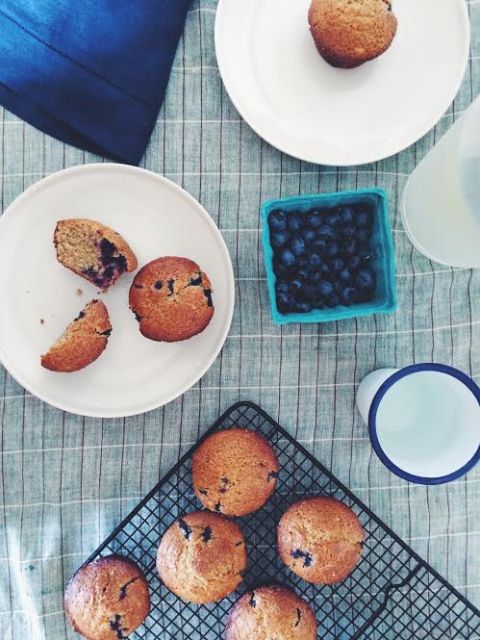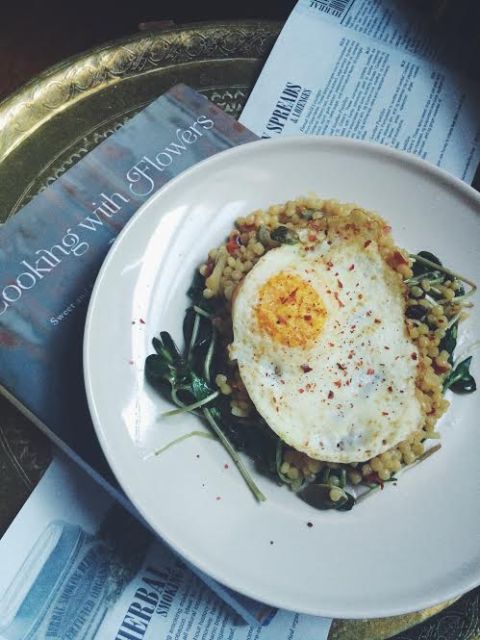 Above: rooftop brunches // picnics under the Williamsburg Bridge with a cutie // my favorite pie shop with the best curtains // blueberry cream-cheese rye muffins // lazy weekday dinners
The recipe I want to share is not so much a recipe at all, but more of an idea, or technique, if you will. I was flipping through Alice Water's newest cookbook and came across a recipe for herb noodles. In it, she talked about adding whole herbs on top of pasta sheets as you roll them out, so the leaves get pressed into the dough. There was no photo but in my head I thought about how it would look (a lot like the pressed leaf journal I kept when I was in Girl Scouts) and I just knew I had to try. This is going to sound a lot more complicated than it really is, but making pasta from scratch is super easy. You will feel like a badass. I promise.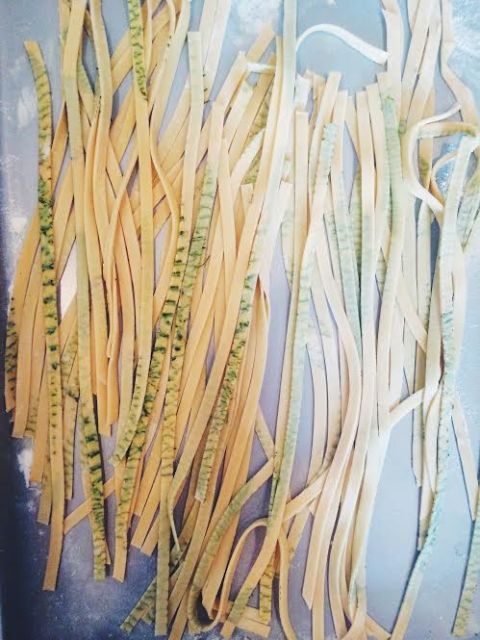 Pretty Herb Noodles
Things to Note:
You want to use softer herbs, not thick ones like rosemary or sage. Otherwise your pasta sheets will tear. I used lovage and basil, and the basil was almost too thick. Parsley is a good option too.
Keep any pasta dough you are not currently working with covered with a lightly damp kitchen towel so it doesn't dry out.
Heavily flour your surface. HEAVILY. If your pasta keeps sticking to the counter you will be very frustrated and want to punch me for making you do this.
I have a stand mixer with a pasta maker attachment. You don't NEED a pasta maker to make noodles, though. I did half of my pasta dough in the machine and the other half I cut the noodles with a sharp knife, and both ways worked. I included instructions for both.
The thicker your noodle, the more you will see the herbs. I did a fettuccine size and you could still see a lot of green flecks.
If you have a pasta maker:
Right before you run the pasta through the thinnest setting (Step 8), spread your herbs over the top half of the dough. Fold the the naked bottom half over the top, roll it out a bit, and continue running it through the machine at the thinnest sitting.
If making pasta by hand:
Using this guide as a reference, after step 3, place your herbs on the top half of the dough. Fold the naked half over it and roll it out until it's 6×20 inches. Then proceed with the instructions as written.
Godspeed! You can do this! Use your pretty herb noodles to make whatever pasta recipe you desire. I made a spicy harissa broth and clam situation.
---
Header by Rory Midhani