Block CD: Sex Panel (Daniela, Lizz, Ali, Nic, Riese) // Speed Dating (Deanne Smith) // Alternative Lifestyle Barbershop (Katrina) // "Out in the Country" (Jill, Taylor & Mary) // High Tea (Laneia & Rachel) // Nerdcraft #2 (Whitney, Carrie, Meredydd, Mey)
Jill, Wild Things Counselor: My favorite camp moment would have to be the Out in the Country panel. It was the little panel that could. Interestingly the three moderators of the panel – myself, Taylor, and Mary Tully – do not currently live out in the country, while all panel attendees do currently live out in the country. I was amazed and inspired about what everyone had to say about building queer communities in rural areas, dealing with homophobia, and just dealing in general. Attention everybody: these campers are changing the world and starting the queer revolution. They inspired me and made me realize that if they're doing it, I can do it too.
Ali, Contributing Editor & Outlaw Counselor: I've participated in one A-Camp Sex Panel before this. The last one was funny and informative, and this one was informative and funny, in that order. I'm super proud of us. I feel like we really brought the information on this one. Plus I love any panel I get to sit on with Daniela. Because I have this crazy fierce love for Daniela and I just think she's so smart and I'm pretty sure the first thing I ever heard her say ever is "vulvas are beautiful." So there's that.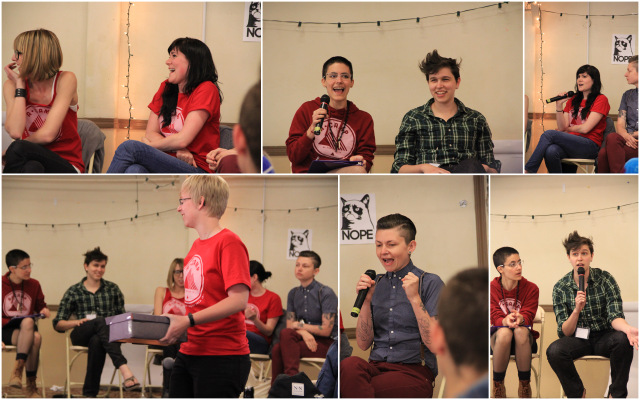 Daniela: I have a huge professional fangirl crush on the people I got to sit with at the Sex Panel. Like, these are people that I knew about before they knew who I was and now I'm all like "glass dildos are the best!" while seating right next to them. The Sex Panel holds a special place in my heart because even though it changes its tone, shape and number every camp, every camp it still proves just how much one can know, understand and communicate about sex and sexual health between two minutes long bursts of laughter. Keeping sex safe, hot and fun, A-Camp style.
Riese: This Sex Panel I discovered Brittney Griner isn't the only lesbian whose finger length exceeds my own.
Daniela: I loved being part of panels, discussions, workshops of feelings. With that in mind, sometimes the best part of those activities was the aftermath, when I was done and no longer holding the mic. I cherish every single one-on-one conversation I had at camp as a result of something I said or maybe even failed to say at a panel. Every camper that approached me to geek out about non-monogamy, pick my brain about kink, or even just to touch base about self-care after a particularly heavy discussion left me feeling excited for the connection and challenged to know even more and be better next time. You guys, I was so inspired by the campers.
Somer Bingham, The Talent: Some of the best times at A-Camp are had when you're just hanging out with new friends. One such occurence was during an off-shoot of High Tea when a few of us gathered and I found myself at a picnic table with Deanne and Taylor. Taylor sat down with an avocado, a package of dried salmon that no one would share with her, and a knife, which she used as an eating utensil. (Hot).
Stef: Right after lunch, my campers Hannah and Caro asked if I wanted to come with them on a hike. I'd been meaning to get out on the trails for most of camp and kept being sidetracked by activities, so I was really into the idea. Where else but A-Camp can you have a thoughtful discussion about sexuality on the side of a mountain, with hummingbirds buzzing around you and lizards skulking across the rocks? It wasn't a structured A Camp activity but it was a beautiful break, and a reminder that our campers/readers are just so fucking smart.
Riese: The idea of a "pool party" is more or less petrifying to me, but holy shit was Julie and Brandy's Pool Party an Enormous Success!
Robin: Brandy played the best music and Marni and I had a beer and worked on the shuttle schedule while we watched campers splash around in the pool and Julie dance to Gangnam Style. Can't ask for much more than that out of your camp afternoon.
Marni:  God the pool party was so fun. You guys, Brandy Howard (aka DJ Sexo Pharmacia) is a for real killer DJ. Her set was amazing. There were a lot of fun things happening that block, but loads of people came out to swim and lounge and dance and have a great time.
Brandy Howard, The Talent: Our first annual pool party was my favorite favorite favorite part of camp this time!!! Why? Because I got to do my three favorite things: DJ, drink during the day, and have fun with sexy girls in bikinis!!! Exhibit A:
Marni: Everybody seemed really happy and comfortable, which is the opposite of my personal understanding of pool parties, which usually make me want to put on all of my clothes and retreat inside. It was so amazing to see so many women of all shapes and sizes just chilling, in a completely loving, accepting atmosphere. Definitely something we'll be doing again.
Kate, Contributing Editor & Tiger Beat Counselor: The Pool Party happened. Did I bring my circa 1994 hot pink swim trunks that I acquired at a Salvation Army in upstate New York? Of course I did. Did I actually plan on wearing them? Not… really. I'm not super with exposing my body, especially all the parts that get shown when wearing bathing suits. Bathing suits are one of the most gendered articles of clothing in existence, and it's incredibly difficult to find something that is comfortable to swim in and isn't a total nightmare for dysphoria. I haven't actually bought a bathing suit since I was 16, and that suit was a bikini with cherries on it. Cherries. Cherries with wet dew drops on them. Let that image sink in for yourself.
I only brought a binder for camp and I was a little terrified of getting it wet, and hell was likely to freeze over before my Barely A breasts got any exposure outside of some kind of airtight container. I wasn't sure that swimming or pool or anything within a one hundred foot radius of the pool was going to happen. But then I got to the poolside and the babes of Tiger Beat were sunbathing and swimming together. And then Amanda Walters got out of the pool and sat on my head. My hair ruined (after an hour of preparation, Amanda – AN HOUR) and my cabin cheering me on, I took a look around at the pool full of queerios of all presentations and decided maybe, MAYBE, I could do this.
So I did it.
I borrowed Piper's sports bra and I wore the swim trunks and I wore a Billy Joel muscle shirt and I got in the water. I took my shirt off in the water. I balanced on noodles in the water. Granted I found a way to put my shirt back on before exiting the water, but I did it. I did it. I wore a bathing suit, and I went in a pool, and there were dozens of people around. I almost hyperventilated, but it happened. That was a very big deal for me.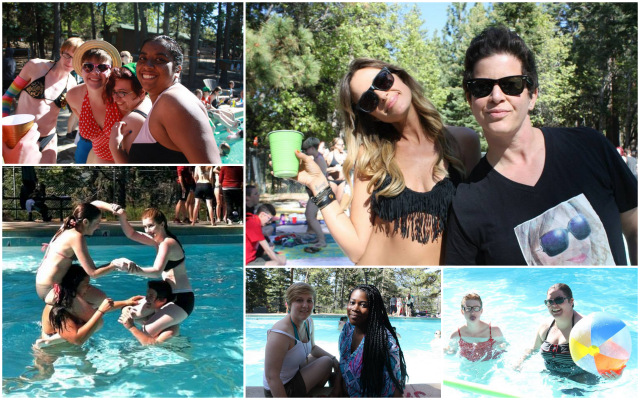 Carmen: I got to the pool party later than expected for reasons, but it was still hoppin' when I rolled in with a solo cup filled with beer froth and sincere hopes for the future. I introduced one of my campers to Julie & Brandy because she really likes them and I like to appear to be a gateway between mere mortals and communities of celesbians as much as possible; in exchange they told us about their adventurous lives and Brandy Howard cheers'ed with me while "Rehab" played. "I put this on the mix for you and me, Carmen." A more honest or poignant moment has never happened in history.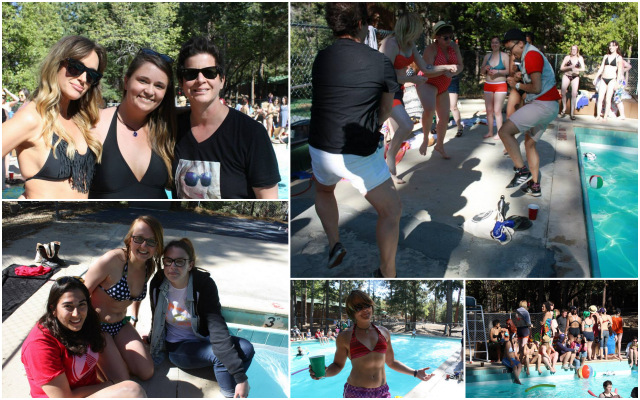 Katrina, Contributor & Foxfire Counselor: Basically everything that I really liked about Camp was also something that challenged me fully, like physically, emotionally, socially (all day), and creatively. For Phresh Cutz, sometimes people come to me looking for a very specific look, sometimes they give me full creative license. Either way, I hope my clippers and shears made your visions of yourselves come true. You're all so patient and wonderful. You're also exciting and good-looking, and I'm glad I got to spend time with you.
Katrina: It's also worth mentioning all of the hair art weirdness that went down this time around. Y'all, did you know that Somer is really weird/cool and made these hair sculptures? 'Cause she did. Also I am aware that some of you got hair notes in your pigeonholes. I am not at liberty to name the perpetrators, but I will say that I am almost disappointed not to have received one. Almost.
DeAnne Smith, The Talent: Did you get a hair gram in your pigeon hole? (Someone please make "hair gram in your pigeon hole" a thing.) Punchy from a steep drinks-to-hours-of-sleep ratio, I taped snippets of hair (Thanks, Katrina!) onto pieces of paper upon which an anonymous staffer wrote lovely things. The results were amazing and/or horrifying, depending on which end of the pigeonhole you were on. I love these notes more than I can say, and almost as much as I love Katie.
---
Pages: 1 2 3 4 5 See entire article on one page