Our Last Evening Together
After Dinner: Group Photo at Fire Pit
Night Block A: Talent Show
Night Block B: Dance
After Night Block B: After-Party at Club Deer
Cee, Tech Director & Golden Girls Counselor: I love how the NOPE grumpy cats turned out to be really funny for others and not just me. I printed them as a joke at 2am the night before camp and slowly put them up everywhere because I thought it was funny. I love how it turned into its own thing and people claimed it for themselves.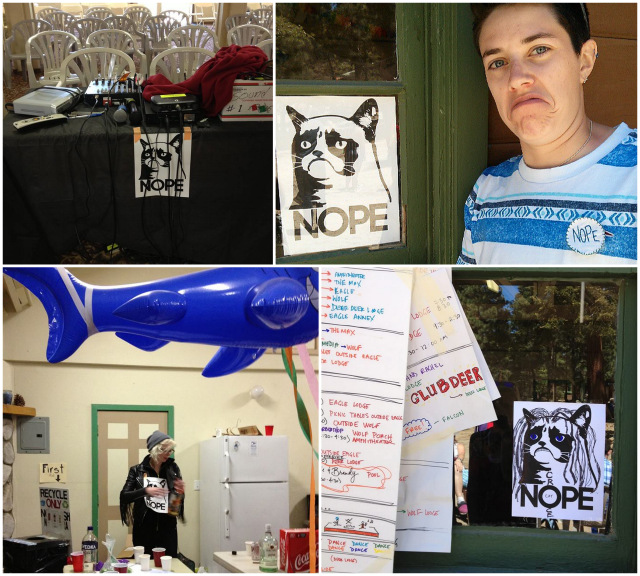 Riese: I like the All-Camp Photo because it's the last time we get to look at everybody's face at the exact same time. Look at all your weird faces!
Talent Show
Deanne: So, at The Talent Show, Camp Director Katie (she's NOT a lunch lady, you guys!) kissed me on the cheek in front of everyone. (For the record, I was angling for a kiss-kiss, but she claimed it was "against camp policy," which is the gentlest and most official-sounding let-down I've ever received.) The kiss came after I got Katie to join us in the camp photo, and I felt like we'd bonded a bit. If I wasn't feeling so respectful of my lady's privacy, I'd tell you that I watched her take off her actual shirt in the open air of the woods to put on one of Taylor's vintage Autostraddle tees for the photo and it was a tiny bit thrilling. But I'm a gentlemyn.
Brandy: This time, Julie and I opened the Talent Show with a song. Not only was this the first time we've ever done this at camp, it was also the first time we've ever done it… ever. Period. We sang a Moldy Peaches song called Rainbows, and Alex played the drums for us. I have no idea if anyone liked it. The song is pretty lewd, and I had completely lost my voice by that last night (not that I'm some incredible singer anyway), but that's what is so great about the Talent Show! It's not about impressing anyone! It's about having fun and not being scared to do something weird in front of a bunch of weirdos that you love. And it truly was kind of a dream come true for me. Singing with Julie, while Alex played the drums??? **sigh** They are two truly dreamy girls.
Hansen, Contributing Editor & Scissor Sister Counselor: So, as one of the counselors for Scissor Sister Sparkle Motion Rainbow Alliance, I took on this very Mama Duck role. It became comical how much I told them to drink water. It's funny how easily you bond to people at A-Camp, because within just a few days I felt like I knew everyone from my cabin for ages. Then when not one, but two (!!!) of my campers were performing in the talent show, I was over the moon. I have never felt so much maternal pride in my life. Motherly may be an odd word to use when describing the emotions I felt during Nurin's drag performance to Ginuwine's "Pony" or Lindsey's piece about being a woman and public restrooms. I was crazy proud of how talented and brave they were.
Riese: Brandy Howard was really excited about Nurin's performance. REALLY EXCITED.
Rachel: The talent show is always so much fun, and somehow totally wildly different each camp. I always turn into something of a crazy dance mom about my cabin. I really wish I could have, like, made a giant posterboard with my performing campers' names in hot pink glitter. Since we had already used all the posterboard for crafts I just screamed a lot. Minerva participated in this insanely outrageously cool group poetry slam that made me cry — see aforementioned feelings about crying in public — and Shannon did an incredible sexy chair dance in a super incredible sexy dapper outfit and Kira was a flannel wallflower cutie. EVERYONE IS SO TALENTED. NO ONE CAMP SHOULD HAVE ALL THIS TALENT.
Riese: A Runaway did a thing! Her name was Christine, and like me she is a huge Julie Goldman fan, and she was super-funny. Also this camp was the first time I taught a workshop in which people actually produced performable works, so Ali and I squealed in delight when Ranger read an erotica story that had been group-composed in our workshop.
Carmen: Many people will remember fondly from the talent show a number of things: when my Infernos did slam poems and dirty dancing, for one, and made everyone's lives both more emotionally and sexually satisfying, as well as when Julie Goldman spoke repeatedly, for example.
Carmen: But, what I remember most are a series of moments involving Stef Schwartz in which we sat close enough to one another for her to take photographs of me and Geneva while whispering, "I hate you."
Sophia, Inferno Counselor: Sunday I slept in mad late, I missed breakfast and lunch and then spent a lot of my time in the smoker's circle following patches of sunlight with a cup of coffee still trying to wake up. You all know the talent show is pretty much the highlight of camp. Camp 2.0 it rolled a little out of hand, but this one I felt it was perfect. There was killer poetry, music, sexy moves, some great drag. And the Infernos were ON IT. I don't remember totally who did what because my memory is shite regardless but I know the whole time I was smiling and laughing and sometimes crying it was moving to see so many up there sharing SHARING FEELINGS in different mediums on a stage and it was so fantastic.
Carmen: Later on, when Brandy Howard called us on stage in a huge clusterfuck of amazing human beings I'm proud to be a part of something with, Stef and I raised our hands loudly and screamed our rallying cry, "Mahalo," which is our rallying cry because once I got kicked out of a New York City movie theater while screaming "Mahalo Motherfucker" during Battleship and received a standing ovation from the other moviegoers. To our surprise, when we looked around a bunch of queermos in attendance were also screaming "Mahalooooo" with their arms up in the air. Small world.
Riese: About halfway through The Talent Show I got a bunch of feelings and said that I wanted to say a thing at the end of the show, and then I did. I couldn't believe the words "I want to say a thing at the end," actually came out of my mouth, but they did.
Riese: Usually I try to avoid being onstage with a microphone because I cannot trust myself to not say something stupid, but I was possessed by the spirits to inform the group that YOU ARE CAMP. You've always been camp. We're just here to facilitate your existence in this space.
Kristen, Contributing Editor & Scissor Sisters Counselor: Hansen and I call ourselves Crafty Bitches, so we figured we needed to live up to our name. A few weeks ago we planned to sew everyone merit badges, but procrastinated their completion until the night before everyone left. So Hansen and I sat in the back row of the talent show in complete darkness, trying to fit our campers' achievements into 2″ diameter circles while giggling maniacally at all of the acts. Our yellow team had done so many things and had so few points to show for it! You see my yellow flag out the back of my jorts and it might make you think that I am into water sports. But points mean nothing since our campers were clearly the best people on the mountain. Lindsey and Nurin did the SS Sparkle Motion Rainbow Alliance proud by writing and humping their way into the other campers' hearts. I've never been a prouder Mama Duck.
Julia, Calendar Girl/Contributor & Blackhearts Counselor: The last night before the dance with small traces of alcohol in our blood and our hearts' heavy with love, my cabin sat down to appreciate one another. After tears had been shed and snaps had been issued, I taught my penguins a song that I usually use with elementary schoolers. It is all about what a penguin going to tea looks like. Everyone was so enthusiastic and it was hilarious. Busting out camp songs that make adults look ridiculous doesn't usually fly, but A-Camp is a safe place where people are allowed to access enjoyment that might look too foolish to the outside world. This activity was the last thread in an amazing web that solidified my everlasting love for this group of amazing people.
Vanessa: I was THE MOST EXCITED to be a counselor at A-Camp 3.0. Like, I think maybe my entire existence has been an exercise in preparing me for the moment when Riese informed me that Julia and I were going to be counselors for the lovely, smart, perfect humans that made up the Blackhearts, aka The Most Feelings Filled Cabin In The World. As anyone who has spoken to me for more than 30 seconds knows, I am a total neurotic Jewish grandma, and I love nothing more than caring for people and giving extra tight hugs. Being a counselor for the Blackhearts provided me with ample opportunities to do both things and I can honestly 10000% say that my camp experience would not have been half as fantastic without my amazing campers. You guys, we say it all the time but I hope you know how true it is: YOU MAKE CAMP WHAT IT IS. The campers ARE A-Camp. And I can say with my whole heart that my campers guided me through my first camp experience as a staff member as much as I guided them, and continue to do so when we have Google Hangouts late at night.
Julia: It is rare in adult life to yell "let's build a fort" and get a unanimous "hell yes!" Fort feelings was created in a number of seconds through teamwork and creative thinking. It was named for my cabin's love of feelings and the discussions surrounding them. I felt that the creation and use of Fort Feelings really summed up my a-camp experience.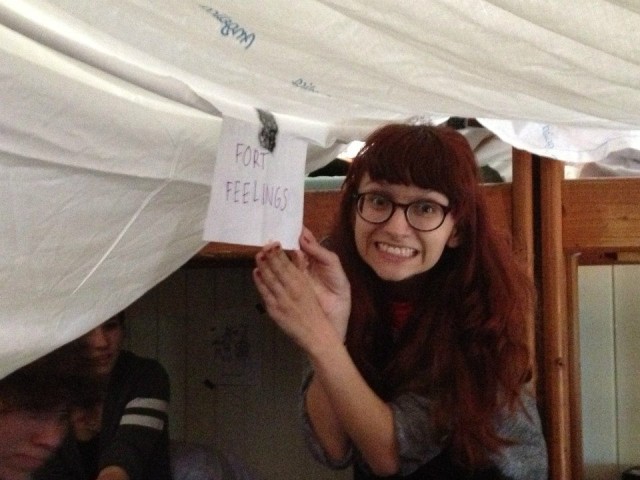 Katrina: Ok so if not for each other, then why the fuck are we even here, am I right? I always feel a little funny about getting to know my cabins 1) because I'm me. I'm a little bit nervous/excited about everything, and that's just how it is, and 2) everyone in my cabin is always pretty much exactly my age, which makes me feel like maybe I know this big gay secret that no one else knows, and that's why I'm a counselor. But I don't think that's true. What I think is actually true is that the secret is that there is no secret, and what we really want to know is each other. And now we do. That's pretty cool, isn't it? I felt a little quieter than usual this time, and I felt kinda bad about that, but then I realized that that's ok. Sometimes that's just your place. I got to watch my campers get to know each other, and at the end of it, I realized that I knew them too. We all told each other about it on that last night, passing a ball of yarn around and talking about how we all liked each other. It felt good. It still fees good. That's all, really.
Laneia: In the beginning the Runaways sort of looked at us like we might be crazy, or like they might run if the opportunity were to arise, but then they just tossed out their reservations and trusted us. When I think about them walking from Wolf lodge to cabin 19 with their duffle bags and pillows stuffed under their arms, with their little hearts not knowing what's on the other side of the door, but with the determination to open it anyway, I just want to CRY SO HARD. And sometimes I do. These people are so much braver than they give themselves credit for. I mean I don't think the campers really know how inspiring they are. Sitting up until 3am with the Runaways was just fucking affirming and I'm so grateful for them, and for everything they brought up the mountain, and for leaving some shit at the bottom, and for letting us in. For making camp.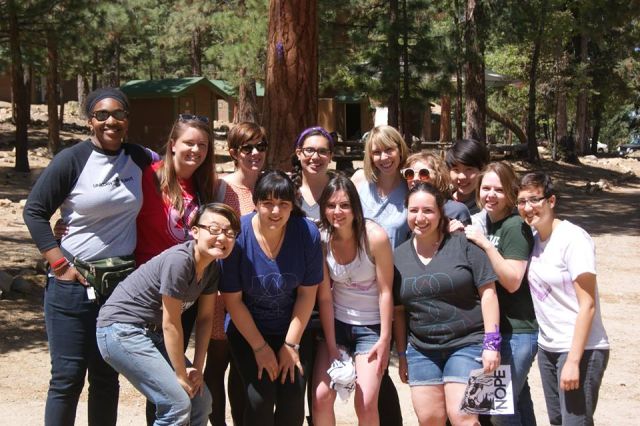 ---
The Dance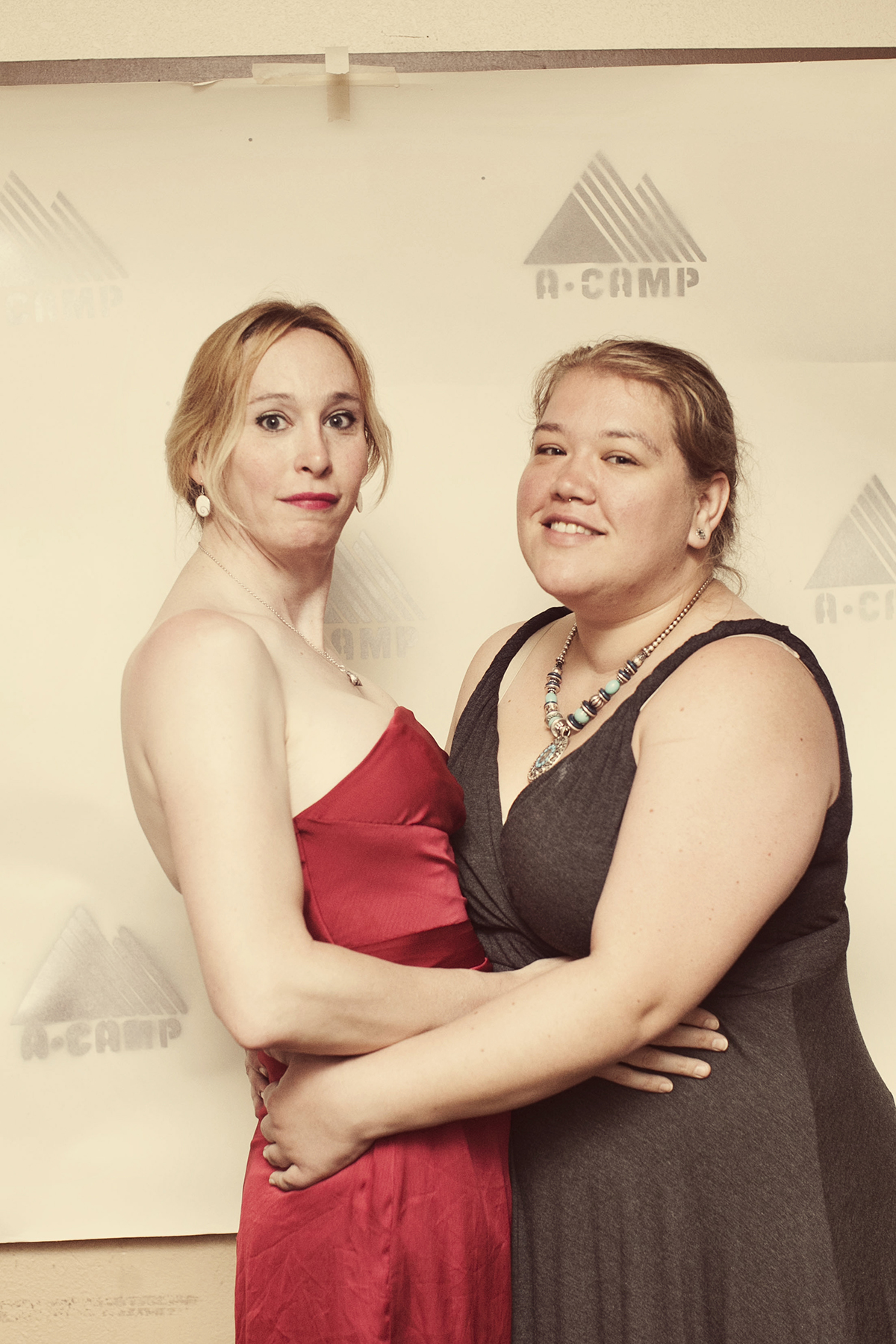 Mey, Contributor & Slayers Counselor: Before going to the Talent Show and Dance on Sunday night, the people in my staff cabin started getting ready together. Since I didn't come out as trans until after high school, I'd never had the chance to experience getting ready for a dance like that before. We played pop music, fixed our makeup, picked out which button-ups to wear and just bonded as a group (plus Vanessa and I ended up both wearing cute floral dresses, so that was awesome). Then it was on to the dance. Like I've said before, I don't have much of a queer community where I live, and the community for queer ladies is even smaller. So to be surrounded by so many wonderful queer ladies/people having such a good time was like witnessing a miracle. Everyone singing and dancing together created such a wonderful energy like I'd never felt before. There were great songs, great outfits, great dance moves (and lots of not-so-great ones) and great smiles everywhere. There was even the coolest Drag King I've ever met seeing how many A-Camp Staffers they could dance with. This was one of the funnest nights I've had in my life.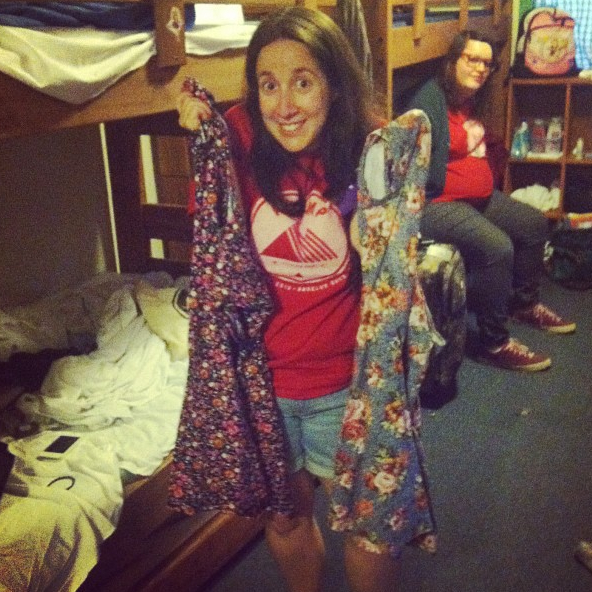 Riese: I went to the dance. I went to the motherfucking dance! Who knows, maybe next time I'll go on a hike too.
Carly, Contributor & Toros Counselor: The dance! Perhaps I'm biased but the dance is always my favorite part of camp. For me and the rest of the staff it means that most of the hard work is behind us and we can just let loose and enjoy ourselves.
Kate: Sometimes you need to cry in the arms of the people you love, and sometimes you need to drop it, drop it low. I dropped it incredibly low. It was so necessary to have a place to just act like a bunch of super fun queers, and the dance was it. I did a lot of ridiculously dirty dancing. I jumped in place. I got to hang with my baby brother Cait Toste as the reunited Two Princes and we did a lot of super bad dancing in front of girls we thought were super cute. It was amazing.
Carly: I take the dance very seriously and try to play songs that will keep the crowd dancing for as long as they'll let me play (this time it was well after 2am when they finally pulled the plug). A few special moments at this dance were when someone accidentally killed the power and everyone kept singing "Dancing on My Own" without the track, when everyone COMPLETELY LOST THEIR SHIT when "I Love It" came on, and Marni dancing up on me (hey girl).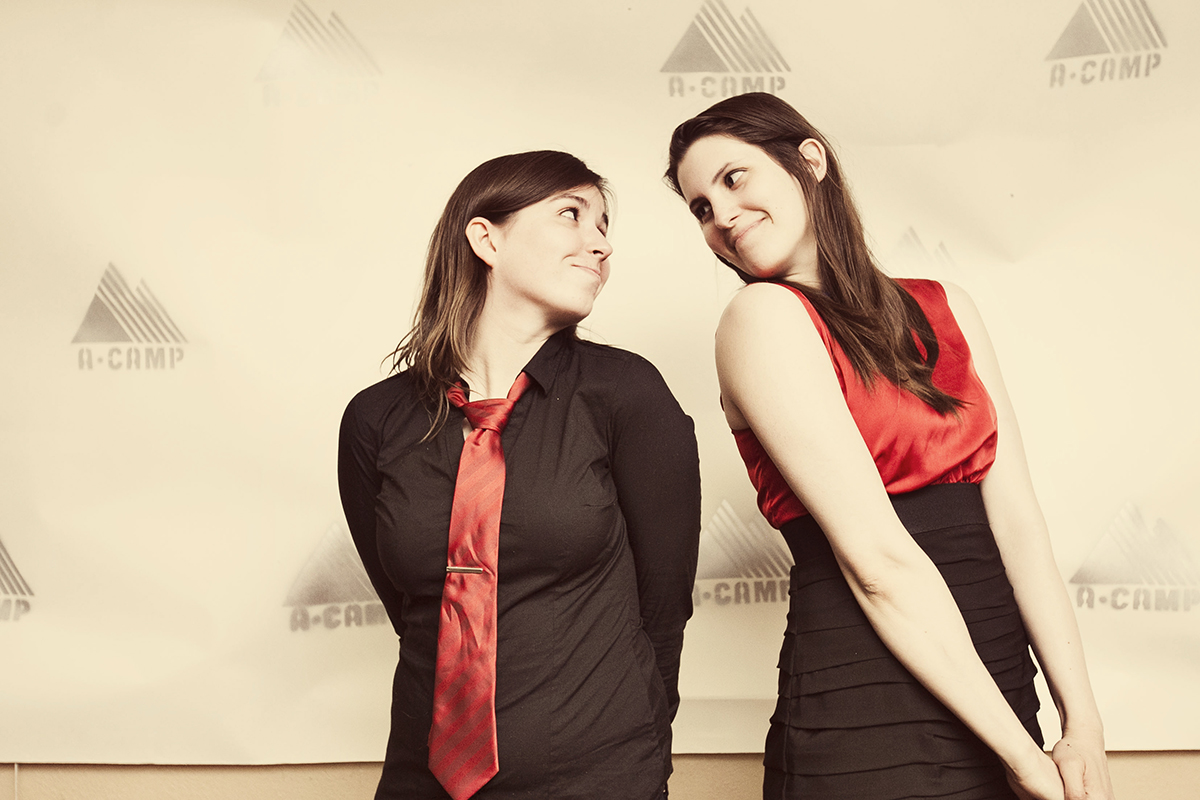 Marni: After a week on the mountain, nothing felt better than just letting go and dancing like crazy on the last night. I was in front of Carly's DJ podium for most of it, and I probably looked like a lunatic but that's okay because I was one. Afterwards, I escorted Lunchlady Katie to Klub Deer with her hoodie up and sunglasses on (to keep the paparazzi at bay) and everybody just let go and partied into the night. It was awesome.
---
Pages: 1 2 3 4 5 See entire article on one page