by carolyn & riese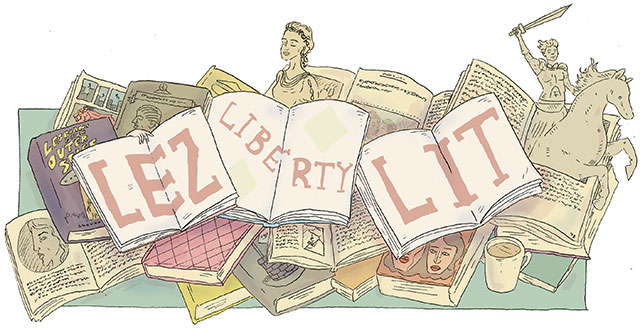 Giovanni's Room, a queer and feminist bookstore in Philadelphia, is closing this week. At Salon, Steve Berman talks about what it might mean.
Longreads has the first chapters from Roxane Gay's new novel, An Untamed State. Also, at the English Kills Review, Gay and Sari Botton discuss the novel.
At Book Riot, Kelly Jensen talks about young adult authors who downplay their gender, girl stories versus boy stories and what it all means:
"Within the pages of these books, we have girl stories. That is, stories about what happens to girls, not books for girls. There's physical violence, romance of all shades (between a girl and a boy, a girl and more than one boy, a girl and a girl), sexual violence, self-harm, tough but real language, and sex/sexuality. And sure, many of the books written by women that are challenged have male main characters, but the problem goes back to what S. E. Hinton was told when she launched this ship in the first place: you can't be a woman and be taken seriously."
Amid discussions of whether the novel is dead or not dead, it's time to talk about whether or not the the-novel-is-dead article is dead.
This infographic compares vocabularies across 85 hip-hop artists and also Shakespeare.
One way to read poetry, if you are honestly secretly unsure about reading poetry.
Then you can practice on these two Eileen Myles poems.
Topless reading parties: a new way to try to make reading sexier.
A book review so bad it doesn't name the book itself.
Everyone keeps talking about whether you need to get an MFA or go to New York to be a successful writer, and even though I disagree with the either/or construction, Jessica Gross and Merve Emre had an interesting conversation about it and also grad school.
Whatever was going to happen to the New York Public Library is now not going to happen as planned.
"'I just want to be normal,' she said, even though she had amazing powers and a super-family and was mega-gorgeous and better than normal in every way and the entire book would be terrible if she were normal and she had no conception of what normal was to begin with," and other flaws that only protagonists could have.
At the Lesbrary, Danika reviewed Long Hidden: Speculative Fiction from the Margins of History edited by Rose Fox and Daniel José Older. Nicole reviewed Sister Girl by Joanna Ivin. Anna M. reviewed Frenemy of the People by Nora Olsen. Casey reviewed The Difference Between You and Me by Madeleine George. Danika reviewed When I Was Straight by Julie Marie Wade.
Casey the Canadian Lesbrarian reviewed Friend. Follow. Text. edited by Shawn Syms and Double Pregnant by Natalie Meisner.
At Lambda Literary, Daphne Sidor reviewed Anatomy of a Girl Gang by Ashley Little. Keith Glaeske reviewed Light by Nathan Burgoine. Karen Schechner interviewed Caleb Crain, author of Necessary Errors. July Westhale reviewed You Feel So Mortal, a book of essays by Peggy Shinner. Sarah Burghauser interviewed Kelly Cogswell, author of Eating FIre: My Life as a Lesbian Avenger. July Westhale reviewed Ruby by Cynthia Bond. Cathy Camper reviewed 100 Crushes by Elisha Lim. Some exciting books are coming out this month, too.
Recently, on Autostraddle: Laura Mandanas has bookpocalypse decor tips. Mey looked at Molly Alice Hoy's comics as well as Lucky & Scary.. Malaika reviewed On Loving Women by Diane Obomsawin. And 13 Autostraddle team members talked about why we love the library.
Events To Watch Out For:
Now to 25 May, New York: The 2014 Whitney Biennial will feature a ton of books and archival material, including some from Semiotext(e), and features work that challenges disciplines and genders and binaries (945 Madison Ave. at 7th St.).
May 22–25, Winnipeg: Writing Trans Genres: Emergent Literatures and Criticism will be held at the University of Winnipeg. (You can also live stream it.)
30 May, New York: Girls Write Now's 2014 CHAPTERS reading series continues with guest author Ana Castillo at Scholastic (557 Broadway), 6 p.m.
20 June, New York: Girls Write Now's 2014 CHAPTERS reading series concludes with guest author Christina Baker Kline at Scholastic (557 Broadway), 6 p.m.
Know of a queer event with literary merit? Send it to us! The Liberty Lit is bi-weekly.
---
Books! They are really great. You just won't believe how great they are. You may think that the Internet's great, but that's just peanuts compared to books. In Lez Liberty Lit, we talk about literary shit that's happening that you should probably care about.
Feature image via teaching literacy.