It's maybe not the best idea to start a review by giving away the ending of the book, but I'm gonna break that rule because I think you'll be more likely to read Canadian writer Diane Obomsawin's graphic novel, On Loving Women, if I tell you that it ends with a threesome in which one of the women loses her virginity and blurts out, "Women rock!" Agreed?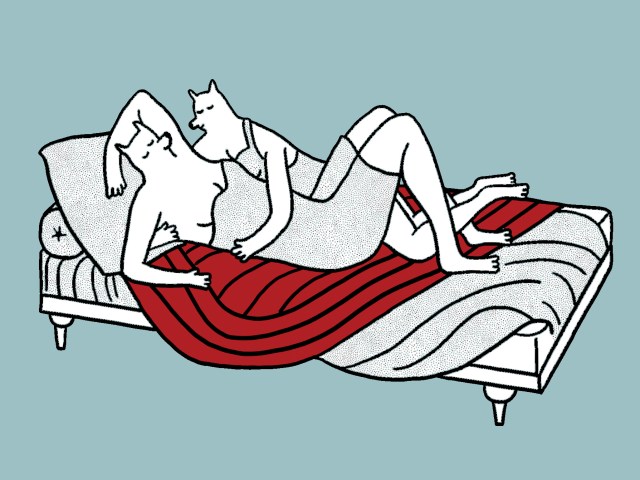 This very short book (I think I read it in an hour) is a collection of stories from Obomsawin's friends on… you guessed it… loving women. At the On Loving Women book launch at Drawn and Quarterly in Montreal, Obomsawin explained that she would take her friends out, sometimes get them a bit drunk, and then talk about their experiences of coming out, first crushes, loves, and heartbreaks. She then drew her friends with female bodies but animal heads. The graphic novel has no shortage of female-bodied queer girls with the heads of horses, ducks, birds, pigs, rats, and bunny-like creatures, which makes On Loving Women feel kinda like a sexy lesbian version of Arthur. Obomsawin explained that drawing her friends with animal heads made the whole process of telling their stories feel less vulnerable.
Her ability to condense complex sad moments into deceptively simple, seemingly unrelated blocks of text means that all of her stories feel fast and alive: "Later, we broke up on a trip. There were three of us. She left with the other girl. I was in a state of shock. I travelled to Northern Greece." There're no long descriptions of messy emotions, regrets, tears, anxieties. Sadness is acknowledged in short sentence, and then it's onwards to Greece! to a threesome! to acid!
"At twenty, all in the same day, I quit university, dropped acid… and fell in love with a woman."
As someone who has a tendency to overthink everything, when I first started reading I found myself wanting to know more about the characters so I would have more to…well…think about. But once I stopped thinking and was able to fall into Obomsawin's style, I ended up finding the simplicity of On Loving Women surprisingly refreshing.
Diane Obomsawin was born in Montreal in the late '50s but then lived in France until her twenties. She studied graphic design before moving back to Canada in the 80s where she got into comics, painting, and animation. Before On Loving Women, she published another graphic novel with Drawn and Quarterly: Kaspar, about the life of Kaspar Hauser, a German teen who claimed he grew up in total isolation in a cold, dark cell and was later stabbed to death. Obomsawin has also written a book about her childhood called Here and There.
Despite its simple narrative and illustrations of ridiculous animal-headed women, On Loving Women still manages to convey complex emotional truths and heartwarming (or heartbreaking) situations. Love. Rejection. Sex. Longing. It's all there; and the stories span different decades, so you get to see rat-women and genderqueer pig-people in 60s and 70s fashions. How many books can you say that about? So if you're in the mood for pig-eared coming-out stories and illustrations of naked, horse-faced lesbian lovers lounging on vintage sofas drinking wine, order a copy of On Loving Women through Drawn and Quarterly!