Oh my stars and garters. Batten down the hatches! Bid your loved ones farewell! You'd better find your pearls and start clutching, because winter is coming and the New York Times has identified a horrifying new trend.
On Sunday, Mireille Silcoff reported:
In the sparse, expensive condo, the books were arranged according to color. In the pink zone, there were old sociology textbooks next to "Confessions of a Shopaholic"; in black, it was the dog whisperer Cesar Millan next to Conrad Black's biography of F.D.R. I imagined the couple, dressed in matching peg-legged trousers and skinny Merino whatnot, taking the day to shelve their books: Isaac Asimov rubs dust covers with a Kevyn Aucoin makeup manual; Naomi Wolf with Fodor's Panama. Once done, the couple have a glass of wine to celebrate their installation; their installation to installation.

"Do you know, honey, what books I really want to get into now?" one says to the other. "Purple."
You read correctly: books are being used as decorative objects. Or, as the  judiciously titled piece put it, "On Their Death Bed, Physical Books Have Finally Become Sexy." (Yes, really.)
Disturbing as this news surely is, if there's sexy dancing to be had somewhere — even atop the grave of print media — we probably ought to at least make an appearance, no? Also: books are the best, anywhere and everywhere. So with that in mind, here are some home decorating tips for every boi, woman, and lesbian cyborg vampire wanting to stay on-trend during the upcoming bookpocalypse.
---
 The Casual Color Match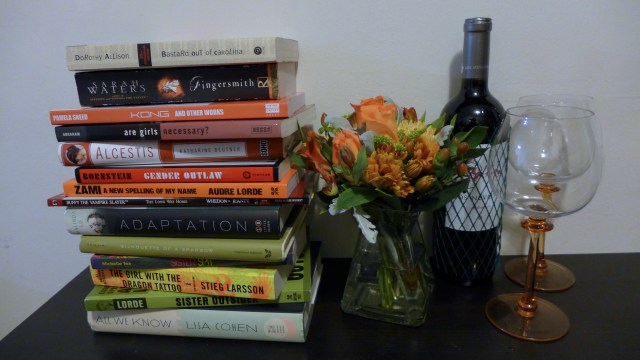 Oh hello! You have a colorful floral arrangement and/or other decorative accessories with colors? Well books have colors too! Match that shit.
---
 Coffee Table Short Stack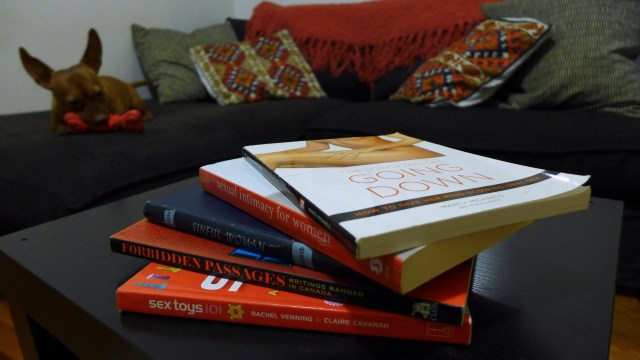 Feeling tentative about taking on this bold trend of having and displaying books around your home? The coffee table is a traditional location for books as aesthetic objects, and is a great place to start your first stack. Subtly theming the collection demonstrates intellectual prowess and can aid in stimulating conversation.
---
A Room of One's Own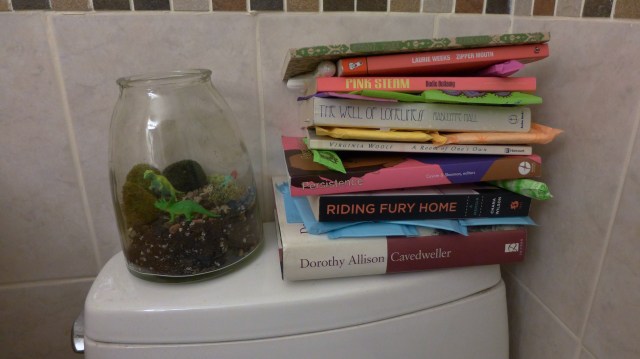 Did you know that there is a horizontal surface at the back of your toilet? BOOM. A stack of books on the back of your toilet provides a cute place to discreetly hide your feminine products — or proudly display them!
---
 The Doggie Butler
Dogs are cute. Books are cuter. You know what to do.
---
 High Contrast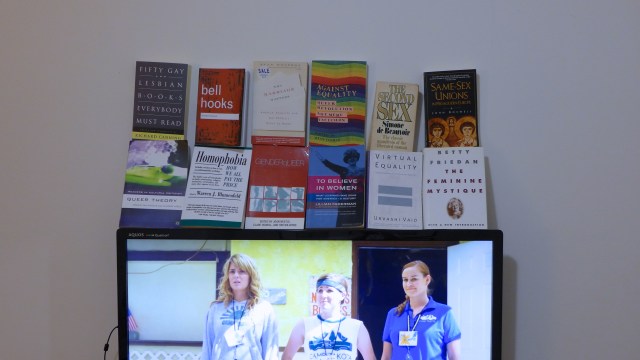 Pro tip: When making decorative book placements, it can be helpful to think in terms of contrast. Here, for example, we have the juxtaposition of print vs. the thing that's killing it; heavy subject matter vs light. And the nice thing is, if you change the channel, you can always swap your books out to match!
---
Shelf Life
Concerned what others might think when they see your nearly empty fridge, filled only with takeout leftovers and a million different types of cheese? Distract them with pretty, pretty books!
---
Book Fort
I challenge you to find a location in your home that would not be made better with a stack of books and/or an Ellen Page book fort.
Where will you be when the bookpocalypse hits? Please share your own decorating tips and survival plans below.