First of all fam, today is my birthday. I believe that Lifetime,  the network that prides itself on being "television for women," decided to premiere The Unauthorized Saved by the Bell Movie at 9/8c as a birthday present to me. And because no good deed goes unpunished, my thank you to Lifetime is to sit on my behind in my homegirl's crib and liveblog the hell out of this delicious bit of trashy television.
Maybe you have no idea what a Saved by the Bell is and that's totally ok, I got you. In 1988, The Disney Channel aired the first episode of Good Morning, Miss Bliss which was a sitcom about the lives of a group of fresh faced junior high school kids. It was our first introduction to the characters Zack Morris (Mark-Paul Gosselaar), Samuel "Screech" Powers (Dustin Diamond), and Lisa Turtle (Lark Voorhies). The show also starred Hayley Mills in the title role of Miss Bliss. The Disney Channel only aired 13 episodes of Miss Bliss and then NBC bought the whole damn thing and repackaged it as a new show, our beloved Saved by the Bell. Zack, Screech, Lisa and their principal, Mr. Belding (Dennis Haskins) were the only characters transferred over from the original show.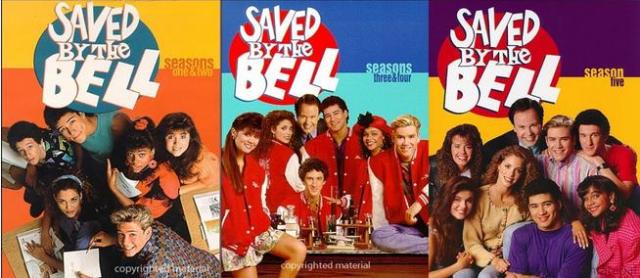 From 1989 – 1993, Saved by the Bell aired in the United States and became one of the most cherished sitcoms in the entire world. (This is a fact based on the book of facts about the world that I wrote for myself, btw.) Saved by the Bell gave us Zack, Screech and Lisa but they also added Kelly Kapowski (Tiffani Amber Thiessen), Jessica Spano (Elizabeth Berkley), and A.C. Slater ( Mario Fucken Lopez). SO MUCH AMAZE. The show followed them as they navigated the crazy that comes from being in high school and existing in a 6-way best friendship.  If you've never watched, I don't understand what, where did you, how are you… dimelo que?
Without Saved by the Bell, I woulda never known how to be a feminist and still have a macho boyfriend, nor would I have learned how to be so excited and so so scared at the same time. Without Saved by the Bell, we wouldn't have Showgirls, America's Next Best Dance Crew would have aired without Mario Lopez and his most perfect dimples in the world. We wouldn't have a damn thing.
Lifetime nabbed Dustin Diamond's book Behind the Bell and used it to twerk out this unauthorized account of the show. Dustin Diamond is all pissed off that the movie won't be historically accurate. People are pointing fingers everywhere. But this is the whole point, like the reason people watch anything on Lifetime, the reason people watch dumb shit like Saved by the Bell: because it's ridiculous and hilarious in how non-connected to reality any of it is. No one is going to watch for accuracy. Especially not me, I'm watching 'cause I want to laugh at bad blonde dye jobs, over-acted scenes, and I wanna see what kinds of imagined fuckery went on behind the scenes of Saved by the Bell.
So here we are; it's all led up to this very night. Get ready for the liveblog of your dreams. Join me while I talk all of the shit and enjoy the last few hours of my birthday. Saved by the Bell forever.
9:01p: My homegirl, Mari, says "The one that looks the most busted is Slater. Oh shit look at all them crazy ass little white girls."
9:02p: What's really good with Zack's helmet of talk show host hair? Looking like a busted wave cap and a helmet. TIME OUT EVERYONE.
9:03p: We got the beat and a timeout. Why would they set a show in Indiana? Look at very serious looking white people making a show about American teens. All smiles. EVIL.
9:05p: Oh snap, y'all just saw Zack and Lisa looking at each other like they wanna lick ice cream off each other's hairless bodies.
9:07p: I wanna know what kind of hair oils Screech uses to keep that nest of curls so damn tight. What's yo sheen man?
9:10p: But like why couldn't they get Hayley Mills to play herself? Like who is this impostor? Wait, is Hayley Mills still alive? Am I spelling her name right? Is she a real person?
9:11p: Twitter is on that truth right now
9:12p: White lady whispers "He's Latino", white dude whispers "He's perfect". That's not creepy at all. #coupleseekinglatino
9:18p: Shade on shade on shade
9:20p: OUR THOUGHTS Mari – They (the show's producers) were mad racist before and we should have known about the Zack and Lisa freaky times before this movie. Also, with all the money Lifetime has they couldn't have gotten Zack a better wig. Come to the Bronx, bitches, we got wigs for you. Me- It's not as perfectly terrible as Liz and Dick but we still have an hour and a half.
9:25p: Yo tell me how they have Screech trapped in the closet.
9:28p: Slater just legit popped his collar and used salmon pants to sweet talk new Jessie. STOP. How'd they get my secrets? I want his denim cutoff vest, like hey outsiders.
9:30p: That was the most uninspired video montage set to a terrible 90s song ever, and not in the perfect way, in the 'oh no, am i really liveblogging this for the rest of the nite?'
9:32p: White Twitter has feelings:

9:35p: HEARTS ARE BEING BROKEN EVERYWHERE HAIR IS SO SERIOUS

9:38p: Literally my computer froze during all the screaming. Zack got his shirt ripped open and Slater was propositioned by someone's mom, so like this was like Twilight or something. I really want this:
9:45p: We're at the part in this movie where Lifetime is trying to create emotion and teach us how this show "really spoke" to the youth. This is like a moment where you know someone's Dad wrote this part of the script while trying to sound like a "cool teen".
9:45p: Is this Saved by the Bell or Everybody Hates Screech?
9:48p: WAIT WAIT the saving grace moment just happened. This dude, Screech, just imagined he was some Hugh Heffner pimp in a smoking jacket with a tub full of bitches. I just cackle wheezed in my beer. Stop. Everything.
9:50p:  We interrupt this liveblog for a birthday moment, that cool?
9:53p: Oh snap! Lark Voorhies was a Jehova's Witness? I woulda let her in my house any day of the week. Preach to me, mama.
9:55p: PERO LIKE WHERE IS KELLY'S MOLE IN THIS SCENE???
9:56P: Yo that mole is like the Travelocity gnome.
10:00p: That girl is poison. Lifetime spent all their money on this soundtrack but it ain't saving nodamnbody. Jesus needs to take the wheel on this shit. He needs to take it and drive it off a cliff.
10:05p: Mari says: This shit needs to be called 'Saved by the Drink'
10:08p: Finally we all get to do pills.
10:09p: Yes, the reenactment of the best scene ever. Attention kids: Caffeine pills will fucking kill you. Also, if you're name is Dustin Diamond and you're on a tv show, then you're probably the worst person and you laugh when your friends try to act like they're drug addicts and then YOU DRRNKK.
10:12p: Twitter still going strong like whut

10:15: holy shit the brittany murphy story on lifetime i am a sucker for this shit what is my life
10:16p: Slater in a crop top showing off his abs. Just wanna say, you're welcome cuz I played Slater in this Lifetime cinema experience.
10:19p: My response to the world when it shits all over me for fun: I AM NOT SCREECH. This will also work if I'm checking in for jury duty or picking up a wig.
10:20p: And then Screech learned some Puerto Rican Judo. Ju don't know if I'm a UFC fighter. Ju don't know if I'm Screech. Pero like ju don't know if I'm a virgin or what kind of oil I put on my hairs.
10:24p: Twitter never lies

10:26p: Lisa Turle's side-eye said "bitch, I see you and your Paris bullshit"
10:29p: We're all here like "but who's that fine Asian dude with the liquor?"
10:30p: I'm waiting for Kelly to drop it low and give Zack a french bj. It involves mayonnaise AND ketchup.
10:32p: Zack's eyebrows are looking so damn heavy. Can someone help him carry those things? We need Slater to pop in and put them on his muscles. 'Hey Preppy, lemme get those brows," right?
10:33p: Mari Says: You know what woulda saved this hot mess? They shoulda had Madea playing Lisa Turtle. #dead
10:38p: Damn for all the 90s music in this basic ass movie, you think they would have played some "End of the Road" by Boyz II Men for this sad scene with Kelly and Jessie leaving. But nah, they relied on the Lifetime movie sad song piano player.
10:43p: I wanna go to the other party with Slater. He's also the only one in one the joke that is this movie and its hairpieces.
10:47pm: This Vagisil commercial is more interesting right now than this movie. It Eliminates odors? Will it eliminate Lifetime movies?
10:57p: Word

10:59p: So Screech gives us a Timeout and updates us on everyone's life but forgets to drop the "I made some weird ass pornos" bit about himself. Also, this movie should end and go directly into an uninterrupted airing of Showgirls.