Because of sexism, homophobia, transphobia, and institutionalized discrimination, LGBT women are less healthy and less wealthy than everyone else in America. This is not a drill. The kyriarchy is killing us.
Recently-released survey results from the Gallup Well-Being Project spotlighted the differences between LGBT and non-LGBT men and women's physical, social, financial, and community well-being, and they didn't paint a pretty picture for LGBT women across geographic and demographic lines. The survey, conducted from January 1 to June 23 through interviews with 2,964 LGBT adults and 81,134 non-LGBT adults, asked questions about five broad areas — social and community belonging, finances, physical health, and even life purpose — and then categorized into one of three categories: thriving, struggling, and suffering.  
Almost across the board, LGBT women reported the lowest well-being overall and by category of both their LGBT and non-LGBT counterparts, and they also tended to experience larger gaps in well-being from non-LGBT women than LGBT men did with their non-LGBT counterparts. For lesbian, bisexual, and trans women in America, the hard-won victories of the feminist and queer rights movements haven't made as large an impact on improving their lives.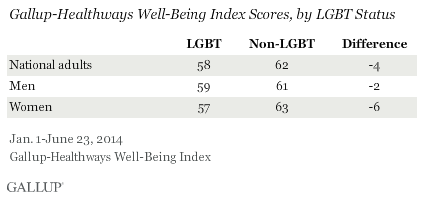 A quick review of the data shows that women aren't thriving at home, at work, or in their social lives in the same way as LGBT men or non-LGBT adults overall. Only 27% of LGBT women reported they were "thriving" financially, only 24% reported thriving physically, less than 40% reported thriving socially or within their communities, and only 32% of LGBT women feel they have a purpose in life. (AUTHOR'S NOTE: 100% of you have a purpose in life.)
Throughout the results, the differences between LGBT women and men are sometimes just as great as those between non-LGBT women and their queer counterparts. That paints a picture I've explored before: the lived realities of an existence at the intersections of oppression. For LGBT women, their sex, gender, and/or sexuality may be working against them; as you can imagine, these challenges must be more treacherous for women of color, poor women, and unemployed women who are facing the added factors of race, class, and financial instability as they navigate their everyday lives.
We've explored the myriad ways in which LGBT women are f*cked by society pretty regularly at Autostraddle, and as of late, data has shown that there are real consequences for the systemic inequities embedded in the instututions of our lives. Lesbians have consistently higher rates of poverty than heterosexual women, and those numbers persist outside of the recession. Discrimination against trans people has a bonafide statistical impact on their mental and physical health. Because of widespread misinformation about sexual health for LGB women, four out of ten lesbians aren't being screened for cervical cancer as regularly as they should be,  and because of widespread alienation within and outside of the LGT community for bisexual individuals, they are less likely to seek out help specific to their medical needs. We know that disparities in health care compound for the elderly, that LGBT workers of color suffer the brunt of a lack of protections for sexuality, gender identity, and racial discrimination at work and in the hiring process, and that women suffer the brunt of consequences for America's dismal minimum wage, which keeps women and their families in poverty. We also know that women aren't well represented in clinical trials, leaving us more vulnerable to risks associated with FDA-approved medication.
For trans women of color, community belonging may feel impossible in light of endemic levels of targeted violence; for LGBT workers of color who are women, the wage gap can coincide with a lack of nondiscrimination protections to create financial strife; for bisexual and lesbian women, finding health care providers who can effectively treat them with regard to their identities and their budget can often prove impossible. (This report comes on the heels of another Gallup study which found LGBT folks were more likely than their non-LGBT counterparts to be uninsured, mostly because of financial insecurity, and that LGBT women are twice as likely as non-LGBT women to lack a personal doctor.)
"Women [in the study] have this more significant financial disadvantage probably because they're getting doubly the effects of being LGBT and being women," Gary Gates, the study's author, told Take Part. That phenomena, however, isn't just restricted to financial well-being. It's something that's deeply impacting the lives of LGBT women across all the categories measured in the survey, and the results illustrate it starkly.