Welcome to Rebel Girls, a column about gender and feminist theory and the founding mothers of the women's movement. It's like a women's studies class, but better! Mostly because nobody has to wear pants.
---
I think women's studies saved my life, but I don't know what that means. Maybe that I'm not good at anything else – that I failed at being normal, that I failed at falling into line, that I failed at being everyone else, that I'll never talk to God. Maybe it means that the closest I will ever get to mightiness is uncovering everything that's damaged me and smashing every surface standing in my way. Maybe it means nobody's invented the right hero for me yet, or that I need to be a hero for someone else.
Maybe we should find out.
---
When I was 17, I took my first women's studies class. I was still in high school, but I had elected to take courses at the local community college. I was terrified and excited and absolutely unprepared, but it didn't stop me from signing up for "History of American Women (Honors)" and showing up with all of my books 15 minutes early on the first day of class.
The woman at the helm of this experience was named Bonnie. "I try to remain impartial about most things," she told us, "except for two: Ronald Reagan and Phyllis Schafly."
That was when everything changed.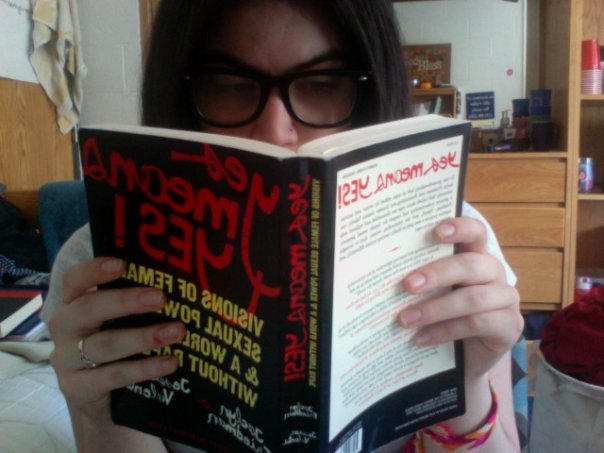 I was raised a feminist – albeit one who, before this class, knew almost nothing of my foremothers or the movement I would come to call home. I grew up with a working-class single mom who dropped everything to give my brother and I anything, and beside her stood the countless other strong, fierce, totally independent women in my extended family. Somewhere inside of me, I knew what feminism was and I knew that I believed in it, but nobody had ever taught me its language or its history.
Then one day, I was 17, and Hillary Clinton was running for President, and every day I would eat yogurt with granola at the café in the student center and swing my legs while I read from our textbooks for my course. I started to realize how connected I was to something so much larger than myself, and how important it was for me to recognize that, to own it, to live it. I adopted the label of "feminist," almost outright, and committed to studying it in its entirety. This one course had shifted my core. It had shattered my entire understanding of the world. Although it never felt like an earthquake, I look back now and see it that way. It was my awakening. Seeing the women who had come before, defiant and demanding, and the women who came after, theorizing and hypothesizing and giving language to an entire part of the human race folks had literally erased and ignored – all of it motivated me to be a revolutionary. I wanted to push the Earth. I wanted to be remembered for bringing good and insight and opportunity into the world. I wanted women to be people. I wanted women to have destinies. I wanted my own destiny.
I tried to write Bonnie a thank-you letter years later, sitting next to my WGST coursework and immersing myself in some theoretical writings in the library. I didn't know what to say. "Thank you," I kept writing, "for everything."
---
For me, the rest is herstory: I graduated high school, became a women's studies major and a raging lesbian feminist in college, and moved into the non-profit sector. I went into that movement and never came back out – and now, I do my best in my professional life to bring it to everyone else.
I say that women's studies saved my life – but that's not fair. An ivory tower can't save anyone. A theory can't save anyone. There's tons of people across the country and around the world who identify with the word "feminist," and we can't all go to college, or major in women's studies, or stay up at night reading philosophy and undoing our socialization. For a lot of women, feminist doesn't look like a classroom. For a lot of women, feminism is the difference between a half-life and a shot at a whole one.
In putting theory to practice, I've realized that often the most successful solutions are, often inadvertently, rooted in a critical analysis of our broken world. But in becoming an activist, I also realized that the theories and philosophies which brought me here are still largely inaccessible – and thus, the version of history we've re-written for ourselves is, too.
---
The Internet has revolutionized the women's rights movement, if only by bringing us together and giving us access to what was once fenced off in textbooks or explained laboriously at academic conferences. The Internet has democratized this movement. The choir is bigger than ever and ready to be preached to. We've changed the world through hashtags, taken action through web pages, and made noise on our blogs.
The Internet is the new Capitol. And the Internet should be the new classroom.
I'm here today with a small and humble offering: an explanation. A common understanding. I've realized that there exists a gap between academic feminists and the activists who don't have the time, money, or energy to read them – and I'm here to do my part to close that. I'm here to share everything I know, just in case it all ceases to exist. And I'm here to answer your questions, too. I think a feminist community that can marry its theory to its radicalism is a healthy one; I think challenging ourselves to think critically about our culture over time is a stronger way to change it than simply attacking the problems that are most evident. Feminist theory opened my eyes – but for too many women, an understanding of the movement is based only in lived injustice; they've never had the chance to learn about it in an air-conditioned classroom. For too many women, understanding feminism comes only from witnessing disempowerment and inequality, without an opportunity to explore the theories, philosophies, and critical analyses that gave me hope for a better, more equitable, world.
For the next while, I'll be writing about women's studies concepts in normal people language – and I'd love to have you in class each session. Let me know in the comments of this post if there are concepts you've yet to dig into, or if there's something you'd like to see covered. I'll be talking about everything from herstory to Judith Butler, and entire cosmos exist in the middle of that – so I'm open to suggestions!
In the meantime, get ready to get schooled.