This week's installment of singing and dancing is about… hmm, I'm searching for a theme here… vomiting? There's a lot of vomiting this episode. And, coincidentally, booze. I'm kidding, it's about opportunities, those missed and those taken. Pasts and presents. And special guest stars!
Random Things Learned This Week:
Sandy drives a Vespa. Everyone in this town says "upchuck" or "ralph" to mean vomiting, which is cute.
Emma briefly dated Andrew Cunanan.
The Glee Club's first big performance, the invitational, is upon us. Things seem hopeless — Quinn keeps puking and they need Rachel. Just in the nick of time, Will learns about ringers, namely that Carmel keeps failing kids to keep them in Vocal Adrenaline.
So Will and Emma look up a student from his days at McKinley High: April Rhodes, "the most talented performer in McKinley Glee Club history" (ok, Tyra) and Will's first crush (Emma gets hung up on the idea of Will being attracted to women other than Teri, which is very cute) who conveniently left McKinley 3 credits shy of graduating. Will finds her online in a scene very reminiscent of one of Max's internet searches, but he hunts her down. Dear Glee, no more MySpace, ok? No one actually uses it anymore. Love, 'Tron.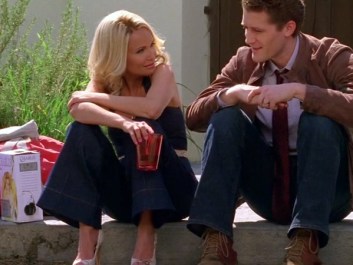 April is played gloriously by Kristin Chenoweth, who has grown up into a boozy mess who may or may not be homeless. Tales of shattered dreams are shared and Will tells her he'll help her get her high school diploma and she can join Glee Club.
In the meantime, Emma counsels a stricken Finn, who is stressing big time over Quinn's pregnancy. She tells him that it might be easier for him to get a music scholarship than a football one, so she tells him to talk to Rachel to get her back on Glee. He uses her attraction to him to get her to rehearse with him, secretly trying to get her to miss Glee enough to want to come back.
"You guys look like the world's worst Benetton ad." – April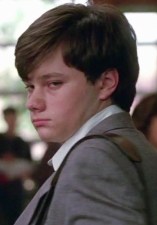 The Glee kids are hesitant to welcome April to the club, though Puck is obviously smitten. She has a singing battle/duet with Rachel accompanied by a full all-girl jazz ensemble. Is that Betty? Beyonce's band? This is the gayest thing I've ever seen, they're singing a Liza Minelli song from Cabaret. Anyway, she makes Kurt cry, and if you can make even one gay cry, then you've made the big time. Will tells her to get the kids to like her, and you know what that means… MONTAGE!
By the end of the montage she has introduced Kurt to booze and porn, taught Mercedes and Tina how to shoplift, and possibly had sex with Puck and other members of the football team (possibly at the same time!). Successful montage complete! Welcome to Glee, April!
Cabaret rehearsals are a mess. Sandy screams at Rachel constantly. She thinks he's plotting a Mr. G. move — ousting her so he can be the star of the play ("My name is Mr. G! Three talents, one two three!"). Rachel cries. No surprises there. She takes her aggression out on April. DIVA FIGHT! April tells her she's there to say and hums away. Never trust anyone who hums, kids.
Finn: "You know what we should do?"
Rachel: "Elope?"
Finn and Rachel go bowling. NATURALLY a few lanes away, April and Will are bowling too. This must be the hottest spot in town. As someone who bowled a lot in high school, I can tell you: yes, it is. Will tells April she's a bad influence on the Glee Club and threatens to oust her, so she tells him she's quitting drinking. Then he stupidly confesses his stupid crush on her. Well, sort of. He masks his love with admiration, telling her she's the reason he joined Glee Club. They do karaoke together at the bowling alley to my favorite song, "Alone," by Heart. My biggest complaint with this show right now (aside from the MySpace thing) is that they aren't mixing the studio-recorded song audio into the show in a believable way. Either better audio mixers or the actors need to lip synch better. Something!
On the other end of the bowling alley, Rachel and Finn eat pizza and Finn continues to lead her on. This makes me sad; Rachel's annoying but she doesn't deserve this. Also: Finn is almost too good at this. She kisses him and he tells her to come back to Glee. She says she'll quit the play for him. Oh, this is bad. She comes back to Glee moments after Puck tells the rest of the kids that Quinn's preggers and Finn's the father, so they tell her what's up. She slaps Finn and he fesses up. She's mad and quits Glee for like the 14th time in 5 episodes.
Rachel: "If you'd like me to return to the musical, changes need to be made."
Sue: "Well, Rachel, I couldn't agree with you more. You know, when I heard Sandy wanted to write himself into a scene as Queen Cleopatra, I was aroused… then furious."
Oh good, Sue! I knew something was missing from this episode. Rachel tells her she's coming back to the play but only if changes are made. Sue gives her complete artistic control over Cabaret.
Performance night! Everyone is inexplicably dressed in all black western get-ups. April stumbles in wearing a hot pink slutty version of the same thing, kisses Puck, and acts drunk. Emma is mad at Will for keeping her around and basically tells him as much.
"Really? They'd let a high school sing this?" – Robin
Their performance is some boozy-floozy country-western number. April seems to be pulling it together pretty well and the crowd loves it. I thought the glee club was an ensemble? They were her backup dancers who sang a few harmonies. Tense looks abound. Rachel looks VERY STRESSED OUT.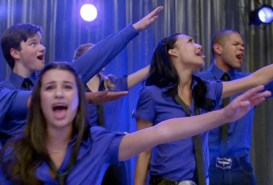 During intermission (they have intermission at these things? They're only singing two songs!) April quits Glee and Rachel comes back to sing the final song with the Glee kids. She's quit the play for good! The performance is great (srsly, one of my favorites) and things, for now, look good. Emma gives Will a look that says, "I'm not mad at you anymore, you impressed me and now I want to jump on you," which is pretty standard for those two. Overall this was a really excellent episode.
Memo to Cheno: you are fabulous. Please come back whenever you'd like.
Next week: Shit hits the fan when Teri gets a job as the McKinley High school nurse!