AT LAST AT LAST — Carol Leifer, responsible for shows that didn't suck like The Ellen Show, The Larry Sanders Show and Seinfeld (IFC's prior writing experience includes the "Worst Screenplay" Razzie Award nominee Barb Wire and executive work with Aaron Spelling) , is bringing her talents to CBS for a multi-camera comedy about … LESBIANS!  Are you excited, do you care? We care a little bit. It's just really exciting to see a lesbian get a job like that, it's been a while since someone we trusted got that kind of opportunity — to have the mainstream appeal needed to secure Major Money without the apparent tendency by previous females tapped for lesbian television shows to masticate all over that opportunity. Although the jury's out 'til we hear the theme song.
Inspired in part by Leifer's real-life situation of being in a long-term, same-sex relationship and having a child with her partner, the CBS show, tentatively titled "You and Me and He," centers on a recently divorced woman who enters a gay relationship only to find out that she is pregnant with her ex-husband's baby.
WHIP IT! The Daily Beast has a serious feature on Drew Barrymore called "Hellcat on Wheels," which includes a photo retrospective we highly recommend. Also, our friend Grace Fox over at Grace the Spot saw Whip It! before you did and she liked it: "The bottom line is that "Whip It" is a fun feminist movie and "fun" and "feminist" aren't paired nearly often enough."
GLEE: Carly writes the best Glee recap this side of the Mississippi and the other side too!


Did You See That Comment? Weekly Commenter Awards: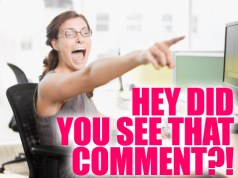 the bcw award for bcw:
The Week Dollhouse Returned & All the Wrong People Had Sex on Television: "I've already cancelled my plans so that I can watch Haviland on Eastwick and I don't even know when it airs. I just cancelled them all."
Sylvia Plath is Complicated Award:
Sapphicsass on Don't Worry Gaymo, You Were Probably Born With That Anxiety Attack: "I'm anxious about gay, pot-smoking, sexist, underpaid, Palestinian muppets who may or may not try to drain my bank account."
Up and Doing Circles Award:
southpaw on Tegan & Sara Debut Six New Sainthood Songs, Witty Anecdotes, at Rifflandia: "wow. thanks alot guys. I hope you're now willing to explain to my super straight roommate why I was rolling around on my bed with my laptop and headphones, giggling to myself and whimpering "sainthood" for 7 minutes and 22 seconds. jeez."