Autostraddle is proud to present guest writer Vikki, known to the blogosphere as Up Popped a Fox.  We persuaded her to write an article about her time with The Lesbian Avengers for us because we are obsessed. Now you will be too! Here's Vikki!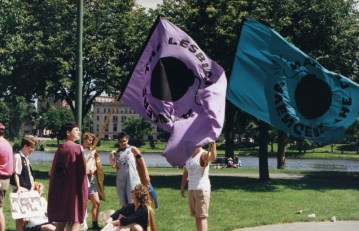 In my years with the Minneapolis Lesbian Avengers, we defaced anti-choice billboards, participated in visibility actions at schools, constructed a giant paper machè bomb piñata filled with lube and dental dams, helped plan the first of many Dyke Marches, designed and built a boat out of milk cartons for the Aquatennial Milk Carton Boat Race (dubbed The "Lez Boat" and pronounced with a hard "z" – no mystery there) and ate fire on countless occasions. And yes — we did indeed wear capes. And let me tell you, those suckers got hot as hell in the summer.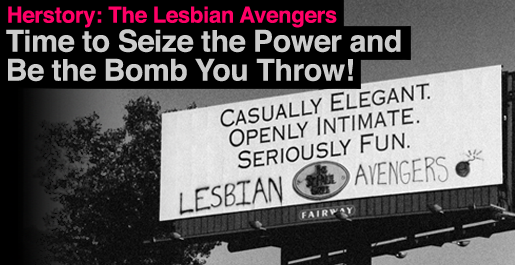 Being an Avenger gave me an appreciation for radical politics and action and reinforced my fierceness about being out and visible … but also it was just really fucking fun. We were outrageous and hilarious and we didn't dwell on process. There was no theorizing or philosophical discussions. As long as your idea wasn't offensive to anyone, there was no consensus-building or decision making involved, just a "Who's with me?" It's pretty radical for a group of lesbians to say "fuck processing and get to work."

It's been thirteen years since we hung up our capes when I get in touch with some members of The Twin Cities Avengers (their name has changed as it's now open to any queer-identified person rather than lesbian-only) to find out what they're up to now.
One sends me an email saying she is looking forward to meeting me to learn more about "her history." I feel like an ancient relic — some Lesbosaurus Rex on the brink of extinction. But I took a nerve tonic and headed to the coffee shop to meet them anyway.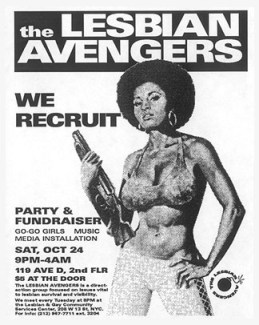 The Lesbian Avengers hatched in 1992; a long-ago far-away time filled with dykes decked out in Doc Martins & flannels & pretty much anything with a labrys on it, when no major celebrities had come out and queer rumors were as good as it got so we'd listen to bands & performers simply because they might be queer … actually, this was before the word "queer" had been fully reclaimed. This is where six experienced political activists in New York founded the Avengers with a vision for  "direct action group focused on issues vital to lesbian survival and visibility." That part in quotes? Yeah, I have that memorized because it was on virtually every single piece of literature ever produced by The Lesbian Avengers.
I first heard of The Lesbian Avengers at the 1993 March on Washington. I didn't actually see any Avengers there, but the first ever Dyke March had been held the night before and the buzz was that the Lesbian Avengers were responsible. They'd done it without a permit — scandalous to some, and awesome to others (like me). So when I got back to Minneapolis my girlfriend and I discovered a local chapter and began attending meetings. The next three years we lived & breathed avengers: evenings, and weekends, scaling billboards at 3 A.M. and rolling back out of bed at 6 to go to work. By the end it was just four of us: me, my partner, another friend and Lesbian Dad.

Many years have passed and many things have changed for me and for the world since my involvement with the Avengers. As I've gotten older and had kids, I'm a bit more conservative than I was then, but I still appreciate the efforts of radical groups — we need both ends of the spectrum and the efforts of radical groups pave the way for more conservative groups.
I meet Becca first. She's doing needlepoint while we talk and I fidget and try not to let my voice shake because nothing says confidence and radical enthusiasm! like nervous twitches.
Shortly after our introductions, we're joined by Amy and Alice.* [*not her real name].
Becca is 31, with a Master's degree in Higher Education and a job at a university here in the Twin Cities. She describes her politics as "far left" and says she got involved with the Avengers because she wants to be involved in "political action that garners an immediate response."
Amy is a 33-year-old data analyst who's been involved with the Avengers in Chicago and Minneapolis. When I ask her why she became an Avenger, she says, "I don't know what the alternative would be. Softball games? That doesn't appeal to me. I want to build community but also make change."
Then there's Alice; she's 26 and is reluctant to give much information about herself because of her job. She says that she got involved with the group because she wants to be part of a "radical group that could get things done".
They describe the group to me: about 12-14 core members ranging in age from 21 to 33. There are members with no college education, one member with a PhD and everything in between. They work in blue collar jobs and white collar jobs, making the group diverse in terms of class. Racial diversity is something else, however. Becca admits that they haven't had much success is recruiting and retaining people of color in the group, something that plagued the original Minneapolis Avengers as well.
And as for identity … these women are not HRC lesbians. They actually don't identify as lesbians at all. Alice went so far as to say that she doesn't really know any "standard issue lesbians".
"Lesbians will go to an Obama rally or march to get married but they're not out there for anything else," Alice explains.
Oddly — I don't either, most of the lesbians I know are tricked out with all sorts of special features! Alright, that's not what she means — she means that in her experience women who identify as lesbians aren't involved politically or are seeking to assimilate into mainstream culture.
"Lesbians will go to an Obama rally or march to get married but they're not out there for anything else," Alice explains.
I get it but I'll admit I feel a little defensive, too. I generally identify as a lesbian though I also use "dyke" and "queer" depending on the context or company. I've been with my partner since we were scrambling up those billboards in 1993 and … and now have two kids and a mortgage.
I guess this makes me more mainstream, certainly more mainstream than my interview subjects and likely more mainstream than I was in my twenties. This shouldn't have surprised me but it did and I had to fight the urge to say, "But…but…but…" and show them last year's income taxes to prove I don't regularly donate to the HRC.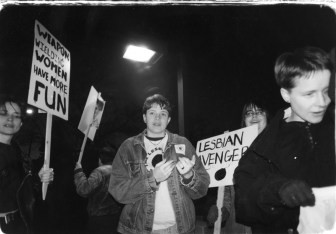 There's this VERY tall building right by one of Minneapolis's main highways with a giant billboard on top and — this was the early 90s, some time — the billboard was for the St. Paul Grill, advertising that it was "Casually Intimate, Openly Fun."
I drove by that thing every day and really wanted to climb up there and put a bomb where it said 'St. Paul Grill' and change it to read "Lesbian Avengers." I scoped the building for a week or so and figured out a way to climb the fire escape ladders on the back to get up there, and I rallied everyone to go do it.

My girlfriend was there. So was my ex. Neither were citizens, so they stayed on the ground as lookouts 'cause it was a VERY conspicuous billboard and everyone thought we were gonna get caught. So I took an inexperienced avenger up with me but by the time we got up there she was freaked out about the height … and about getting caught.
She was to spraypaint "LESBIAN" and I was going to do "AVENGERS". The thing about billboards is that you can't back up very far to see your work. So, this young woman is freaking and I am spraying and I'm also comforting her and then … I lose my place in my word.
I yelled down, "I LOST MY PLACE!" Someone yelled "EN". So, I sprayed "ENGERS" and then we got the hell out. When I got back down, my ex was like, "Nice spelling."(Exes! Bah!)
I looked up there and for all of Minneapolis to see … "LESBIAN AVENENGERS". I wanted to die. The worst part is that I had to drive by it every day to work. It was up there like that FOR DAYS … until I went back and re-did it. I didn't think I would survive the  shame of it back then but now I think it's pretty funny.
Here's the re-done billboard:

The Lesbian Avengers were all about action so I ask what actions the Twin Cities Avengers are up to these days.The Twin Cities group plans the annual Dyke March that takes place during annual Pride festivities (that makes me feel warm & fuzzy because I helped plan the very first one in 1993), they distribute safe sex kits and information at Gay Bar Guerilla and have put a great deal of work into the Unbash Map Project, an online map where people can report incidents of harassment and violence related to gender or sexual orientation.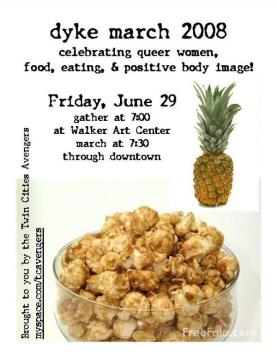 When it comes to direct action, they seem to be in a bit of a lull. Becca admits that they haven't done much direct action lately; No billboards, no fire eating and no street theater; though there is a project in the works and plans for street theater at places where harassment and violence has occurred.
They all agree that the Avengers is still a direct action group and hope to do more but, according to Alice, the group had an identity crisis last year after it grew to a size where an internal structure was needed in order to get anything done. They're still in the process of figuring out how to reach consensus and make decisions as a group but they have now divided into six squads (Internet, Safe Sex, The Unbash Map Project, Recruiting, Dyke March and Signs/Banners and T-shirts) and hope that this organizational structure will shift their time from discussion to action.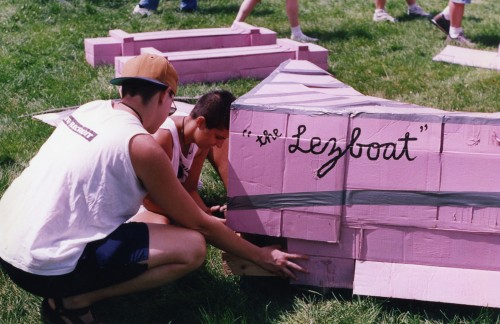 The visibility actions were always the most successful. The protests were less so — we never got enough press coverage, and the stuff we were protesting was far beyond what average people knew about, so they'd just shrug and walk by. We did a big street theater piece at the basilica to protest Clinton meeting with the Pope, and everyone walked by our pope like "WTF?"

When we drove around downtown Minneapolis on Valentine's Day passing out hershey kisses that said, "You've just been kissed by a lesbian!" People took notice. They dropped them on the ground in horror or they laughed … but they noticed.
We did a lot of work around Operation Rescue, and when The Lambs of Christ came into town to shut down the abortion clinics. Clinic defense is always satisfying because there's a clear purpose. We also targeted the places where they were meeting, sneaking out into the dark of night to paste huge posters all over the church to let them know we were there and we knew what they were up to. I believe those things made a difference.
Spray painting billboards likely did nothing to further the cause … but it was empowering.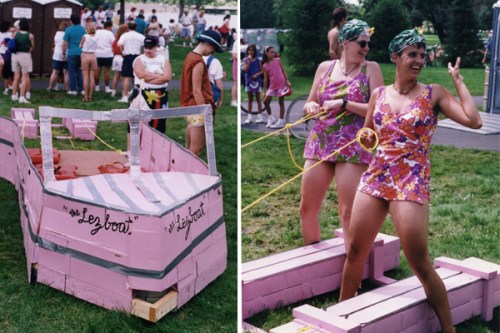 The Avengers currently announce meetings & events through MySpace and Facebook — which is how I got in touch with them. They use two e-mail lists, one for core members and one for other interested people. When I was an Avenger we recruited new members using sign-up sheets at GLBT events, which we'd photocopy and use them along with ye olde phone tree to get in touch with people regarding events and actions.
At the time of our interview, the Avengers were not using Twitter but now they are. You should follow them, even if you aren't in Minneapolis, because they have a great avatar and share great info on queer issues. They also have a blog – check it out to see coverage of the Minneapolis Dyke March and to read more about the history of the group.
I grew up in Kansas. The only kind of direct action I ever saw involved people waving their American flags and yelling; "These colors don't run! "
Before we called it a night, I ask if they have any questions for me and they want to know how being an Avenger has impacted my life. That's an easy one: "I grew up in Kansas. The only kind of direct action I ever saw involved people waving their American flags and yelling; These colors don't run! "
My politics didn't truly emerge until I went to my lefty hippie college and learned to apply The Radical Lesbian Feminist Lens to everything I saw. College taught me how to think critically but The Lesbian Avengers taught me how to translate thoughts into action. Then and now, the Avengers has always been about empowerment.

The original Lesbian Avengers Dyke Manifesto issued a call to all lesbians to "get out of the beds, out of the bars and into the streets!"  Obviously, back in the old days, there wasn't so much talk of Lesbian Bed Death and lesbian bars actually existed. Ah…the halcyon days. The distractions might have changed with time but the call for action remains. Now, however, the Avengers think it's time to get off of the blogs and into the streets. (Don't stop reading Autostraddle though. That would be a terrible, life-altering mistake).
We need to close forward. We need to make sure the next people that come along aren't reinventing the wheel. There's wisdom to impart, and part of that is that you need to use your resources to make the money that enables you to do more things. Ultimately, we need more than the HRC as our community's voice, and we need the radical groups out there to agitate people and hold the more conservative elements accountable. We've gotten tentative and the radical edge will challenge our nice & reasonable behavior and our politics to propel us forward.
So, get out there. Be visible and vocal. And remember…ten percent is not enough, recruit, recruit, recruit.