Greetings, squirrel friends!
Not a whole lot of news this week, but I watched a lot of shows so we've got a lot of ground to cover. So, news! Gawker has a handy little scorecard to let you know how all the new shows are doing, and surprisingly, they're all doing… decently. So far only The Beautiful Life has been axed, personally I can't wait to see what's next to go (fingers crossed it's Melrose Place or Mercy!).
And if you're wondering why Glee, Modern Family, and Dexter aren't in this week's column, it's cause they've got their own posts, and will continue to get them every week. Catch up here:
Glee, by Carlytron
Modern Family, by Laneia
Dexter, by Intern X
And in a once-in-a-lifetime occurrence, Riese recapped an episode of Two and a Half Men, which is definitely never going to happen again.
And now…
The Carlytron Television Awards for the Week Ending 9/27/09!

The overall theme for this week was straight people having sex on tv this week. Seriously, that's all I remember seeing at all. And I know, you're probably thinking, "how is that any different from any other week?" I dunno, it just seemed a bit much, is all. Though I have to say it was a welcome addition to our first award-winner…
The Dollhouse Award for Dollhouse
Episode 201 – Vows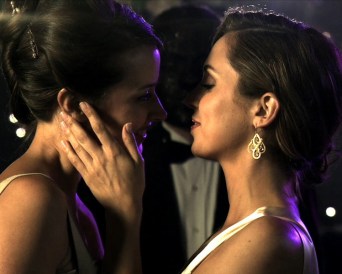 Hey, guess what's baaa-aaaack!? Dollhouse! Season 2! Are you psyched! You better be, cause if you don't watch it, it might actually get cancelled this time! So in the premiere (just one hour, thank you Dollhouse!) Lee Adama (!!) marries Echo and then she TOTALLY KICKS SERIOUS ASS, Adelle gets a terrible haircut, and Ballard becomes Echo's handler. Some stuff happens with Boyd and Topher (I still can't stand him) and Whiskey/Dr. Saunders/whatever runs away. The best part of this episode, aside from Echo totally kicking ass (and — spoiler alert — she's starting to remember things!!), is this random flashback to Echo and Whiskey, where they almost kiss…
Overall I thought this was a good episode, but even I was a little confused and I've seen every episode, including the stellar "Epitaph One." So I have no idea how they'll attract new viewers. But here's hoping!


The I'm Not Sure Why I Watch This Show Anymore Award – Heroes
Episodes 401/402 – Orientation/Jump, Push, Fail
Bet you thought I was gonna give this to Grey's, didn't you?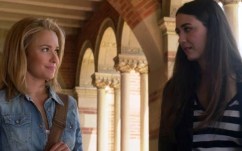 Oh Heroes. Where do I even begin? First of all, the lack of Mohinder is refreshing! Please keep that up. Second, if Hiro really is dying, then please actually let him die. Sooner rather than later, cause I still hate all of his storylines. You know who else is killing me? Parkman. Good lord, please do something useful with him. Sylar hallucinations aside, the whole Nathan/Sylar/Matt BS is just so… dumb. Other things happened too, even more new characters, blah blah blah, I give up. I'll let you know when Claire and that creepy girl make out.


The Carlytron Award For Excellence – Gossip Girl
Episode 302 – The Freshmen
I always loved that Verve Pipe song, "The Freshmen." I bet none of the kids on this show even know who the Verve Pipe are. Anyway. This episode was AWESOME. Oh man. So many great things! Dorota running around helping Blair plan a party, Blair failing to make friends at NYU (she gave them headbands!), Georgina's return and hilarious rooftop party (the grade-school-looking posters in the hallway of the dorm were really classic), Dan stealing Blair's headband (nooo! That's where she keeps her secrets!), Serena going crazy, Blair and Chuck cuddling (Chuck is the little spoon yet again!), and the ridiculous party shenanigans. Also they played the Cobra Starship/Leighton Meester song, "Good Girls Go Bad," twice at the party, even playing the Leighton parts while Blair stomped around, which was just like, amazing. All hair offenses are forgiven, show. You win.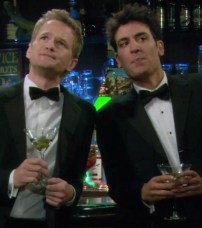 The Award For My New Favorite TV Couple – How I Met Your Mother
Episode 401 – Definitions
I have to say, I might have been looking forward to HIMYM more than most of the other shows I watch. I just can't get enough! Barney and Robin have surpassed Pam and Jim as my favorite TV couple, I just wanted everyone to know that. They spend most of this episode trying to not figure out what their relationship is, but it's clear that they're really into each other. Barney punches Brad, Ted goes to the wrong classroom on his first day of teaching, and the boys wear tuxes. Also, the boots Robin is wearing in the last scene? WANT!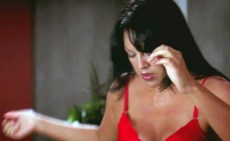 SPECIAL COMMENT – Grey's Anatomy
Episodes 601/602 – Good Mourning/Goodbye
What happened? George dies, everyone deals in their own way, Izzie lives, Mercy West and Seattle Grace are merging, Bailey continues to be awesome, Callie takes most of her clothes off in the hallway.
What really happened? Ok Grey's. I was hard on you last season. It was justified, but I get it. So in the name of fairness I'll give you a chance. But I just watched two episodes — not one, two — and I'm pretty angry. You're the only network show with a lesbian couple, or any lesbians at all, so you sorta need to bring it. We're waiting.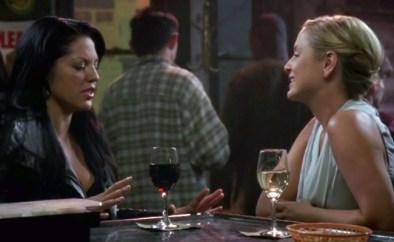 Every single straight couple on the show got at least one scene where they were kissing or touching or doin' it or somehow acting like a couple. Callie and Arizona were affectionless, argued briefly, then drank wine together (all they ever do is eat or drink together). Wow. Being a lesbian sounds fun! Puh-leeze. Lesbians are touchy-feely, we all know that. All of their scenes together, they didn't touch at all. Nothing. I just find this a little hard to believe. And I don't buy the Disney/ABC thing as an excuse, because Brothers and Sisters shows gay dudes getting together all the time.
So Grey's, step it up. The writing and acting were pretty good in the premiere, so I'm excited to watch again. I like the new storylines, I'm feeling it. Just treat the lesbians the same way you treat those McHeteros, k? Thanks!


SNL Sketch of the Week
Saturday Night Live came back with a whimper this week, rolling out weak recurring characters (Kenan, I'm looking at you) and relied on our girl Kristen Wiig to pull most of the weight, as per usual. Megan Fox was actually… not bad? I wanted to hate her but I couldn't. Bad writing but she still managed to make it fun. So kudos to you, Ms. Fox. The digital shorts (there were two) both sucked and made no sense. Well done. Welcome back, SNL. My favorite sketch was probably the flight attendant one, but Your Mom Talks to Megan Fox and Judy Grimes on Weekend Update were pretty funny as well.
The other awesome part of SNL is actually our Hot Girl of the Week! Lola, take it away!


Hot Girl of the Week
(by Intern Lola)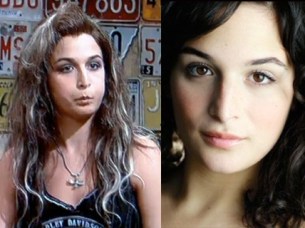 If you watched the season premiere of Saturday Night Live last weekend, you were probably severely underwhelmed by the quality of the sketches. The show overall was not hot, but there was one moment in particular that had everyone talking: in her first SNL sketch ever, Jenny Slate dropped the F–bomb on live television. To be fair, it was an accidental slip and got edited out of west coast broadcasts (which makes me so glad I'm on the east coast). Still, she said fuck on network TV! No matter what, that makes her a badass and way hot. (I can't help it; I love a girl with a dirty mouth.) And hey, at least now she's on everyone's radar.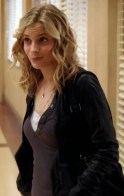 New Shows I Checked Out (in one sentence or less)
Community – This is funny. I will keep watching this.
Cougar Town – Funnier and sharper than I expected, but still sorta awful, right?
Eastwick – Sorta cute but I will probably never watch this again (except when Rising Star Haviland Stillwell is on).
Flash Forward – I am hooked but if this goes the way of Heroes or Lost I will be MAD.


Honorable Mention
Parks and Recreation, surprisingly! Not as amazing as last week's episode but still better than most of last season. And of course The Office, which was painfully good and now Jim and Michael are co-managers of the Scranton branch!
In the future there will be a new award called the Gay Moment of the Week, but nothing gay happened this week. Thanks a lot, television.
'Tron out!