THAT'S SO GAY: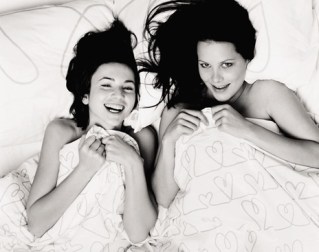 Carlytron emailed this item to me with the heading, "they stole this idea from us," and she's so actually correct, we have been slacking on this trend piece: Why Lesbians are the Butt of Gay Men's Jokes. As you may or may not know, there's been some controversy about Graham Norton's HiLARIOUSly original jokes about how lesbians are fat & ugly. "I don't know why they've got some lesbian to be the model for this," he said, referring to a series of drawings of a woman in a jumpsuit with bad hair.
A journalist from Love Girls UK says, ""If you're seen as being at the bottom of the pile, you want someone to be further below you." TRUTH. But … on another note … here's what we're wondering — is anyone going to stand up and notice that we're complaining at being stereotyped as "fat and ugly"? Is being "fat and ugly" inherently bad? WTF this is not The L Word.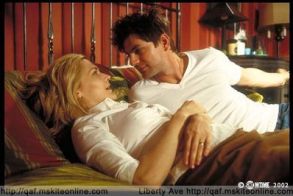 We should be defending ourselves because it's wrong to be mean to people, but we shouldn't affirm that "fat" is an insult.
However, there are some interesting points in the article about how difficult it is to get gay men and lesbians working together towards common causes: "It's difficult to get women involved in LGBT projects, he says, because as women they may already have been treated as second-class citizens, then derisory comments from men, particularly from men within their own community, reinforce that sense of exclusion." TRUTH.
PRIDE: See no evil. Geographers at Kansas State University analyzed the distribution of evil across the United States by mapping the Seven Deadly Sins. Pride apparently is the country's number one sin, as the researchers deemed it an aggregate of the other six sins. Gay pride's still cool though, so feel free to bust out them rainbow flags. (@contexts)
AIRBRUSH YOUR MOM: Pixel perfection. "Concerned that girls and women feel excessive pressure to live up to the digitally botoxed and liposuctioned images of human perfection they see in glossy magazines, lawmakers in Britain and France are trying to get marketers to acknowledge the tweaking done to the photos." (@ny times)
BODY: Love your body. Hey, speaking of that, this article shows that body image goes beyond the magazine page. Here are six reasons to love your body the way it is. (@true/slant)
ALTERNATIVE LIFESTYLE AWESOME: Beyond the U-Haul. A closer look at why some gay men use lesbians as punchlines. While this article cites an insistence upon superiority and a difference in gender struggle, I still believe this animosity is due to the envy that one may feel when a lesbian can pull off a mullet/fauxhawk/sidesweep better than anyone else. (@bbc)