Lesbians and queer relationships as we know them are a relatively modern construction, but women have been crushing on other women forever.
In the late eighteenth and early nineteenth centuries, girl-girl relationships took the form of romantic friendships. Women professed their love for each other, travelled together and were affectionate in public and private. Some lived together. Others would visit each other, kicking each other's husbands out of the bedroom so that they could spend every single moment together. They also wrote each other letters.
Women were socially separate from men, and romantic friendships could co-exist with heterosexual marriage, though some of them took its place. Molly Hallock Foote met her romantic friend Helena in New York in 1868 and they planned to live together, until Helena got married to someone else. Gertrude Stein and Alice Toklas, now understood as so obviously a couple, were still considered a platonic couple by some scholars until recently.
Whether or not the writers of these letters were queer is not really certain, both because they're all dead and we can't ask them and because imposing contemporary ideas of sexuality and relationships on people in the past doesn't work.
In Surpassing the Love of Men, lesbian historian Lillian Faderman writes, "I venture to guess that had the romantic friends of other eras lived today, many of them would have been lesbian-feminists; and had the lesbian-feminists of our day lived in other eras, most of them would have been romantic friends." Faderman, however, has also insisted on not imposing sexuality on women of other eras.
What is clear is that the relationships between women were completely passionate.
In Sapphistries, Leila J. Rupp writes:
"Although we may never really know what went on in women's spaces, either women's quarters or convents and monasteries, the prohibitions and the worries and imaginings of husbands and religious figures and the occasional scraps of evidence of love or sex between women are suggestive. At the very least, we might conclude, if men could imagine what two women might do left to their own devices (no pun intended), why could women not do so?"
The pairs who wrote the following letters might not ever have had sex — but it sure sounds like they wanted to.
Angelina Weld Grimké and Mamie Burrell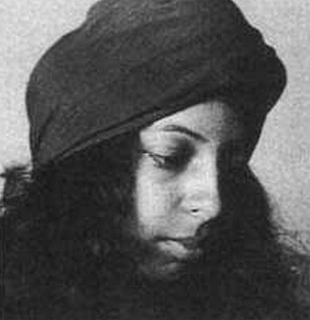 We don't know much about the relationship between African American poet Angelina Weld Grimké and her school friend Mamie Burrell, though their letters allude to a youthful relationship and it's possible that Mamie was the subject of a letter Angelina wrote about a disastrous love affair. In 1896, however, Angelina wrote to Mamie:
"Oh Mamie if you only knew how my heart beats when I think of you and it yearns and pants to gaze, if only for one second upon your lovely face."
Later in the letter she asks Mamie to be her wife and signs off, "your passionate lover."
Emily Dickinson and Susan Huntington Gilbert Dickinson

Writer Susan Huntington Gilbert Dickinson has been called "the primary object of Dickinson's desire." Their 40-year relationship, which began before Susan became Emily's sister-in-law, lasted until Emily's death in 1886. On June 11, 1852, Emily wrote Susie:
"I need you more and more, and the great world grows wider, and dear ones fewer and fewer, every day that you stay away — I miss my biggest heart; my own goes wandering round, and calls for Susie — Friends are too dear to sunder, Oh they are far too few, and how soon they will go away where you and I cannot find them, don't let us forget these things, for their remembrance now will save us many an anguish when it is too late to love them! Susie, forgive me Darling, for every word I say — my heart is full of you, none other than you is in my thoughts, yet when I seek to say to you something not for the world, words fail me. If you were here — and Oh that you were, my Susie, we need not talk at all, our eyes would whisper for us, and your hand fast in mine, we would not ask for language — I try to bring you nearer, I chase the weeks away till they are quite departed, and fancy you have come, and I am on my way through the green lane to meet you, and my heart goes scampering so, that I have much ado to bring it back again, and learn it to be patient, till that dear Susie comes."
Gertrude Stein and Alice B. Toklas

The most noted lesbian literary couple, Gertrude Stein met Alice B. Toklas in 1907 and moved in together in 1909. Though they lived together, they often exchanged notes and poems. In hers, Gertrude called orgasms "making a cow come out" (though others disagree that's what she meant) and her pet name for Alice was "baby precious":
My baby precious, you feel all treated
treated to have a complete and an entire
cow, yes sweeties you will bless you I
am so full of tenderness and delight in
my blessed wifie that it must overflow
in a cow out of she, there is no
other was to be, oh my blessed
I love you so I love you so from
top to toe, blessed baby
Y.D.
Emma Goldman and Almeda Sperry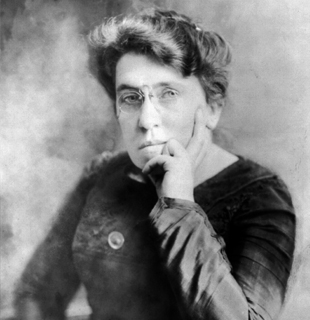 Almeda Sperry was so strongly moved by some of Emma Goldman's lectures that she became an anarchist and worked with her for a time. In 1912, Almeda wrote Emma:
"Dearest… If I had only had the courage enuf to kill myself when you reached the climax then — then I would have known happiness, for at that moment I had complete possession of you. Now you see the yearning I am possessed with — the yearning to possess you at all times and it is impossible. What greater suffering can there be — what greater heaven — what greater hell? And how the will to live sticks in me when I wish to live after posessing you. Satisfied? Ah God, no! At this moment I am listening to the rhythm of the pulse coming thru your throat. I am surg[ing] along with your life blood, coursing through the secret places of your body.

I wish to escape from you but I am harried from place to place in my thots. I cannot escape from the rhythmic spurt of your love juice."
Violet Trefusis and Vita Sackville-West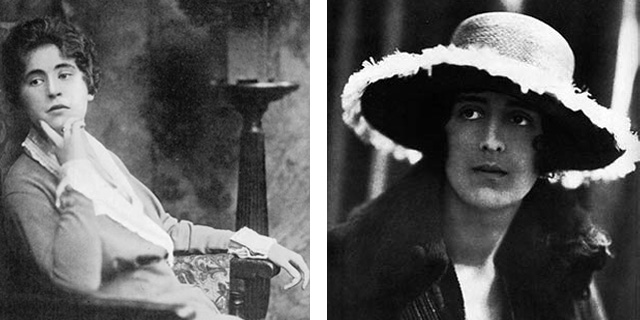 Violet Trefusis and poet Vita Sackville-West met when they were young and then attended school together, where they formed a relationship that would continue for decades. Engaged and married to men and having affairs as well, the two traveled together several times until the end of their affair in 1921. In March 1919, Violet wrote Vita:
"I want you every second and every hour of the day, yet I am being slowly and inexorably tied to somebody else… Sometimes I am flooded by an agony of physical longing for you… a craving for your nearness and your touch. At other times I feel I should be quite content if I could only hear the sound of your voice. I try so hard to imagine your lips on mine. Never was there such a pitiful imagining… Darling, whatever it may cost us, tiri chinday won't be cross with you anymore. I suppose this ridiculous engagement will set her mind at rest…

Nothing and no one in the world could kill the love I have for you. I have surrendered my whole individuality, the very essence of my being to you. I have given you my body time after time to treat as you pleased, to tear in pieces if such had been your will. All the hoardings of my imagination I have laid bare to you. There isn't a recess in my brain into which you haven't penetrated. I have clung to you and caressed you and slept with you and I would like to tell the whole world I clamour for you… You are my lover and I am your mistress, and kingdoms and empires and governments have tottered and succumbed before now to that mighty combination – the most powerful in the world."
Virginia Woolf and Vita Sackville-West

Writer Virginia Woolf met poet Vita Sackville-West in 1922 and they began a very passionate relationship, though Vita later reported they only had sex twice. On January 21, 1926, Vita wrote Virginia:
"I am reduced to a thing that wants Virginia. I composed a beautiful letter to you in the sleepless nightmare hours of the night, and it has all gone: I just miss you, in a quite simple desperate human way. You, with all your undumb letters, would never write so elementary a phrase as that; perhaps you wouldn't even feel it. And yet I believe you'll be sensible of a little gap. But you'd clothe it in so exquisite a phrase that it should lose a little of its reality. Whereas with me it is quite stark: I miss you even more than I could have believed; and I was prepared to miss you a good deal. So this letter is really just a squeal of pain. It is incredible how essential to me you have become. I suppose you are accustomed to people saying these things. Damn you, spoilt creature; I shan't make you love me any more by giving myself away like this — But oh my dear, I can't be clever and stand-offish with you: I love you too much for that. Too truly. You have no idea how stand-offish I can be with people I don't love. I have brought it to a fine art. But you have broken down my defenses. And I don't really resent it."
Eleanor Roosevelt and Lorena Hickok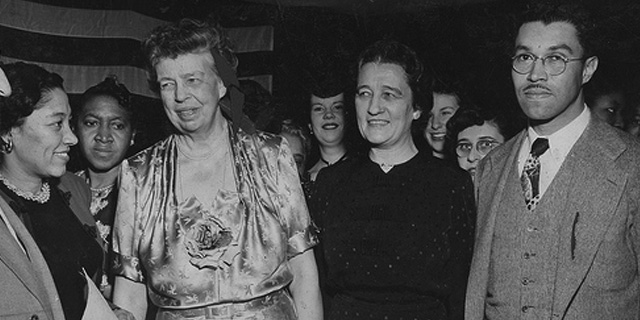 Journalist Lorena Hickok and first-lady-to-be Eleanor Roosevelt met in 1933 and, though they didn't publicly address their relationship, their letters suggest physical romance. On March 7, 1933, Eleanor wrote Lorena:
"Hick darling,

All day I've thought of you & another birthday I will be with you, & yet tonite you sounded so far away & formal. Oh! I want to put my arms around you. I ache to hold you close. Your ring is a great comfort to me. I look at it and think she does love me, or I wouldn't be wearing it."
Radclyffe Hall and Evguenia Souline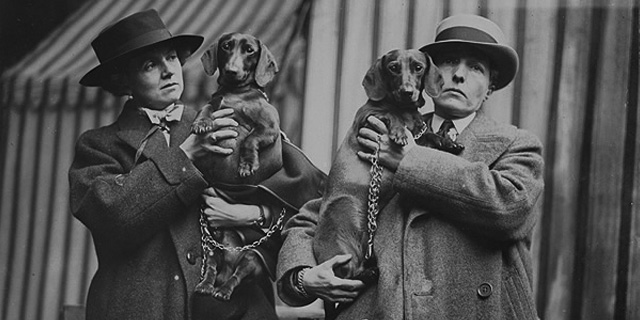 Radclyffe Hall fell in love with Evguenia Souline, whom she affectionately called "Soulina" in letters, in 1934. They began an affair that was mostly tolerated by Hall's partner, Una Troubridge. On October 24, 1934, Radclyffe wrote Evguenia:
"Darling — I wonder if you realize how much I am counting on your coming to England, how much it means to me — it means all the world, and indeed my body shall be all, all yours, as ours will be all, all mine, beloved. And we two will lie close in each others arms, close, close, always trying to lie even closer, and I will kiss your mouth and your eyes and your breasts — I will kiss your body all over — And you shall kiss me back again many times as you kissed me when we were in Paris. And nothing will matter but just we two, we two longing loves at last come together."