"whose the man??? Two and half men are!!!!"
– "Anonymous," CBS.com
You'll have better luck explaining who killed Jenny than finding anything compelling or meaningful to say about CBS's hit sitcom Two and a Half Men. The desperate-for-complexity could settle on a "big picture" impetus like the following, culled from the world's only theoretical Two and a Half Men analysis: "[Two and a Half Men] asks viewers to draw distinctions within the social class that historically has embodied the group recognized as the dominant class in American culture."
In other words, Two and a Half Men is about straight white men, just like almost everything else, ever!
Listen up, ladies & dudes & gender-free humans: I've watched this shit so you don't have to. I want to 'understand' the 'country I live in.' See … who the hell watches Two and a Half Men? According to the ratings; just about everyone. But according to our own personal anecdotal evidence — not me, not you, not anyone we know. Yet Two and a Half Men has received 20 Primetime Emmy nominations, two Golden Globe nominations, and has consistently ranked in the Top 20 most viewed series on television.
Recurring actors include L Word guest stars Jane Lynch, Melanie Lynskey and Holland Taylor and Camryn Manheim. Notable guest stars include Megan Fox, Jenna Elfman, Alison Janey, Chris O'Donnell, Denise Richards, Martin Sheen and James Earl Jones. YEAH! I bet it pays well. Robin Hooding it is the solution.
But it's not even smart or funny, like other white-male-angst-focused shows also critiqued for misogyny, like Beavis & Butthead. You guys! Charlie Sheen wears silk shirts, like hello 1996 called from a payphone at the mall to let you know Merry-Go-Round is having a going out of business sale srsly even the racks.
I expected insidious jocular male chauvinism parlayed as quirky parenting, heteronormativity relentless enough to completely alienate a queer viewer, akin to forcing an Adam Sandler addict to watch the meandering talky indie lesbian flick Go Fish. OH MY GOD IT WAS SO MUCH WORSE THAN THAT. I was totally grossed out! I think this episode of Two and a Half Men was specifically crafted to irritate me.
This is how I feel about the success of this show no I'm sorry this is what Tank Girl has to say about the success of this show:
Recap of Episode 818-JKLPUZO of "Two and a Half Men"
Let's begin! Immediately we meet Charlie (Charlie Sheen) and Alan (Duckie from Pretty in Pink) at the local coffee shop set, where they're sharing some apparently hilarious banter about recently running into Mia, an ex of Charlie's. See, Alan told Mia that Charlie was engaged. Wait, it gets better: THIS WAS THE CLIFFHANGER that last season ended on: "can Charlie withstand the incredible temptation of another woman's tits?" I know. I just fell off the edge of my seat I was so close to it.
I say "apparently hilarious" because the show employs its laugh track with lumberjack-fucking force, squeezed like a hemorrhoid suppository between every other line of dialogue. Obvs this isn't a live studio audience. It couldn't possibly be; every joke is so predictable that were anyone to find any of these jokes funny, they would've laughed ten seconds before the belabored punchline is actually delivered by an actor on the show.
SO Anyhoo! Charlie, the hapless ladies man (like Papi, but ACTUALLY MORE ANNOYING) is engaged to Chelsea, a pleasant looking woman with the personality of a cardboard box, and apparently Alan is worried that any other tits will ruin the engagement. AND THEN WTF MIA AND HER BOOBS SHOW UP AT THE COFFEE SHOP and here we begin: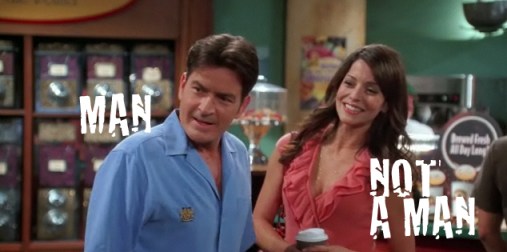 I hope Charlie can keep his dick in his pants. Why did Charlie Sheen name his character "Charlie" when that name is already associated with a few unseemly sex scandals?
Here's how this "Alan & Charlie running into Mia" convo goes. I've inserted the laugh track for you.
Mia: [to Charlie] How are you?
Alan: [about Charlie] Still engaged. HAHAHAHAHAHA
Charlie: Come, sit, join us.
Mia: Are you sure I'm not interrupting?
Charlie: Oh, no, of course not. HAHAHAHAHA
Alan: Yeah, his fiance just left. HAHAHAHA
Mia: Oh, sorry I missed her!
Alan: Oh, I'm sure she's still in the parking lot HAAHAHAA I'll go get her HAHAHAHAA.
HAHAHAHA! Get it? Charlie just wants to ATTACK THE VADGE. Omg!
Charlie: You look great, young and vibrant, and … taut … HAHAHAHA
Alan: You know who else has a great body? Charlie's fiancè. HAHAHAHAA In fact, Charlie's nickname for her is "Boobilicious." HAHAHAHA
Alan says that word ("Boobalicious") a few more times before whipping out a few more zingers, like this one following Mia saying she's given up dancing for singing:
Mia: I'm working on my singing career —
Alan: You know who's a wonderful singer?
Mia: Charlie's fiance?
HAHAHAAHAHA!!!
Alan: Actually, I was gonna say Miss Celene Dion, (HAHAHAHA) I have no idea about Chelsea, although she does have a set of lungs on her. (HAHAHAH!)
Obvs Mia wants Charlie, a commercial jingle-writer (probs did the background music for A Gathering Storm), to help her "in the recording studio." BTW? "Ad-man" is apparently the default occupation for cinematic or televisionary cads (advertising = selling your soul = casual relationship to manipulation). Hello Brian Kinney.
Don't worry, Charlie gets Alan back by spilling coffee on his Dockers. Unfortunately Alan's penis survives the scalding, and in fact Alan's salvaged penis is later referred to using Sesame Street related analogies. Really!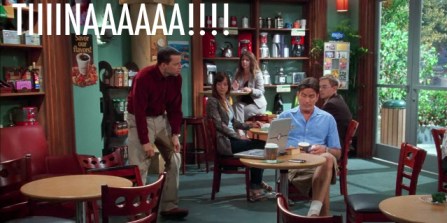 WHOA! Guess what happens next? I forget. Probs THIS: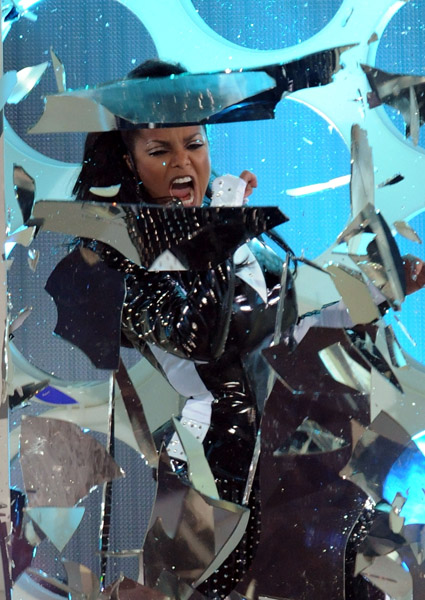 Or this: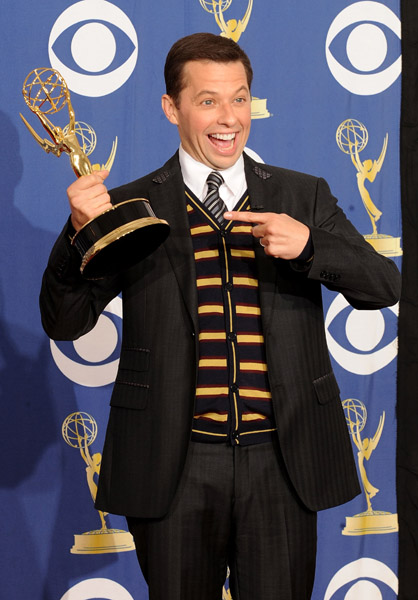 Or this: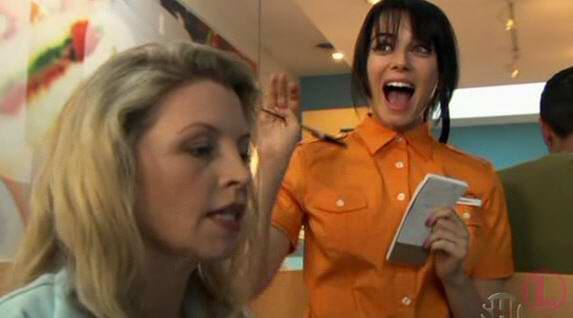 Or maybe this?

NOPE! Just this HAHAHAHAHAAHAHA:
Charlie & Chelsea just had sex, put their clothes back on, and then pretended like they'd just had sex even though they have their clothes on. Charlie has to help Mia "lay down some tracks" otherwise Chelsea will think Charlie still has feelings for Mia.
Also, Pier One called and they don't want you having sex in their bed 'cause of GOD.

Later on, Alan, Charlie and other people are all in the kitchen talking about Alan's penis and its reaction to water/the hot tub, where Alan was canoodling with a dubiously lusty stupid hot girl.  See, men have these goofy, self-deprecating relationships to their penises, and therefore remind you of your softest secret self! Oh, it doesn't? You must have a brain! This show isn't for you.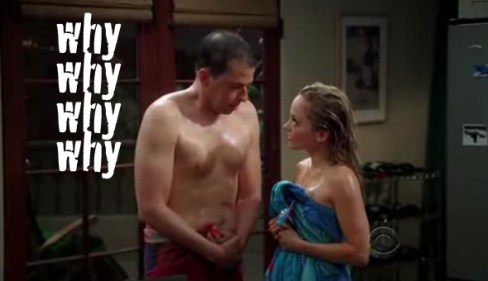 Charlie: "Nothing more romantic than seaweed hanging from a cold shriveled penis."
Riese: "Nothing more gross than what you just fucking said. GAWD."
Then Alan pulls the seaweed from his shorts, HAHAHAA! He makes faces 'cause the seaweed pulls on his COCK! HAHAHAHAHA!
Sidenote: I've had MANY serious & relatively successful relationships with men and don't find penises inherently disgusting like many of my Kinsey-1 friends do. I am familiar with that junk and am ok with it. Howevs, I've always found penis jokes inherently lame. Like, period. Mother-fucking-end-of-g*ddamn sentence. LET'S GO TO THE NEXT PAGE THIS RECAP WILL DESTROY YOUR LIFE BECAUSE IT IS SO GOOD.

Pages: 1 2See entire article on one page