Advice column questions for Riese & Haviland? Email yourmom [at] autostraddle.com! Be as brief as you possibly can, we sometimes have to leave questions out 'cause they're too lengthy to abbreviate.
NSFW Sunday can be found here.
DANCE MOVIE: The glorious history of the Urban Dance Movie. We wanted to do this Top Ten but New York Magazine beat us to it; with shout-outs to all of our most favorite favorites.
KISS: The full Megan Fox kissing scene from Jennifer's Body. It's like our obligation to inform you of things we get five press releases about.
TOP TEN SEXUAL CONTROVERSIES: Nerve counts down the Top Ten Sexual Controversies that changed TV, including lesbian kisses on L.A. Law & Grey's Anatomy, when divorce was still scary and gay weddings went kiss-free … and how Sharon Gless ended up in Cagney & Lacey to begin with (the woman she replaced apparently looked too lesbionic with her partner).
HELEN GODDARD TEACHER: John Henley has an interesting perspective on the causes behind the recent proliferation of teacher-student relationship scandals, including specifically the hot music teacher Helen Goddard we talked about last week: "in parallel with the steady erosion of formality in society as a whole, new ways of communicating including email, text messaging and social networking sites are radically altering the relationship between pupils and teachers."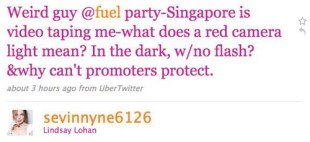 GAY TEEVEE: Queerty loved Modern Family. So did Laneia! Did you?
TEGAN & SARA: OMG Tegan and Sara had a concert in Victoria, listen to some new songs from Sainthood!
BIGOTS: Queerty says that this is good news: "A federal appeals court just ruled [The Westboro Baptist Chruch's] demonstrations are protected by the First Amendment. Thank god."
LOHAN: Lindsay Lohan just wants to go out with her friends and not be videotaped. That's it, she's completely lost her mind.
ROSIE AND ELLEN:Rosie thinks Ellen will be much better than Hey Paula on American Idol, says she'd never do Idol 'cause she couldn't be mean to those kids.
COUGAR IS BAD TV: You got it wrong, this time, says Judith Warner in The New York Times's Cougar Town Review, "The Real Cougar Fans." Cougar isn't a new trend or reflective of a progressive America. It's actually not true that women in their forties find their age in and of itself nearly cripplingly terrifying, though it behooves marketers to insist that they do. "It was hard for me at first to find words for why I hated — simply hated — "Cougar Town,wp_poststhe new Courteney Cox vehicle that debuted Wednesday night on ABC … it's ridiculous and belittling and it stinks of another round of backlash."
GAGA: Lady Gaga interviewed about upcoming tours, VMAs, Kermit & Miss Piggy.
GAY 'ZINESTERS: New Voice for Sexual Minorities in Argentina: "A monthly magazine published by an Argentine umbrella group of some thirty organisations of lesbians, gays, bisexuals and trans (LGBTs) seeks to become a major communications channel for the community and an instrument for disseminating the actions that sexual minorities undertake to defend their rights." (@sexgenderbody)
MARCHING & SINGING: Pick Your Winner for the National Equality March Song Contest! The National Equality March is just two weeks away, and we need your help choosing a speaker and a song for our rally on October 11! (@joemygod)
SLICK WILLIE: Why Bill Clinton Changed his Mind on Same-Sex Marriage (@joemygod)