Welcome to Hidden Gems of Queer Lit! This column is for those of you who found the first reflections of your desires in a dusty corner of the library, and for those of you who know that important histories and new ways of looking at the world are nestled in yellowed pages as well as flickering screens. Every two weeks I'll profile a queer lit title that's outside of the public eye for one reason or another: obscure, small-press, older, aimed at a different niche, or otherwise underrated. It's my hope that you'll connect with some of these books and treasure them as I have.
---
To bookend Halloween, I'm reviewing two thought-provoking reads about queer Black vampires. In the last installment, I wrote about The Gilda Stories by Jewelle Gomez, the book that brought Afrofuturism and vampires together. This week I'm reviewing Octavia Butler's Fledgling, which is both a worthy successor to Gilda and a unique take on vampire mythology. If you're interested in seeing the complexities of polyamorous relationships interpreted through the lens of speculative fiction, or in reading a quietly queer sci-fi great's exploration of sexual fluidity, Fledgling will be up your alley. Fledgling opens in a dark cave, with an amnesiac narrator recovering from life-threatening injuries. As Shori strives to get her bearings and make sense of the world around her, it becomes clear that she's no ordinary person. Her instincts compel her to go out at night and hunt deer with her bare hands. Soon humans enter the mix, and her need for fresh meat (for healing) is replaced by hunger for a sympathetic stranger's blood.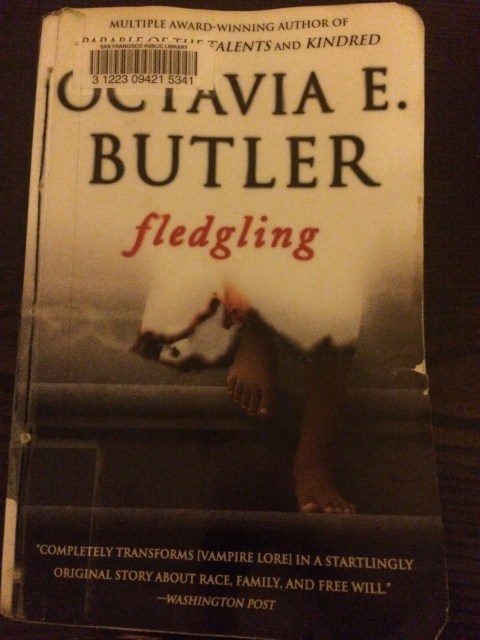 Readers learn about the world of vampires along with the protagonist. Rather than contributing to the long tradition of human-vampire conversion stories, Butler makes the vampires a separate species, called the Ina, with distinct communities and culture. One of the most fascinating aspects of the novel is their intricate relationship system. The Ina survive through symbiotic relationships with humans who share their blood and become addicted to their life-extending, health-enhancing bite. The two symbiotic species also share sexual pleasure, but cannot reproduce. Instead, Ina and their symbionts live in single-sex family units, and each family of sisters is mated with a family of brothers that they see on occasion.
But there's little time for Shori to learn about her people. Her family was killed in the fire that destroyed her memory, and her own life is in danger. Whenever she connects with Ina who might offer help or clarity, the arsonists come after them too. Shori and her new symbionts have to figure out who's murdering her family, and why Shori's own death seems to be their number one priority.
Shori's first symbiont, a rugged, good-natured young man named Wright, suspects racism to be a factor. Most Ina are long-limbed and pale, but Shori — at 53, still a child in the Ina lifespan — looks like a ten-year-old Black girl. She's the successful product of genetic experimentation adding African-American human DNA to an Ina genome. Most Ina are allergic to sunlight, and incapable of staying awake during the day. Shori is famous throughout the Ina communities, as her extra melanin and human DNA offset these weaknesses. Depending on which Ina you ask, she's either an asset to their species — a guard who can stay alert during daylight hours and pass on that strength to her children — or a threat to its purity.
While the threat of murder sets the pace for Fledgling, its network of relationships makes up its heart. Wright has basically been unwittingly seduced into a polyamorous relationship with Shori and her other symbionts, and is none too thrilled about it — but still devoted to Shori. Theodora, an older poet who'd resigned herself to a life of loneliness, is swept off her feet by the young vampire. Brook and Celia, the only surviving symbionts of Shori's family, are adopted by Shori while coping with their grief. Joel, the son of a symbiont who wanted him to find a place in the human world, is delighted to find himself a "nice vampire girl." Shori also meets a family of Ina brothers who want to mate with her when she comes of age. Shori holds the power in all these relationships, and must exercise it responsibly. For that reason, Fledgling would be a valuable read for anyone taking the reins in a D/s relationship, or navigating a polyamorous one. I would have loved to see Butler push her characters' same-sex attractions further. Do the Ina, so flexible when it comes to their attractions to humans, ever have same-sex relationships or desires? Couldn't one of Shori's female symbionts have had a sex scene, as her male symbionts did? What's there is fascinating, though. Like Butler's masterful Xenogenesis/Lilith's Brood trilogy, Fledgling portrays a world of symbiotic species that cross multiple barriers of attraction, for whom mutual benefit and need outweigh freedom. It's a way of being that's compellingly, chillingly different from our own.