Welcome back to Transparent and the episode where we'll finally find out whether Gordon Ramsay's new recipe for crab cakes is enough to bring this family business back from the brink. Just kidding, instead this is the episode where you're going to have 97 different emotions and all of them will carve your insides out like a pumpkin. Let us proceed.
---
Maura has come out to a still-rolling Ali juuuuust before the camera was turned on, and it's going GREAT. Ali smushes Maura's face between her hands and continues speaking in the sort of Dakota Fanning Sugar Fairy tone of voice that cues us she is in an altered state. "You finally make sense to me," Ali says. "I see you completely, it's like I've never seen you before!"
It would be cool if Ali were saying this because it was her authentic reaction to finding out Maura's true gender and also a genuine callback to the pilot when Maura wanted Ali to be the one of her kids who really sees her, but mostly she's just saying this because she is on drugs. Maura asks if Ali is okay, presumably because she's acting like a total wacko, and Ali confirms that she's the BEST SHE'S EVER BEEN. I am not sure if we're supposed to believe that Maura doesn't realize Ali is on something — if my mom could figure out that my brother's weed hiding spot was inside the ceiling tile, then Maura can figure out that her daughter is squishing her lips between her fingers because she's on ecstasy.
All in all, many parts of this coming out seem sort of ideal? The scene makes an excellent case for this mode of initiating the conversation. Who's come out to someone on a Schedule I recreational substance? How did it go? Is this what we should all be doing? Please share with the group.
We starsweep to a scene where two humans are engaging in some sort of sexual activity on a bed — the voices make it sound like one of them is Carrie Brownstein, but that can't be right — AH YES IT IS. SYD IS HAVING SEX WITH JOSH. THIS IS NOT A DRILL. Seriously this makes me feel fifty shades of sad and weird but it's fine, I'll be fine, I'm not gonna judge you for your sexual choices Syd even if I do think maybe you should go listen to some Sleater-Kinney and rethink this one. Josh asks Syd not to tell Ali "because she'd freak" apparently while he is inside her. Josh needs a life coach.
In the harsh light of day, Josh is eating cereal while Syd looks through his record collection, and brings up again that they can't tell Ali. Syd reminds him that she's been privy to many many Pfefferman family secrets over the years and is an old hand at this, such as how Ali used to sell her mom's Valium at school, and also RITA.
Syd describes Rita as "the woman that babysat you that drove you around and took advantage of your sweet little teenage bod." Josh argues that situation with Rita was "rad;" Syd counters that it was "gross" and "lecherous," and reminds him that if he heard about a situation with a 15-year-old girl and an older man, it would not seem rad to him. Syd then peaces out as Josh tries to get her to stay, calling behind her "Wow, you really don't want to be alone, do you?"
Starsweep to Maura's apartment complex, where Davina is giving her hair extensions so she can stop wearing her wig. For real I'm super into Maura's hair, sometimes I fantasize about dying my hair gray and I hope that it would look sort of like Maura's. Davina tries to give Maura some pointers about being in her body — she has her walk around the room and it's all very ANTM. Maura walks out the door saying "this is stupid" because Maura's not here to make friends, she's here to be America's next top model.
Back in 1994, Maura is checking into a hotel. She's given a false name for her reservation, and is very nervous that the desk clerk is going to find out who she really is, because she is here for secret reasons.
When she gets into her room, she puts on a sparkly dress and a blond wig. She's joined by her friend from the adult bookstore, who is also wearing a dress and wig! They are both so excited and pretty and Maura can balance a martini glass on her head and it's very lovely to see her happy. The friend introduces herself as Marcy, and Maura introduces herself as Daphne Sparkles, which Marcy isn't into. Marcy dismisses that name as "not right," and renames her: Maura! I actually feel a little bit let down by this because I would have liked to see Maura name herself on her own, but also Maura is so pleased by this, and so we are pleased as well.
Back to the future and the family home that Sarah is now living in, Tammy has arrived. They have already started doing the thing where they both begin and end every sentence they say to each other with "babe" — "Babe, did you see where I put my hair straightener, babe?" — so they are actually already in a common-law domestic partnership. Sarah wants to know if Tammy has told her wife about the flame of their eternal love and — this will come as a shock, I know — Tammy hasn't.
Tammy tries a saving throw by telling Sarah how hot she is (specifically, "you're like this little tiny hummingbird with big boobs") and grabbing both her breasts with both her hands like they're grapefruits at the supermarket that she's comparing for ripeness. Seriously I CANNOT get over how weird Tammy is about touching boobs. Am I off the mark here? Are lots of people into having sex initiated by someone squeezing their breast like it's a clown's nose? The larger point here is that Tammy is being sort of a shady partner, and also doesn't understand what breasts are. Also Sarah gets a text message letting her know that Maura came out to Ali! Now we're all in the loop except for Josh.
(Sidenote: Where are Sarah's children at this point? Does she still have children? Are they living with Len and being cared for by Sylvia? Has she told them what's happening with her marriage? A flaw in the show right now is that I can't tell whether Sarah as a person is just really not concerned with her kids, or whether the show itself isn't concerned with her kids and so has essentially dropped them from the plot for right now. If anyone has seen them, please bring them up to the front information desk.)
Sarah heads over to Ali's apartment where she thinks the story of Maura's coming out to Ali is HILARIOUS because yeah, it kind of is. Ali is hungover and gross and WAY less cool with Maura's identity than she was last night, and also hungover.
Sarah corrects her use of pronouns for Maura and tells her that she can't tell their mom or Josh yet or anyone else, because "outing a trans person is like an act of violence, it's like stripping someone naked in the cafeteria and making them go eat by themselves. Google it!" This is my favorite thing Sarah has ever said, and shows us that in the midst of her angst and self-centeredness and having her boobs massaged by Tammy, she's at least taken a few minutes out of her life to figure out how to make her loved one's life a tiny bit better, or at least not make it worse.
This conversation also leads to Sarah revealing her affair with Tammy to Ali, so that's fun. Ali asks "What about Len?" and Sarah answers "I don't know," which is a significantly different answer than the one she gave to Maura. Interesting! She also shares that Tammy made her squirt, which I'm very happy for her but I still can't believe the idea that someone would ever discuss this with their siblings. Probably I'm a giant prude. Anyhow it turns out that Ali had made brunch plans with Maura while she was tripping the light fantastic and so now they're gonna go do that.
Now Josh is hanging out at Rita's, and says "I need to ask you some questions, and they might not be very pleasant." He wants to know if his parents knew what was going on with him and Rita back in the day — it seems like he maybe feels that if his parents knew and were cool with it, then it was a Totally Normal and Healthy thing to do. Rita says of course they did! Everyone knew! Of course they didn't fire me! When Josh presses her on these things, Rita gets SUPER weird. "You don't get to talk to me that way! You just can't come in and ask me questions like this! We were in love." The interaction ends with Josh comforting Rita even though he was the one who was initially upset, which is a giant red flag among a veritable forest of other red flags. At what point is it not a flag anymore but some other item, like a fire extinguisher or a flare calling for help? This definitely sounds extremely normal and healthy and good, is what I'm saying.
The scene ends with Josh and Rita postcoital in bed. I think the way this is shot is perhaps meant to emphasize that Josh is much more affectionate and loving than his sex scene with Syd, but mostly it makes me feel very uncomfortable. Rita says "that guy you said would fix the air conditioning never came," and Josh tells her he'll call the guy again in the EXACT tone you use to talk to your mom when she can't figure out how to get a video off her phone. I still feel like Rita is kinda a mom to him, or at least a very maternal aunt. Then Josh sits alone in his car and sings along to "Night" by Bill Callahan, if anyone is playing along with the soundtrack from home.
Maura, Sarah and Ali are cutting through a department store because apparently they're going to brunch in or around a mall. Maybe it's at the Rainforest Cafe, I used to love that place and their waffle fries. Waffle fries are a good brunch. Sarah says she's gonna "send Sylvia over" to do Maura's laundry for her and I have a lot of questions about this, like a) can you just have hired domestic workers do the chores of everyone you know? That just seems like crossing a line somehow and b) I got the sense that Len was the reason they could afford to hire Sylvia, not Sarah, and I kind of feel like Sarah might have lost her Sylvia privileges when she left Len so she could boink her ex?
The women are waylaid by some very committed makeup and skincare salespeople who offer them mall makeovers. The daughters both grouch but Maura goes for it, because when you've never had one the offer of a free makeover is amazing. Maura learns where her T-zone is, Sarah gets made up to look like a Real Housewife, and Ali refuses all makeup except for foundation and powder. It's not made clear whether this is because she doesn't like makeup, because she's having some gender feelings, because she's too hungover, or all or none of these reasons. It's sort of unfortunate though because as a person who is frequently hungover, nothing makes you look even more hungover than trying to cover up your hangover with caked-on facial makeup, especially since your skin and body are dehydrated. You have to just sort of go with a light tinted moisturizer and maybe some blush and face the world with a Gatorade in hand.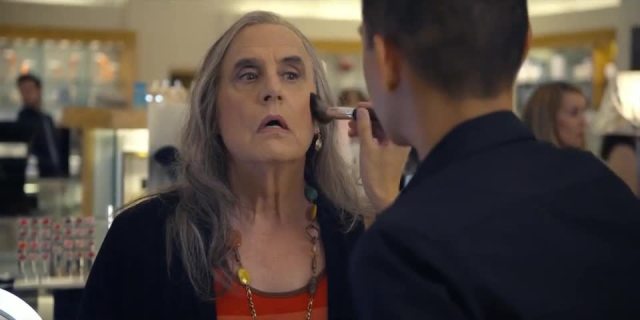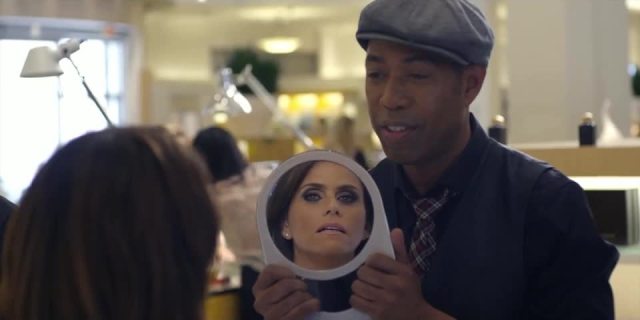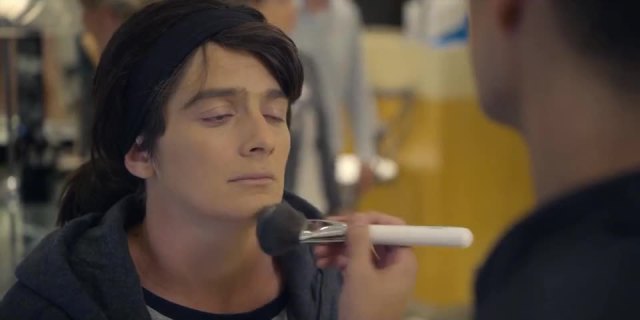 Sarah takes a selfie to show Tammy how dewy her cheekbones are. Maura looks great and is successfully pressured into buying several skincare products. Don't do it Maura, drugstore products will do basically the same for cheaper! Ali also has Maura buy many makeup and skincare products for her. I WONDER FOR WHAT PURPOSE. Maybe we'll find out!
Pages: 1 2See entire article on one page