I'm a person riddled with anxiety, depression and just overall fear. In the past, these fears have prevented me from doing all sorts of things. In high school I was too afraid to make new friends or go to school dances. In college I was too afraid to join clubs or find help about how to come out. After college I was too afraid to travel or follow my passions. My life is also filled with fears that don't have as profound an effect. I'm scared of whales, spiders, shadows that look like people, the game "Bloody Mary" and raw cookie dough (or really anything with raw eggs because of salmonella).
It's not easy telling thousands of people all the weird little (and big) things I'm afraid of. I know a lot of these fears are unfounded and irrational, but that hasn't stopped them from holding me back. This year, however, I started facing those fears. Thanks in a huge part to Autostraddle, I started living the life I've dreamed of for the first time ever.
---
 1. Transitioning
If you know me from places other than here, you're probably thinking, "wait, didn't she start coming out as trans two years ago?" While that is true, I didn't fully come out until last October, and even then I was still extremely afraid of a lot of things I knew I would be getting into. The truth is, I still am. If one thing really helped me to start feeling comfortable about it, it would have to be the writing that Annika did for AS. When I heard that she was going to take an indefinite break from writing, I was sad, but I understood. Reading her farewell article reassured me that I would be okay. It also let me know that I could find a great, welcoming and affirming community at Autostraddle.
---
2. Sharing my writing
I've wanted to be a writer ever since elementary school, but when writing didn't come as easily for me as other things in school did, I was afraid people would laugh at me for it. Because of this I never really stretched my writer's wings or submitted things I had written anywhere. When I did write (which wasn't very often), I kept it to myself. Then I saw that Autostraddle — already one of my favorite websites — was putting out a call for articles written by trans women, and I knew this was my chance. I started writing, submitted to the trans*scribe series, had my first article published and never looked back.
---
3. Talking about being fat
Aside from the dysphoria and other negative body images that come from being trans, I also have a bunch of issues that come from being fat. I've been trying to be body positive and embrace my body, and over on my tumblr I've posted little slogans and rallying cries like "fat femmes forever" when I want to feel good about myself, but it wasn't until I wrote about being fat and trans that I really took a good look at my feelings. Getting those feelings out in the open and seeing the reaction and the support I got made me feel better about myself than I ever thought I could.
---
4. Following my passions
When I was an English major in college, I said I would probably end up going to graduate school and eventually become a teacher (which is a totally awesome thing if you want to do it) even though that's not something I ever wanted. Writing was what I was passionate about, but I thought people would think it was silly or immature. Despite being published a few times on Autostraddle, I still thought I'd never be more than a once-in-a-while casual writer.
I wanted so badly to be able to write regularly and have an official position here that I literally had dreams about it. On the night of June 25th, I dreamed that the website announced they were looking for new Contributing Editors. Then, on June 27th, Autostraddle actually did announce that they were hiring new Contributing Editors. Now that I get to tell people I work for Autostraddle, I'm proud of where my life is. I might be weird and depressed and nerdy, but I get to be a part of one of the most amazing teams of people I've ever met, doing something that I've dreamed about doing for years and years.
---
5. Coming out to old teachers
The only people I've really come out to are the ones I see on a regular basis. But when we published a roundtable about teachers who were influential in our queer stories, I decided to face my fears and email my favorite professor from college. Up until that point, I had very purposefully kept my current life separate from the person I was in college. That was before I came out, that was before I became the person I am today, and I always thought it would make my life too complicated, too confusing to mix the two. When I did finally mix them and let my teacher know just how influential she had been in my life, I realized that I had nothing to worry about. Even if things were a little more complicated, they were definitely better.
---
6. Robots
Well, let's be clear, the only robots I'm not afraid of anymore are fictional ones. I'm still deathly afraid of real-life robots, like the drones Amazon is planning on using. Thanks to my column, Drawn to Comics, I've been reading some great webcomics about robots, and they've softened my stance a little bit. I still refuse to watch WALL-E though.
---
7. Wearing leggings as pants
I've loved leggings for a long time. I wear them with dresses, with skirts and even with those pieces of clothing that are somewhere in between shirts and dresses. I've loved it when other people wear them as pants, but I've alway been afraid to try it myself. My body isn't built like most of the bodies that leggings are marketed to. My body is not built like most of the bodies that society deems attractive. Most of the clothes marketed towards women with bodies like me are designed specifically to hide my curves and outlines. Then I read something that gave me all the courage I needed. Gabby's words, even though they didn't all apply to me, made me want to femme up, face my fears and go out in leggings for the first time. It was definitely the right decision and one that I'll continue to make.
---
8. Eating hummus
This might seem like an irrational fear (and it is), but there are a lot of fairly common foods that I've been afraid to try. I'm not the pickiest eater, but the foods I don't like tend to be very popular (like cottage and cream cheese) and I've always been afraid that if I tried a food and didn't like it, I would offend people and lose friends. Again, I realize that I probably wouldn't lose friends if I ended up not liking hummus, but that doesn't change the fact that I was still hugely afraid that this would happen. Luckily, when I tried hummus for the first time at A-Camp, I thought it was pretty good and I didn't lose any friends.
---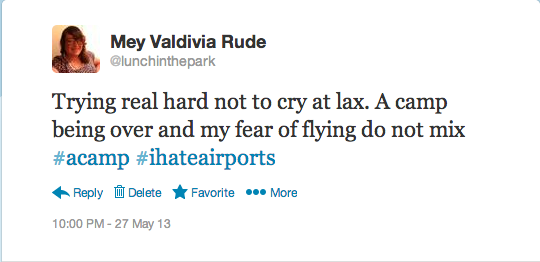 9. Flying
Being afraid to fly has prevented me from going out of state for college, it's prevented me from traveling around the country or the globe, it's prevented me from visiting people I love. When I got invited to be a part of A-Camp this past May, the only way I could go was if I flew. So, I gathered up all my strength, packed my bags and went to the airport. Even though I've now cried at airports twice this year, hyperventilated in the LAX bathroom and had some of the most stressful days of my life, I would happily do it again if it meant I had the chance to go back to the wonderful place that is A-Camp.
---
10. Dancing in public
All throughout high school I managed to avoid school dances. I felt uncomfortable in my body and didn't want other people to see how awkward and disjointed my movements would be. Even more, I was afraid that people would look at me or try to dance with me, and I couldn't stand the thought of people being that close to a body that I hated. When I got to A-Camp and I found out that there was dancing, I was both excited and terrified. When I did dance, I realized how much I had been missing. There are few things as fun as dancing with all your friends and few things as life-affirming as having a handsome butch dance with you.
---
11. Drinking in public
I'd always told people that I didn't drink because I didn't know how alcohol would interact with my anti-seizure medication (which is partially true), but a bigger reason was that I was afraid that with my inhibitions down I would out myself. I was afraid that I would act too girly or too queer and I wouldn't be able to take it back. Being at A-Camp made it so I didn't have to worry about those things any more. No one here would judge me for being queer or trans — instead they celebrated those things about me.
---
12. Embracing selfies
If you follow me on tumblr, you'll notice that I really started ramping up my selfie game this year. I also signed up on Instagram and started posting a bunch of pictures to Facebook. I used to be afraid that I would post a ton of selfies and no one would care, or even worse, they would react negatively. I was also afraid that people would think I was conceited and self-centered (and when I started posting selfies I did get people telling me that). Now I realize that it's okay to care about and celebrate my self. A lot of the time for me that means taking selfies.
---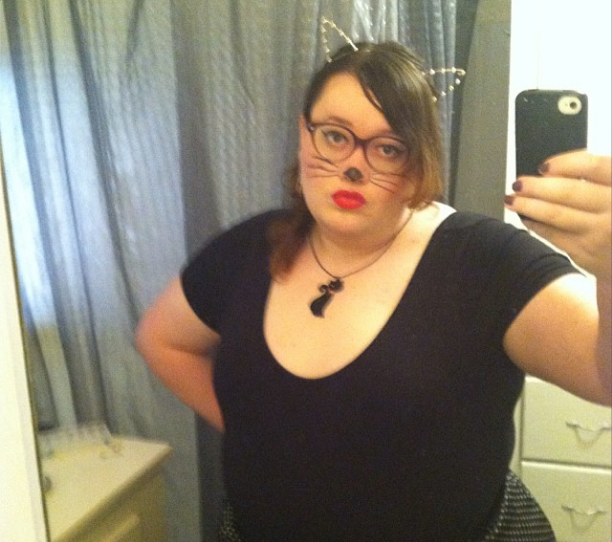 13. Wearing a bodysuit
Bodysuits are kind of like leggings for your whole body, so if leggings weren't designed for my body-type, bodysuits definitely weren't. That didn't mean my desire to add bodysuits to my closet was any less — I've wanted the courage to wear for a long time.  It wasn't until I needed a last-minute Halloween costume and remembered Lizz's great post about bodysuits that I decided to finally wear mine out.
---
14. Commenting on internet articles
Sharing my opinions with people I don't really know has always been hard for me. I can't even count the times I've straddled the fence on simple issues like "what did you think of the new Lord of the Rings movie?" or "what restaurant do you want to go to?" So for me, the idea of commenting on an article where everyone could see it was absolutely petrifying. Then I started to pay closer attention to the people who comment at AS. I noticed what a great community they formed and I started to feel a little better about it. Eventually I got up the courage to start adding my two cents and now I love everyone who makes up the comment boards, and I love being a part of it.
---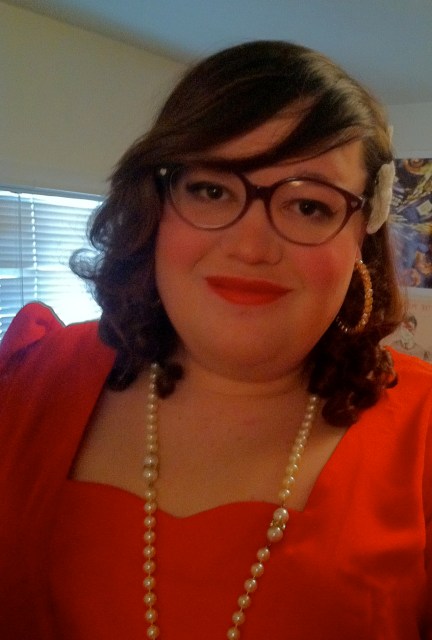 15. Wearing red lipstick and liquid eyeliner
I've wanted to try mastering the arts of red lipstick and liquid eyeliner since I started wearing makeup. I never took that step, though, because I was afraid that if I wore liquid eyeliner, fake eyelashes and red lipstick everyday, people would accuse me of playing into stereotypes or reinforcing the gender binary. Now, don't get me wrong, I wanted to wear this makeup, I really wanted to. My makeup is a big part of my femme identity. The problem was that I had all sorts of people telling me that if I wore too much makeup, I wouldn't look queer enough, or that "all trans women wear a lot of makeup at first, you'll grow out of it." While I didn't agree and still wanted to wear makeup, in my heart I was afraid they were right.
If I hadn't stumbled upon Vanessa's amazing article on queering makeup, I probably wouldn't be the femme I am today. The idea that it was an act of queer revolution to wear my makeup and practice my skills strengthened my resolve and fortified my queer heart. Reading that there are plenty of other queer women who wear makeup as a subversive and self-affirming act was exactly what I needed to move forward in my femme journey and my life.
---
What fears did you face in 2013? Did AS help?