Welcome to Queer Outfit of the Week where I scour the world and tell you all about my one favorite queer outfit this week. I'll envision a scenario where you or your girlfriend or your best friend or your mom or your cat could wear it and talk all about why it's a great outfit for that event. Every week will be a different style, gender presentation and event so there's a little something for everyone — even the person who just wants to look at pictures of stylish queers! So let's get to it — we're going to figure out what the heck we're going to wear this week!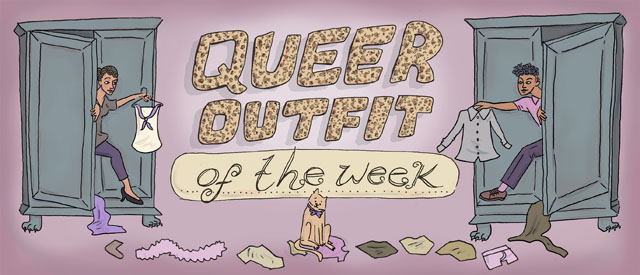 Header by Rory Midhani
---
It's almost Halloween! Oh wait… like really almost Halloween. Like, you should have come up with a costume a week ago and now you're wondering what the easiest best way to make a costume in 24 hours it. Something that you can wear to work as a half-assed costume but then deck out of control for your raging Halloween party at night.
I know what you're thinking. What's so special about that girl's outfit? Is it even an outfit? She's just wearing a black leotard/bodysuit thing. We can't even see her shoes. But that's the thing about Halloween! On Halloween a bodysuit could be anything! Anything I say! Once you put a bodysuit one and you're 90% of the way to a costume.
Let's say you want to go for a classic costume. Put on a witch's hat and suddenly you're a witch. Put on devil horns and oh my God you're a devil. Throw some cat ears on your head and HOLY SHIT you are a cat. Add feathers and you're a bird. Wear a bodysuit in literally any animal print and you are already that animal.
Are you athletic? Put on an a-line skirt and BAM you are an ice skater. Wear a faux gold medal and an unimpressed face and you're McKayla Maroney. Slip on a tutu and flats and you're a ballet dancer. Put on tights and neon leg warmers and you're an aerobics instructor. Put on a brightly colored skirt and knee-high socks and you're a cheerleader.
What about for you media-loving witty/irreverent folks? Put on black leg warmers and grab a bucket of water and you're Jennifer Beals in Flashdance. Do you have a hand you can put up? Congrats, you're Beyonce in her Single Ladies video. Throw on some sunglasses and you're Lady Gaga. Squeeze on ridiculously high-waisted skinny leggings and you're Jessie J. Stick out your tongue and you're Miley Cyrus.
Are you a nerd? Put on tights and little boys' underwear you're an adorable superhero. Put on a cape and you're also any superhero ever. Or maybe you're a supervillain! I don't know! I'm not familiar with your elaborate backstory.
I recognize that this isn't for everyone. I imagine a lot of MOC folks wouldn't be too keen on wearing a bodysuit (although it still makes a great start to a masculine superhero costume). With that in mind you can go for a head-to-toe bodysuit, or simply swap your base for a fitted T-shirt and slacks. What about those of you who think skimpy Halloween costumes are part of the mainstream media's sexist agenda to make us believe we have to be conventionally sexy to be of worth? Well then put on a bunny tail and ears and you're the patriarchy.
Perhaps you're the best Halloweenie amongst us and you've had your costume planned for months. But if not, a bodysuit is a great place for all us last-minuters to start! Plus, if you really get pressed for time you can just throw one on with a scrunchie and go as an American Apparel model.
---
If you see something that you think should be featured on Queer Outfit of the Week, send me an ASS message, ask on my tumblr, or tweet me @Ohheyitslizz