feature image via Shutterstock
There's a lot of anxiety out there about "teaching homosexuality" in the classroom. What does that even mean? Teaching kids how to file to be on their partner's benefits plan when they can't get married to them? Teaching them the difference between water-based and silicone-based lube? Teaching them how to pronounce "patriarchal hegemony?" It's ridiculous. "Teaching homosexuality" isn't a thing.
Except for when it is! Sort of. Many of us were lucky enough to have teachers who didn't make us queer as such, but they did help make it a little easier on us, sometimes even before we knew it about ourselves. Later, as more fully formed queer humans, we looked back on these teachers and were able to be grateful for the ways they had supported us growing into the giant queermos we were meant to be. Here's to them.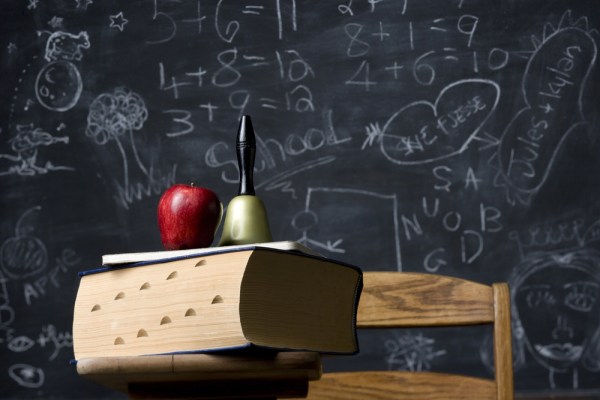 Rachel
Depending on how you teach it, American literature as a topic can either be the best or the worst. So many interesting things happened in the literature of this fine nation! So many important social issues! Or we can talk about, like, Hawthorne or whatever, I guess. Luckily, Ms. M, my instructor for 11th grade English, was interested in the former. I learned more about the ways social justice can be reflected in literature than I ever had before, thanks to books and stories like Native Son, The Awakening, and The Yellow Wallpaper. Ms. M even included Bikini Kill's "Bloody Ice Cream" as a reading once. Oh, and did I mention she didn't shave her legs, and was openly bisexual and feminist?
Part of 11th grade English was writing in a regular journal and turning it in to Ms. M every few weeks. Once, when I had written a particularly angsty journal entry about my feelings about feminism or something (I wish I was kidding),and Ms. M returned the journal to me with not only a supportive note scrawled back, but a photocopy of a page from her VERY OWN JOURNAL. Words cannot describe how flattered I was. The journal page included some of her own personal musings about feminism on it, which was neat. But even more importantly than that, the photocopy included the backside of another page of her journal — one where she had written about why she makes the effort to always come out to her classes. I don't know if she could have known that I was struggling with coming out at the same time, or that even seeing the words "queer" or "bisexual" written down was still thrilling to me, but it blew my tiny baby mind. And for the rest of my time that year and in high school, I felt like I had someone in my corner — which eventually made me feel like I could be in my own corner, like that could be okay. Which is really the best thing any teacher can do, ever.
(Years later I ran into her at a Mountain Goats concert of all things. She remembered me (I think)! It was like a scene out of a movie.)
Mey
In the first English class I took from Dr. Shutters at Idaho State University, she made sure that we spent plenty of time talking about the queerness that existed in William Shakespeare's sonnets, Annie Proulx's short stories and Oscar Wilde's entire life. Over the next several years I took as many classes from her as I could. Partially because I knew that she was more than willing to talk about queer and feminist approaches to literature, and partially because she was brilliant, funny, had a cute pixie cut and was in pretty much every way, an awesome teacher. The class she taught that was most important to the formation of my queer identity was definitely Gender Transformations in Literature. In this class we read Virginia Woolf's Orlando, Shakespeare's Twelfth Night, Ovid's Metamorphoses and poetry by a transgender poet. This class shifted my paradigms. I had heard of trans* people before and thought that maybe that identity might fit me, but I had never spent so much time thinking about it or learning about it before. I had always tried to compartmentalize the part of me that thought about those kinds of things. Then one day our class watched the groundbreaking documentary Paris is Burning and I saw the beauty and strength of the women that were featured in it. That was really a watershed moment for me. During and after that class I started to really take a look at who I was and question whether or not I could actually start to transition. It's definitely thanks to Dr. Shutters that I was able to realize that I am trans*, realize that transitioning was a possibility for me and eventually come out as the queer trans* woman that I am.
Pages: 1 2See entire article on one page