Well, if there's one thing I like better than sitting on a knife or finding out that I need $1,600 of dental work, it's watching a self-righteous sausage-shaped humanoid creature attempt to wrestle a temporarily disabled starlette out of her wheelchair on her prom night!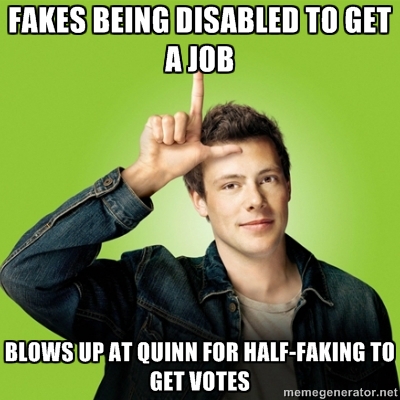 In any event, Glee's achieved a style of Suckdom so Sucky that this episode was almost "okay," just because it didn't rocket me into a homicidal rage. In fact, my overall feelings of apathy for this episode are accurately reflected in how long it's taken me to write this recap (and perhaps in the quality of this recap) — that being said, I do have a pretty serious rant about the first scene, so let's just muff-dive in, shall we?


We open with Rachel monologuing in her bedroom about the "death of [her] dream" and then we move to the formerly-hallowed hallways of McKinley High, where Rachel continues monologuing with strained chipperness and masked devastation.
Rachel: "In some ways, it's a relief– to be part of the crowd. My dreams are smaller now, maybe even more real — the wedding, winning Nationals — but first, prom. I'll never walk the red carpet as a Tony or Golden Globe nominee… Next to my wedding, my prom dress will be the most important gown I ever wear… I'm surprisingly okay with it all. That dream was just a favorite old sweater that I kept around even though it didn't fit anymore. I can grieve it and move on. I may have lost NYADA, but I still have Finn. So I'm not going to get everything I thought I wanted. Doesn't make me a loser."
So, there goes Rachel's personality!
Okay. Do you have five minutes to listen to me tell a personal story and then rant? I hope so.
This happens. I mean — what's happening to Rachel. I feel like I've been there, sort of. Like Rachel, I'd comforted my anxieties regarding "not fitting in" with my self-assurance that I was somehow exceptional — smarter, more talented, something like that. When did this change? At some point difference got exhausting and I just wanted a boyfriend, like the other girls had, and didn't understand why the boys at my school (University of Michigan) didn't like me, speficially — why I was hookup material and homework-helping material but never girlfriend material. "Girlfriend material," it seemed to me at the time, required 100% heterosexuality, lifelong sorority membership, a submissive personality, tailored designer jeans, limitless bank accounts, realistic life plans and weighing 90 pounds or less. (I realize in retrospect wanting a boyfriend so desperately was all part of the "overcompensating" stage of my queerdom, but whatever.)
So I met a boy at my waitressing job who attended a nearby college. Over our 1.5 years together, he never once asked to see my writing or the films I'd made. He didn't read, he'd never seen a play and he hated my friends. I'd always planned on moving to New York City after graduation but when I took him there, he hated it, and he hated it because it was so hard to find a parking spot. Instead, he campaigned for a post-graduation move to Las Vegas, because there's no property tax there. He cared more about the perkiness of my breasts than about my alleged exceptionalism and since nobody told me I was too good for him, I assumed that I was not. This was me. I was not so exceptional after all. I was just another girl watching her boyfriend play Beer Pong.
I know this is becoming a too-long-story but here's the point: at some stage of this dull, anxious stasis, I began resigning myself to the traditional future he envisioned for us, and there was something very comforting about that. I could do this! I thought. We could be just like the rest of his friends. My relatives would be thrilled! I could get excited about specials at Applebees and consider home ownership in the suburbs and watch sporting events with his frat brothers. It was almost a relief, freeing myself from the expectations of this alleged exceptionalism. I'd be choosing a tried-and-true life pattern enjoyed by 95% of the country's population, nobody would question that! I was released from all the uncertainty and guesswork that came with pursuing "talent." He thought I was "normal" (Obviously, I'd already quickly muted all of my 'charming' quirks) and he was "normal," so therefore I was "normal" after all! Yay!
[Clearly this sentiment changed eventually, but that's another story altogether.]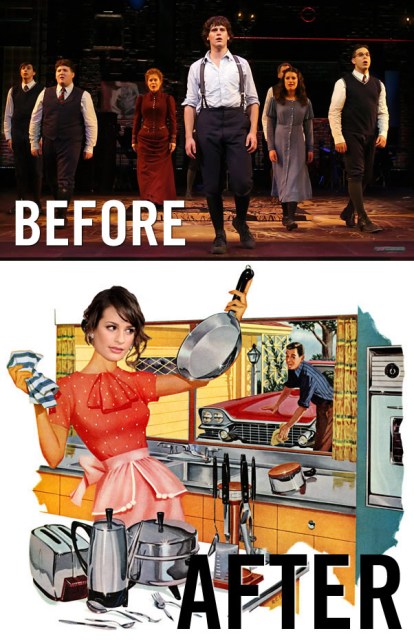 For Rachel, I think part of of feeling "exceptional" is feeling like the people around her are living a life she could live, if she wanted to, but she just doesn't want to. It is feeling a little bit better than that. It's being a snob, even when that snobiness is, when it all comes down to it, mostly a defense mechanism.
And so Rachel's obnoxious temporary transformation in this episode, in all its anti-feminist glory, is actually one I potentially could relate to/believe — and do, in bits — but unfortunately cannot endorse because SHE DIDN'T APPLY TO ANY OTHER FUCKING SCHOOLS AND I CANNOT BUY ANYTHING ELSE THAT HAPPENS TO HER FROM HERE ON OUT.
Glee asks me to suspend disbelief every single minute but somehow this particular storyline's improbability is particularly grating. It's not Wacky and Over-The-Top like Brittany's IQ, Inconsistent like Sue's pregnancy or Unlikely like Quinn getting into Yale. I mean, let's not even get into the fact that college applications are due in December or January, not June, or that the show has completely forgotten the tiresome hullabaloo around Kurt/Rachel's apparent former conviction that "student council president"/"lead in the school musical" were crucial to their "applications."  (Disclaimer: I attended an arts boarding school and my boyfriend, roommate, and many of my best friends were theater students, so I know WAY too much about the audition/acceptance process for undergraduate theater programs, which causes/"doesn't help ease" my frustration.) Let's disregard the preposterous situation of NYADA coming to Nowhere, Ohio, to see Kurt & Rachel audition. Let's not ask why Rachel doesn't just audition for "The Actor's Studio" with her impish boyfriend, as apparently they hold auditions whenever Finn wants them to! (Sidenote: as much as I'd like to make fun of Finn applying to a TV show, "The Actor's Studio" is an actual drama school. It used to be part of The New School and I think the students in the TV show's audience are usually Actor's Studio students. Since 2005, TAS has been part of Pace University — BUT! — it's just an MFA program, which means Finn would need a BA or BFA before he could matriculate at The Actor's Studio, so it's still stupid.) Let's not discuss why Rachel didn't apply to the nearby University of Michigan, or perhaps Carnegie-Mellon, Northwestern, CalArts, DePaul, Ithaca, NYU, NCSA, USC or even Julliard!
It's supposed to be just another little detail we oughtta accept as part of this fake world. But it's not, because it's not just about college admissions, it's about HOW LIFE IS, how human beings operate and how civilization is structured. We date multiple people until we find "the one," we try on several dresses before purchasing, we apply to many jobs, we visit a number of apartments, we shop around for the best cell phone plan — for Rachel Berry herself and Berry's aspirant parents to allow her to apply to one crappy imaginary theater school with no back-up plan is just completely and totally insipid. It would never happen and as a plot device, it's the weakest weaksauce ever.
And when Rachel says, offhand, "that's what you get for not having a back-up plan," it's just another example of Glee's obnoxious meta nods to audience critique that leaves you wondering — "if you recognize that this is a problem, why don't you JUST FIX IT?!" Because honestly, despite how improbable it is that Rachel would get rejected from any school, let alone many schools, this whole situation would have way more emotional impact and resonance if she'd applied to ten theater schools and been rejected from all of them. Flukes like that sometimes do happen. That's a true thing.



Anyhow, thus Rachel moseys into the Ladies Room to find a bitchy yet earnest Becky Jackson practicing her Prom Queen wave, because she doesn't have mirrors at home. Becky tells Rachel she's a loser and SCENE.

Cut to Principal Figgins' lair, where Brit-Brit's been summoned for a smackdown regarding her insufficient actions as student council president. Apparently her sole accomplishment has been an ill-conceived memo regarding "drilling for babies," which she later retracted, and Figgins is questioning her suitability for the position.
It turns out that Brit-Brit's failing her classes and Figgins is suddenly concerned that her iminent de-throning would completely destroy her chances of admission to Imaginary St. Imaginary College Of Students Who Failed All Their Classes, which I'm guessing is in Bowling Green.  Furthermore, he threatens to eradicate the Student Body President position altogether if she doesn't up her approval rating, which's non-sensical and arbitrary, just like the rest of this show.
Brittany: "I now realize I wasted an entire year belaboring the nuances of my fluid teen sexuality and getting caught up in Lord Tubbington's Ponzi schemes. Then for a while, I stopped talking. But don't want my presidency to be the last one at McKinley, I don't want that to be my legacy."
Couldn't agree more — a better legacy would be "made out with Santana for two hours at graduation."

Thus, Brit-Brit drops in on the three unfortunate losers of the Prom Committee, whose earnest pursuit of prom themes like "Stairway to Heaven" and "Castle in the Sky" are derailed by Brit-Brit's assertion that castles are too heavy for clouds and stairways aren't wheelchair-friendly, or whatever.
Brit-Brit re-routes the thematic conversation to her own idea for a theme — "Dinosaurs!" It's brill, truly bril.
Girl: "That's the worst prom theme ever."
Brittany: "When you insult my dinosaur prom theme, that's bullying, and I will not accept it. By the power vested in me as president, you're all fired."

Smear to Sue's office, where Sue (who shines like a sunflower this episode, sidenote) is announcing the nominees for Prom King and Queen as Becky roosts adjacently with her limbs dangerously close to a xylophone unknowingly experiencing its last living moments.
Prom King nods go to Rick "The Stick" Nelson, aka that hockey guy who runs for everything, Finn "Bet You Never Knew A Potato Could Look This Human" Hudson and our very own President Brittany S. Fierce. Three cheers for smashing the gender binary!
Prom Queen runners include Missy Gunderson, Santana Lopez and Quinn Fabray. Becky, hopes dashed and aspirations toppled, smashes the xylophone defiantly in the manner I'd like to smash Finn's stupid face in.

And onward ho to another directionless meeting of The New Directions, kicked off by a newly-empowered Brittany S. Fierce, Queen of the School, announcing the Prehistoric theme of this year's fiesta. Mr. Schuster buoyantly enthuses that Figgins has invited the New Directions to sing at prom, as if these kids need an official invitation to sing anywhere.
Brittany: "Hello my fellow Americans, the theme for this years prom will be Dinosaurs."
Santana: "Sheer genius."
Brittany: "I was inspired by the new girl Joe who reminds me of a cavewoman. The refreshments will be berries, meat and rainwater…"
HAR. But dearest Blaine is stunned when Brittany declares a Prom Hair-Gel ban, due to some backwards Brittanyism regarding the Paleolithic era — or maybe "stunned" isn't the right word. Horrified. Blaine is horrified.
I too am horrified, because it appears Kurt has massacred a plaid factory and the evidence is all over his head and mid-shirt-area.

Rachel, in her sixth outfit of the episode, tears mercilessly through the barely-hallowed hallways of McKinley High, shocked by the poorly designed "Finn & Quinn 4 Prom King/Queen" poster perched on the innocent walls of their fine educational institution. Rachel determines was Finn's doing 'cause "Quinn can't reach up that high."
Rachel doesn't want Finn and Quinn to dance together, but no worries there —
Finn: "If you haven't noticed, Quinn can't dance. She just about died coming to our wedding. She asked me if I would campaign with her and I figured it was the least I could do for our friend."
Finn calls Rachel selfish, Rachel caws that she'll be spending prom the same way she began high school, which's watching Finn and the pretty blonde cheerleader bask in apparently offensive attention but IF I COULD JUST MENTION that the pretty blonde cheerleader, while still pretty and blonde, is no longer cheering, because SHE GOT HIT BY A TRUCK AND IS IN A WHEELCHAIR. Furthermore, she's been given the unfortunate assignment of lusting after the Glee Project kid who, much like the other Glee Project kid, reminds us weekly why The Glee Project is a terrible, terrible idea.
Rachel's become a harpy bitch, 'cause that's what happens when one actually focuses on what they have in the present rather than what they might have in the future! No really, it is. That's another thing about aspiration — it saves you from putting all your eggs in the basket of another fallible human being you've got no actual control over. That's also why Quinn keeps reiterating her plans to go to Yale — it's something bigger than where and what she is. It takes the pressure off the present, with its assorted thwarted expectations.

Cut to physical therapy, where Quinn's once again insipidly paired with Teen Jesus and — surprise! — manages to walk a teeny tiny bit for a little while!
Teen Jesus is ready for Quinn to walk on water, but Quinn's got other plans —
Quinn: "You know, maybe if I practiced a lot, I could walk into the choir room or into prom. So until then, promise me you won't tell anybody."

Back in the plastered-yet-hallowed halls of McKinley High, Becky Jackson's completely losing her shit in what is, honestly, one of this episode's best situations.
But Sue swiftly summons her unruly minion to the Bitch Chamber to tell Becky that "first you declared war on xylophones, then you ransacked the cafeteria line" and while Becky understands this to be true, she doesn't understand Sue's problem with it.
Sue explains that it's Becky's ruthless bitchy attitude that drew Sue to Becky in the first place, but "being a bitch doesn't win you any votes." This is patently false, obviously, although I can't speak for Dear Dear Missy Gunderson, I believe Santana's thrown out a few zingers in her day. But whatever.


Cut to the McKinley High auditorium, where Rachel launches into a lame stripped-down version of the intolerable Fergie song "Big Girls Don't Cry," which's more-or-less endurable until Kurt's head voice strides in, swallowing the room with its enormous this-is-out-of-your-rangeiosity.
Blaine asks Rachel if that's the song she's chosen for prom — SILLY BLAINE! The songs performed in the first 20 minutes of Glee are never the songs "chosen" for the last 20 minutes of Glee — and suggests that if it is, she oughtta look into something a tad peppier. I'd just like to throw this out there:
Rachel admits she's not feelin' prom, and Blaine agrees:
Blaine: "How do you think I feel with Brittany's insane ban on hair gel? It's prom, there's gonna be balloons all over the place, not to mention the taffeta and the silk blends. The sheer amount of static electricity in that room is going to be terrifying."
Anyway, Kurt points out, they don't have to go to prom at all, do they? They do not.

Smear instantly to another directionless meeting of the New Directions, where Rachel jubilantly announces The Anti-Prom, which'll take place at the Rooster Express Suite Hotel and involve "libations," catered delicacies and all-night entertainment. Quinn asks her running mate if he's in on this, and he assures her that he can indeed handle two women in one night.
Santana: "Okay how is everyone welcome when this is clearly just a party for you and the two gay Winklevii twins?"
Rachel: "Actually Santana, we've invited most of McKinley's underclassmen."
Flash to the hallway where Rachel tries to sell the event to an unimpressed Becky Jackson, and then smear back to the Directionless Meeting of the new Directions, where Santana continues smearing the Smack Down all over Barbara Berry:
Santana: "Can we just talk about what this really is? Rachel Berry isn't getting her way, so she's punishing the rest of us –"
Rachel: "Santana, that's not the case at all."
Santana: "Stop acting like you're fine and start dealing with your crap. Look, you choked at your big audition. I get it. I'm sorry, but it happens. And I understand that you're pissed off at the universe, but imploding on one of the last nights that we have to spend together because basically you're just not in the mood to dance, is maybe the pettiest thing you have ever done. So have fun at your 'I'm a victim' party, acting like you're not some selfish, self-centered, lame-ass wannabe diva from hell, because I'm gonna go to my senior prom with my girlfriend and my friends."
Every time Santana says "my girlfriend," I smile.

Back to the propaganda-ridden hallways of McKinley High, where Finn and Quinn are conversing on a topic I've long since forgotten when they're interrupted by Prom Committee Girl #2, who finds Quinn way inspiring. "Your healthy normal legs are beautiful," Quinn tells her following a monologue about the actual horrors of her situation. The girl commends Quinn on her bravery.
The girl exits the frame and St. Finn starts in on Quinn for "using her disability" to earn votes, because Finn is the Expert of the Universe who knows exactly what everybody else should and shouldn't do all the time, forever and for always. This is how Finn makes me feel:

Pages: 1 2See entire article on one page