At last the moment we've been waiting for all our lives — Dinosaur prom! The couples parade onto the dance floor, Mike Chang geeks out over dinosaurs and everyone looks just absolutely stunningly lovely.
Then Brittany, dressed up like Pebbles Flintstone, launches into a song I'd never heard until Tuesday night but knew instantly had to be a Ke$ha song, 'cause it's just that obnoxious, terrible and AGEIST.
Brittany's quadriceps and Santana's wingwoman support save the number, and I gotta give props to Glee for those props, ultimately. I would've loved to be a fly on the wall for the part where the dancers were informed they'd be performing with giant dinosaur heads.
Like all musical numbers on Glee these days, the camerawork is so smotheringly hyperactive that it's impossible to appreciate — or even witness — any of the choreography that often redeems otherwise lame episodes and songs.

Finn's on the prowl for a pig to roast over an open fire and imbibe via stomach tube  — wait, no just kidding. He's looking for Quinn and hears she's in the Ladies Room, which he just walks right into as if it's not a place where Quinn might not have her pants down and be urinating.
Alas, we circumvent that snafu 'cause Quinn's not only not sitting on the pot, she's also not sitting in her chair but instead is sort of tentatively leaning on the sink, which rockets Finn into a full-fledged St. Finn Self-Righteousness Fit.
Finn: "You can walk?"
Quinn: "Yeah. Isn't it amazing? You're seeing me take my first steps."
Finn: "So you — you … you lied to us. To everybody."
Quinn: "No, I mean, my legs are getting better, but I wanted it to be a surprise. You know, for when I walk up there and… and get my crown. The crowd will go wild. I really want this."
Honestly this whole scene is befuddling — are we supposed to believe that Quinn's fully functional and Finn's outrage is justified? Are we supposed to see Quinn as being a manipulative bitch like Old Quinn, or just a girl who want to put on a good show? Why have we gone back in time sixteen episodes to when Quinn gave a flying shit about things like Prom Queen? Who are these people? Here's the sad, final truth, my friends: I don't give a shit anymore.
Finn: "Yeah. You may want this, but Rachel needs me, and … and I picked you over her. Do you know how stupid that makes me feel? You have everything. You're gonna have your crown. You're going to go to Yale. And tonight, thanks to you, Rachel has none of that, she doesn't even have me."
Quinn: "We're a shoo-in. I need you."
"You have everything," he says to the girl in the wheelchair — and truly, for once , I'd like Quinn to actually respond to that accusation — which is so often made — rather than being force-fed another insane Alpha Bitch line 'cause they're too lazy to come up with anything else. You know who else "has everything"? You know who nothing bad has happened to during the entire run of this show? FINN.
Finn: "No, you don't need me, okay? I–I-I thought going through all that terrible stuff this year made you cooler, but no, you're still the same old Quinn. All that matters is you."
Quinn, for reasons known only to the steely writers of this mysterious program, then begs Finn to stick around for at least one dance. He does.

Meanwhile, at Chez Rooster Loveshack, the Anti-Prom Party People check in and survey the premises.
Becky's hankering for a cocktail, Rachel wants a fashion show and Blaine & Kurt wanna watch TV. It's gonna be a wild night!

We're then rushed back to Prom, where Santana's singing Selena Gomez's "I Love You Like a Love Song" with glory and Brit-Brit's changed into a Carrie Bradshaw-esque tuxedo/mormon-length-tutu interpretation that's honestly totally horrid, but I'm forced to love it, in context.
Sam and Mercedes are dancing together while relishing in the sweet chords of their young love, and extras are sucking more face than Santana and Brittany have all season or ever will.
We then mosey over to Finn giving Quinn her requested "dance," for which he's dopeishly holding her hands with lackluster enthusiasm reminiscent of a teenage boy forced to dance with his obnoxious niece who keeps blowing snotballs out of her nose.
Quinn comments on how nice it is, and aren't they having a nice time, but Finn's addiction to sticking his shnoz into everybody else's fucking problems simmers and boils over:
Finn: "Yeah I will as soon as you stand up and show everybody how much you deserve this, how much you deserve to be Prom Queen."
Quinn: "Are you really doing this?"
Finn: What making you walk? Make you stand up and show everybody how much of a crazy liar you are? Yeah."
Then, like a teenage boy who didn't just get a heavy-handed talking-to regarding violence against women last week, Finn actually tries to physically remove Quinn from her wheelchair as if that's not totally uncalled for and as if whether or not she justly or unjustly wins Prom Queen even MATTERS, at all, really.
She's rescued — as we all are — by Teen Jesus (he like, died for our sins, you know?).
We're also rescued by Sue, who inquires if Finn and his temper require ejection from yet another prom, but Finn kindly ejects himself, and we're offered the sweet respite of a commercial break to really think about our lives and how we got to this moment, watching this show.

Back at the Anti-Prom, Becky Jackson's pleased as punch to hear a knock at the door — perhaps it's her shrimp cocktail! — and disappointed (as we all are) to see that it's actually Finn Hudson, riding in on his white horse which he borrowed from the Knights of the Apocalypse.
Becky quips that Rachel's been in the bathroom for 45 minutes and probs has "the runs" but nope — she's just putting on her prom gown, and she emerges looking spectacular because duh, it's Lea. Finn gives Rachel a stupid flower and she smiles like an idiot and they kiss and its gross.
But prom's not complete, says Finn, without his friends —
Finn: "I want to dance with my fiancée , and dance with my friends."
Should they return to Dinosaur Prom? Blaine's concerned about the hair-gel ban — he shouldn't be, because everybody at the dance IS WEARING HAIR GEL — but The Spirit of Friendship overrides The Spirit of Bumble & Bumble, and the gang ditches the hotel party for Jurassic Park.
This leaves Becky & Puckerman alone together:
Becky: "Are you ready for strip poker, Puckerman? Socks count as one item."

Cut to Promasorous, where three dudes I dislike and one dude I kinda like and one dude who can't act but sure can dance are singing a terrible song by "One Direction" (I bet their meetings are never directionless) regarding the beauty of a lady who does not recognize her own beauty.
More importantly:
Then the glowing Anti-Prom couples, lit from within via the sparkle of miniature bottles of Sprite, make their grand entrance, only to be rebuffed by Brittany who can smell Blaine's hair gel.
Thus Blaine must exit the room and de-gel himself, or something.

Back at the anti-prom, wiley Becky Jackson's gotten Puckerman down to his boxers. Puck counters by getting Becky down to her most emotionally naked spot, where she reiterates how much she wanted to be Prom Queen.
Puck takes matters into his own hands by crafting crowns out of beer boxes (recently delivered to the hotel room via magical elves) and insisting they hit up prom, dressed like idiots.

Cut to the Hallowed Hallways of Prehistoric McKinley High, where Rachel's located Quinn Fabray for one of those heart-to-hearts that'd be better played out naked so that their hearts could actually touch, behind breast tissue, or whatever.
Rachel: "Wait, do you not understand what you mean to me? When we first met, you were everything I wanted to be: you were beautiful and popular, and you had Finn–"
Quinn: "How the mighty have fallen."
Rachel: "No you don't undertand. I still see you that way. That's why I got so crazy. Because I wasn't seeing the new Quinn. The still-beautiful, but humbled and inspiring Quinn. I've lost so much over these past few weeks and i honestly don't know what the hell I'm gonna do with my life but when I look back on my high school career, the one thing, the one accomplishment that I'm gonna be so proud of is that I found a way to be your friend. So I'm apologizing to my friend. And I also want you to know that I voted for you for prom queen, and I really think you deserve it."
Alas, before Quinn can tell Rachel how much she loves gardenias, Santana strolls through:
Santana: "Stop making out with Berry and get to the Spanish room, Quinn, time to count the votes and declare me the winner."

Back inside Trainwreck prom, Becky Jackson & Noah Puckerman arrive with boxes on their heads to much revelry and, at last, an opportunity for Puck to bless the punch bowl with three tablespoons of vodka.

Cut to the Vote-Counting room, where Santana and Quinn are finishing up their fortieth re-count, determining that Finn Hudson and Quinn are the winners. However, Al Gore won the popular vote, and Quinn only snagged her crown by one little vote (RACHEL'S VOTE, GET IT??!!)
Quinn: "I won. It's everything I've ever wanted, and I don't feel any different."
Santana: "Cool. I mean I guess you deserve to win? What with being a crip and all."
This leads to the following asinine exchange:
Quinn: "You know, we've really had the dream high school careers. Mega-popular, doing whatever we wanted. Whoever we wanted. You know, I'm really not surprised that you and I were the top two candidates."
Santana: "Yeah, well you know it would be boring if we weren't so awesome."
Quinn: "Don't you wanna leave this place having made a difference?"
We cut to commercial, during which my girlfriend and I went through the Cycle of Possibilities — beginning with the possibility of Santana & Brit-Brit winning King/Queen and ending with the certainty that no, it'll be Rachel, because Ryan Murphy hates lesbians and, apparently, poor poor sweet sweet Missy Gunderson.

We re-open at Dinosaur Prom, where Blaine's making his tentative entrence into the world, sans shellack, and in fact he looks good — great, even! — but this doesn't stop Brittany from calling him a Broccoli Head.
Blaine: "Is it really that bad?"
Kurt: "It's not that bad."
Kurt squeezes Blaine's oh-so-adorable cheeks and says something sweet about getting to see the real him, hurrah, and this and that happens or something and then Figgins is onstage to make an announcement about reptiles in the toilets, and also to summon last year's Prom Queen to the stage — "sassy male student Kurt Hummel" — to crown the new winners, which of course sends Kurt into low-level panic.
Hey, what about the Prom King though? Whatever happened to that kid? How's he doing? I hope he didn't hang himself from the ceiling with a belt or anything, that'd be so tragic, yet fleeting.
As was promised in the fifth book of St.Douchebag, Finn smugly snags the Prom King vote, which marks the first time in McKinley history that a bale of hay has won Prom King.
"We have prom anarchy," Figgins notes when withdrawing and unveiling the Prom Queen vote, consequently announcing that due to an avalanche of write-in votes, Rachel Barbara Berry is the McKinley High Prom Queen!
Against the will of my brain and my eyeballs (that dress does wonders for Santana's rack), I get teary-eyed during Rachel's ascent, which makes me hate myself.
The first agonizing dance begins:
Rachel: "Is someone gonna throw pigs blood at me next, like in Carrie?"
Finn: "Look at me. You're sexy, you're beautiful, you're an inspiration to every single person in this room, just like you are to me. From where you began to where you are now, you're amazing."
Meanwhile on stage, Quinn's ambling herself and her stunning sparkly dreamshoes into an upright position while duetting with her dear friend Santana, the lady in red, to "Take My Breath Away," which is, honestly, one of my favorite songs ever. "It's a prom miracle!" says Sam.
It is a miracle because once again I find tears involuntarily springing to my eyes. Then, when Brittany mouths/signs "I love you" to Santana, I die.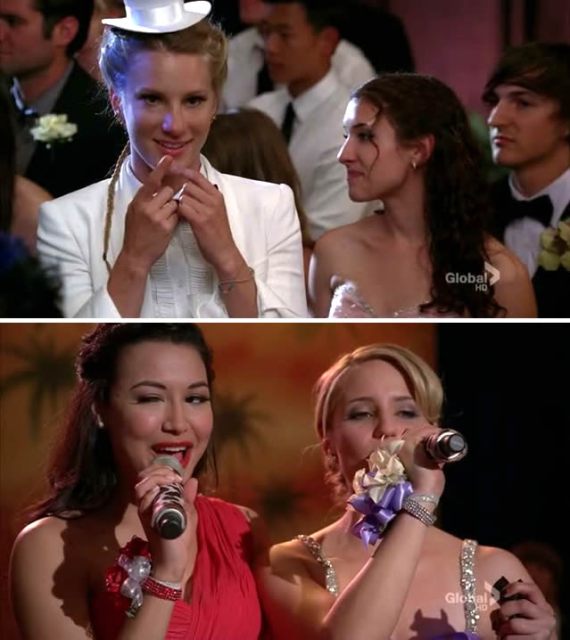 Which brings me to this evening's high note, which isn't a note so much as a medley played throughout — Brittany and Santana, although never the focus, were present and accounted for throughout, their relationship was frequently referenced, and Brittany had lines. Like, LOTS of lines!
We end with a cute prom-picture montage: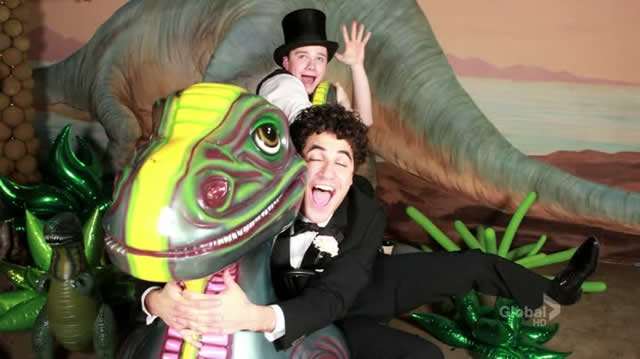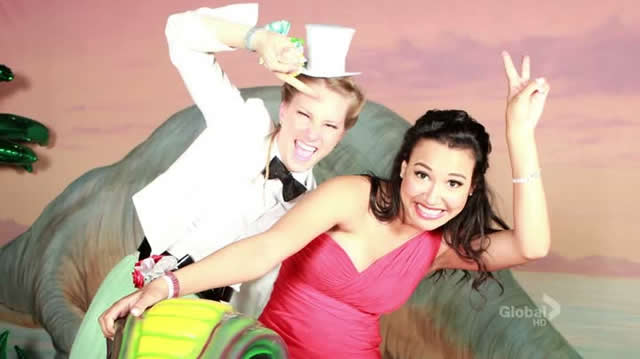 The "cute prom montage" is followed by the ominous news that next week's episode will be two entire hours long. Jesus.
Pages: 1 2See entire article on one page