So I was eating some animal crackers with peanut butter thinking, "god, so many things taste good with peanut butter."  I'm not talking about products which integrate peanut butter into their overall situation, like peanut butter cookies or Chocolate Peanut Butter Cup Ice Cream or Reeses Pieces. I'm talking about stand-alone single-products you might have handy that you can combine with the nut spread of the gods, peanut butter. For example: a banana.
Peanut Butter is one of the most magical things in the universe. When G-d created the world, he made Eve, then Adam, then one polar bear, and then peanut butter.  If it wasn't G-d, then it was a magical unicorn. Everybody knows Peanut Butter M 'n Ms are a perfect candy.
+
Top Ten Things You Can Combine With Peanut Butter to Make a Tasty Treat Without Much Effort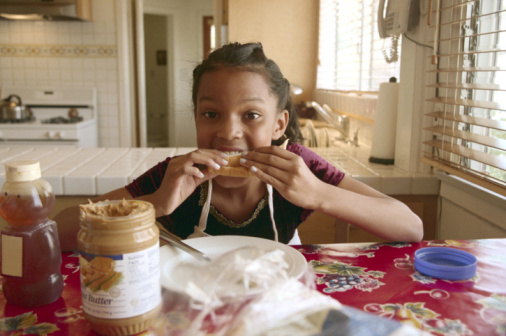 +
10. Saltines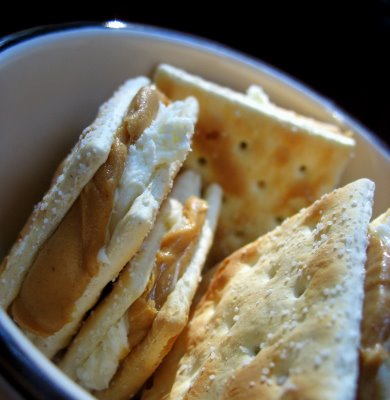 My Mom would make saltine-and-peanut-butter sandwiches for me and wrap them in tin foil and put them in my lunchbox. I wanted fruit roll-ups at the time, but I feel like she made the right choice for me because I was so young and confused. Life is confusing until you get used to it.
+
9. Eggo Waffles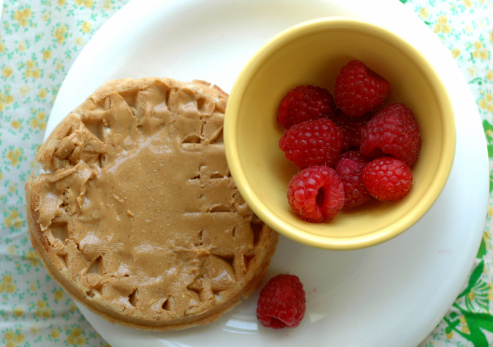 My Mom's a nutritionist and she said to start your day with carbohydrates AND protein.
+
8. Pancakes
I went to a private elementary school for children whose parents thought they were super-geniuses like Mozart, so I had a lot of rich friends with crazy-big houses and enormous basements, chock-full with entertainment items like ping-pong tables and video game consoles. Anyhow, one time I went to this slumber party at somebody's nice house, and in the morning we had breakfast and my friend Katie asked for peanut butter for her pancakes and said it was really good, and so I tried it and it's true, it was really good.
+
7. Jelly & Bread
I'm really into peanut butter & jelly right now. I think it's coming back.
+
6. Sliced Bananas & A Raisin Bagel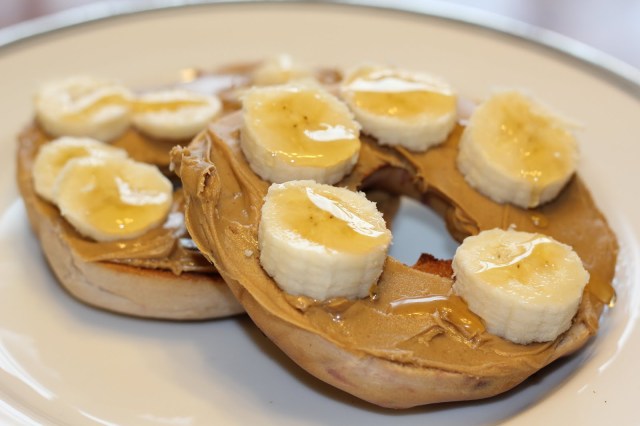 They had this at Afternoon Delight. They drizzled honey on top and called it Bonanza Bagel. It gets really messy though, so you should wear eating gloves.
+
5. Pretzels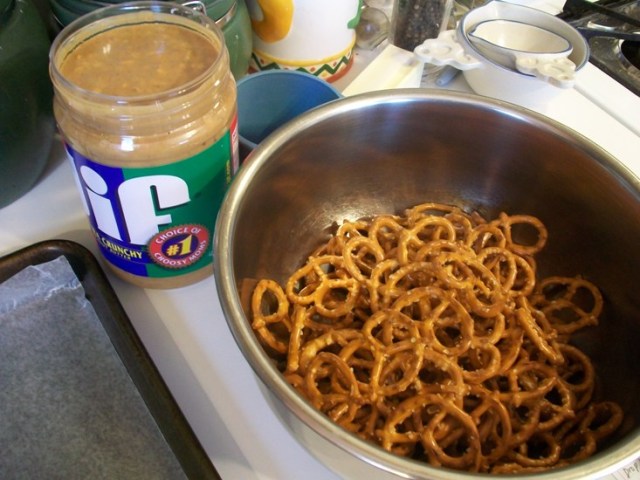 You know how some people never have any food in their apartment besides like, five things they've always got — like, my friend Natalie always has coffee, soy milk, Kashi crackers, Nutella and hummus but that's it. Well, peanut butter and pretzels are the two things that a certain kind of person will always have on hand.
+
4. Orange Crackers
There was this really terrible summer this one time where by August I was surviving on peanut butter with orange cheese crackers, string cheese and ramen noodles.
+
3. Apples
Apples are healthy, which means apples with peanut butter are a health food.
+
2. Celery
See: apples.
1. Chocolate
Peanut Butter Loves Chocolate, and Chocolate Loves Peanut Butter, and that's just a FACT. That's why Reese's Pieces exist and Chubby Hubby, and all the pies at Friendly's. Basically the whole world exists because these two things taste so good together. Unless you have a nut allergy.
Well, that's all! Remember not to put a peanut butter knife in the sink!