Header by Rory Midhani

---
Hello Autostraddle! My name is Gabi, and I'm a Florida girl living (and eating) the dream in New York City. I'm an aspiring food writer but until then I will keep eating, cooking, exploring, and telling you all about it! (Sorry in advance about the food porn.)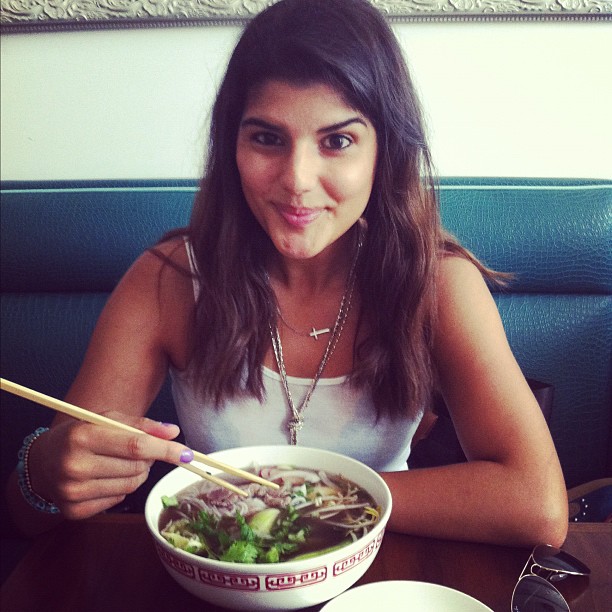 I may live in New York now, but this has never been, nor will it ever be, my real home. I come from a small town in Central Florida called Winter Haven. It's one of those cliche everyone-knows-everyone kind of towns, where people wear camouflage like it's casual and keep pounds of deer meat in their freezers (What, your town's not like that?) I'm not judging these people, though — I love these people. When I went home to visit last weekend, my father informed me that I've become somewhat of a local celebrity. "What the heck did I do?" I asked him. "You live in New York City!" he said.
So yeah, I guess all I had to do to gain local fame is leave town and stay gone. Not as easy as it sounds. For some reason, my peculiar little town is always sucking people back in. Maybe it's because of all the pretty lakes. Maybe it's because it never gets cold. Maybe it's the new Legoland they recently built smack dab in the middle of the town (doubtful).
Here's a shot of my backyard in Winter Haven.
And here's one of my "backyard" in New York.
For me, what I miss the most is my family. I'm the youngest of three girls, and I have seven nieces and nephews who I grew up with as if they were my own siblings. It's hard not being around them everyday, but I moved here for a reason.
My whole life I only had two consistent hobbies: eating and writing. (For a brief period in the mid-nineties, thanks to Harriet the Spy, I also was obsessed with spying on people. Thankfully that didn't last.) I didn't actually think about pursuing eating or writing as a career until after I graduated from the University of Miami, when I found myself holding an art history degree for no reason whatsoever. I then decided to apply to culinary school so that I could A) move to New York City and B) be surrounded by my one true love all day long: food.
So, I did it. I got in, I went to New York, I finished cooking school, and I gained the customary 15 extra pounds that comes with enrolling in the French Culinary Institute.
Life was awesome. In the meantime, I was continuing my food blog that I'd started in college while also inhaling every food publication on the market. I realized eventually that I'd known all along what I was supposed to do: eat food and write about it. I guess my next challenge in life is getting a job that allows me to do just that? Who knows. I'll keep you posted. In the meantime I'll just keep eating and telling you about it for free!
Let me start by saying how stoked I am to be blogging for you. To be honest, I had never heard of Autostraddle before I started dating my girlfriend and she told me about it, nine months ago. To be fair, I hadn't heard of a lot of things (like twerking or juice fasts) before I moved to New York. I quickly submitted a recipe for poke to the Get Baked column, and I also wrote a piece about Grilled Cheese Day! Now that I'm an avid reader, I don't know how I ever lived without this place. I really can't think of any other site where I can learn about gender neutral pronouns and how to make a cake from meat and mashed potatoes ALL in the same DAY. I mean that sincerely! My interests are fickle, and there's always something on this all-encompassing site that strikes my fancy.
So this leads me to ponder what I can offer all of you in terms of reading pleasure. I have three consistent passions in my life: condiments, collecting shawls, and Golden Girls marathons. I'm not the funniest girl out there, nor am I the coolest (read the sentence before this one if you forgot why). But if there's one thing I feel qualified to talk about, it's food.
The name of this column, Wilder Hungers, is from the foreward of The Gastronomical Me by the incredible M.F.K. Fisher, whom I obviously love. (Drop everything you're doing and go read How to Cook a Wolf  if you haven't already.) In the foreward, Fisher explains why she's compelled to write about food, and how the simple act of cooking and sitting down to eat with people you care about overlaps all of our basic needs: food, security and love.
I tell about myself, and how I ate bread on a lasting hillside, or drank red wine in a room now blown to bits, and it happens without my willing it that I am telling to about the people with me then, and their other deeper needs for love and happiness.

There is food in the bowl, and more often than not, because of what honesty I have, there is nourishment in the heart, to feed the wilder, more insistent hungers. We must eat. If, in the face of that dread fact, we can find other nourishment, and tolerance and compassion for it, we'll be no less full of human dignity.
Not a day goes by that I don't put an excessive amount of thought into what I feel like eating. More than eating, I love to feed others, which is why I've decided to kick off my Autostraddle blogging career with a recipe!
I had a dinner party at my new apartment the other night. By 'dinner party' I mean my girlfriend and my cousin came over. I decided to try to make one of my favorite foods of all time, scallion pancakes! I was wary. I order them from Seamless at least twice a week, and my favorite Chinese restaurants never disappoint. When they're soggy, I love them. When they're flakey, I love them even more. Would my own version stand up to these delicious little triangles of oily goodness? The answer is no, but I still thought they were really good.
Let's make scallion pancakes!
Whatcha need:
2 cups of All Purpose Flour
1 cup boiling water
2 cups finely chopped scallions (I cut off the white part and the gnarly top bits and used the rest!)
Canola oil
Salt
Directions:
1. Measure 2 cups of flour in a bowl and slowly mix in 1 cup of boiling water until a dough forms. I used a food processor and it came together rather quickly, but I see no reason why you couldn't just do it by hand.
2. Knead the dough on a lightly floured surface for about 5 minutes. You want to make sure the dough isn't sticky. If it is, just sprinkle a little more flour on the surface while you're kneading.
3. Roll the dough into a ball and put it in a bowl with a moist (ew hate that word) towel over it and let it rest for 30 minutes.
4. Divide the dough into four pieces. Working with one piece at at a time, roll out the dough into a thin oval. Brush the dough with some sesame oil and sprinkle some salt and a good handful of the scallions over the top.
5. Starting with the long end, roll the dough in a jelly roll fashion. Scallions are going to try and fall out. It's fine. Just tuck them back in and pinch the dough appropriately. Once you've done that, coil the dough like a snail and tuck the end underneath. Flatten your dough snail with the palm of your hand and roll it out into a flat disk. Don't have a rolling pin? No problem. I used a wine bottle like the class act that I am.
6. Heat a tablespoon of oil in a skillet over medium-high heat. Once hot, cook each pancake for 2 minutes on each side or until golden brown.Cut them into wedges and serve (with some soy sauce or whatever dipping sauce you like). MUNCH.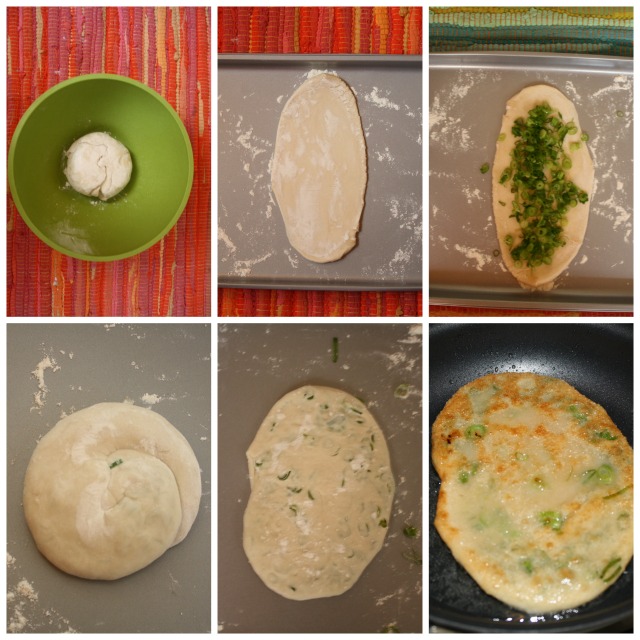 Thanks for reading! Let me know how your scallion pancakes turn out!