This is a recipe for poke! Also known as the thing I like to eat when I want to pretend I'm a surfer babe who lives in a beach shack with my girlfriend in Hawaii. Have I been to Hawaii? No. Can I pretend? Yes. The best part about this recipe is that it's hardly a recipe. It's everything into a bowl, into the fridge, then into your mouth. That's how I roll.
First a quick lesson on poke (pronounced po-kay). Poke is a raw seafood salad (similar to ceviche) consumed by pretty much everyone in Hawaii. Many varieties of seafood are used to make poke, but from what I've learned Ahi tuna is the most common. This is my variation on the traditional recipes!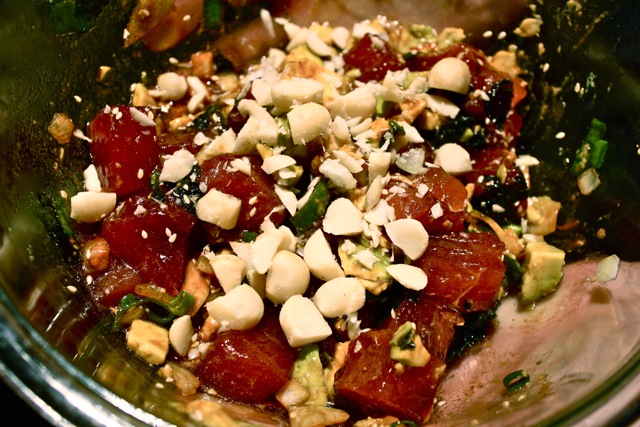 Whatcha Need:
(Serves 2)
+ 1 sashimi grade Ahi (yellowfin) tuna steak, cubed (about 1/2 inch cubes)
+ 1 avocado, cubed (I used a Haas avocado)
+ 1 small yellow onion, diced
+ a small bunch of scallions, chopped (I used both the white and green parts)
+ a couple sheets of crumpled seaweed (nori)
+ handful of chopped macademia nuts
+ 1/4 cup soy sauce
+ 1 tsp. sesame oil
+ 1 tsp. sriracha (or more or less depending on your spice tolerance)
+ 1/2 T sesame seeds
Get down to business:
1. All the ingredients into a bowl
2. Bowl in the fridge for 30 minutes
3. Eat!
Special thanks to my friend Crystal, who was born and raised in Hawaii, for coming over and assuring me that my poke recipe was legit!
---
About the author: Gabi is a Florida girl living in NYC for culinary school. She worships condiments and eats a lot of things. Mostly tacos. She blogs about food and life at The Pedigree of Honey.