We've all been there: you're sexting with someone you met on the internet, you're starting to type one-handed, and all of a sudden your phone is changing every other word to "duck" or "guck" and "pushy" and "strap-one" and you can't even swear about it because there's a bad autocorrect for that, too! What's a queer to do? Update your autocorrect dictionary!
If you use an iPhone, go to the Settings app. In the menus, go to General > Keyboard > Text Replacement and click the + to add new words. Then enter the word you want to add twice — once as the phrase and one as the shortcut. If you tend to mistype a certain way or want capitalization, add the lowercase or mistyped version to the shortcut field and the correct version to the phrase field, like I did with "BDSM":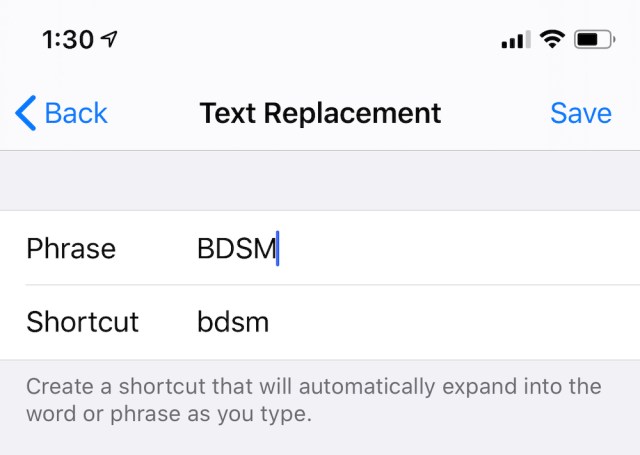 If you use an Android, the directions vary wildly, but you're looking for the same type of setting: a way to edit the text your keyboard uses for automatic corrections and text replacement.
Once you're in, check out these autocorrect fixes for better queer sexting. Note that I didn't include every word from queer sex possible, just the ones autocorrect tries to "fix." I also recommend adding the names of your favorite toys — both nJoy and VixSkin feature in my text replacement dictionary — and avoiding words you might need in non-sexual contexts. Got a suggestion I missed? Leave it in the comments!
ass
asshole
BDSM
bitch
butch
butches
butt
buttplug
caned
clit
cock
cum
cumslut
cunt
Daddy
dildo
dom
domme
D/s
femme
fingering
fisted
fisting
flogged
flogger
flogging
fuck
fucked
fucking
horny
kink
lube
mmmm
Mommi
orgy
paddled
pegging
pussy
queef
queer
queered
queering
safeword
sext
sexting
sexy
shibari
shit
shitty
slapper
slut
spanked
spanking
strapless
strap-on
vibe
vibrator
watersports